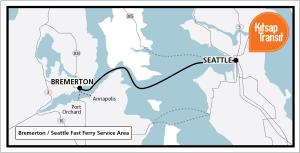 As a teenage amateur golfer who was born and raised in Seattle, Washington, my dad and I used to sail across seawater Puget Sound to play golf in the Kitsap Amateur golf tournament at the Kitsap Golf and Country Club in Bremerton. I understand that this fun golf tournament is still being conducted there.
Bremerton is a city of less than 50,000 people located twenty mile west of Seattle, thus across Puget Sound. We must have driven our car there by taking a ferry boat most of the way. I used to love to ride those Washington ferries that criss-cross many a waterway in the western portion of the state, especially the large Puget Sound. It is located less than a mile from where I grew up.
Bremerton is in the news today because of a U.S. Supreme Court ruling following the Court's controversial overturning of Roe v. Wade last week. Joseph Kennedy–a former U.S. Marine for twenty years (thanks, Joe, for your service) and then an assistant football coach–used to bow his knee and pray at mid-field right after the Bremerton High School football games. After doing so for eight years, in 2015 the school fired him for it for "demonstrative religious activity." School authorities had explained that the coach ought to perform such conduct in private. The coaching job only provided a stipend of $5,000, so it wasn't much loss for Mr. Kennedy. The loss seems to have been mostly about the coach's pride, though he apparently thinks not and that it was a denial of the exercise of his religious liberty.
First Liberty, a volunteer religious rights advocacy group, filed a lawsuit about this on behalf of coach Kennedy in 2016. The case, Kennedy v. Bremerton School District, eventually got before the nine-member U.S. Supreme Court. Today, the now ultra-conservative court, with three Roman Catholics on its bench, ruled in Kennedy's favor. With a 6 to 3 vote, the dominant justices held that the coach's constitutional right of the freedom of religion trumped the historic U.S. tradition of separation of church and state.
The First Liberty website (firstliberty.org) explains, "In 2008, Bremerton High School football coach Joe Kennedy made a promise to God that he would pray and give thanks after each game he coached, regardless of the outcome. This commitment to a simple, private act of worship caused him to be stripped of his position as a coach and forced into a lengthy, ongoing legal battle against the school he faithfully served.
. . . . . . . .
"When the Bremerton School District in Washington state fired him for kneeling in quiet prayer, Coach Kennedy – a Marine who served in combat during Operation Desert Storm – was ready. He had no plans to run from the fight to defend his right to live out his faith. For him, the fight had just begun."
That's wrong to say it was "a private act of worship." In fact, that's what the school board said it should have been–truly private and thus not in the middle of the football field for all to see.
The legal advocacy group, Americans United for Separation of Church and State, represented the school board in this case. Ironically, after coach Kennedy was fired, he and his wife moved to Pensacola, Florida, where they now live. The coach reportedly said today that he could still return to his Bremerton job to be with "his guys," meaning the high school football players and to pray on field I guess.
From all that I've read about this story, no one has reported what coach Kennedy's religion is. I think it's safe to assume he is a Christian. So, we Christians claim to try to follow the teachings of Jesus, who we also call "Christ," meaning Messiah.
From the very beginning of Jesus' public ministry, he taught his disciples how to pray because they asked him about it. Very well known is Jesus' so-called Lord's Prayer recorded in his Sermon on the Mount/Plain (Matthew 6.9-13; Luke 11.2-4). Jesus also taught in that supposed sermon, "And whenever you pray, do not be like the hypocrites; for they love to stand and pray in the synagogues and at the street corners, so that they may be seen by others. Truly I tell you, they have received their reward" (Matthew 6.5 NRSV). Jesus obviously meant that their sole reward would be whatever human adulation they might gain for what critics would deem ostentatious behavior.
Jesus continued, "But whenever you pray, go into your room and shut the door and pray to your Father who is in secret; and your Father who sees in secret will reward you" (Matthew 6.6).
That's why, when I was a playing professional golf on the PGA Tour full time for thirty years, I never stood on the first tee in Tour tournaments before teeing off, or on the 18th green when I finished my round, and bowed my knee or bowed my head in front of the many golf fans and prayed, perhaps giving thanks to God. That's something I would do in private because of what Jesus teaches about personal prayer.
I think we Christians who perform outward religious acts or advocate for religious liberty should regularly question our motives. Are we really doing this purely for freedom's sake or to be seen by others for pride's sake? Of course, it can be both.
Finally, for the Bremerton School District board to describe coach Kennedy's football mid-field prayers as "demonstrative religious activity," and suggest he do that in private, may indicate the board knew more about Jesus' teaching on prayer than the coach and his legal team. And what about the U.S. Supreme Court?