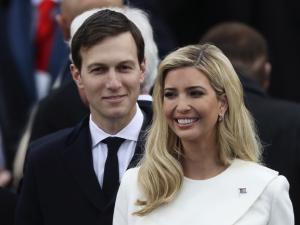 Ivanka is former U.S. President Donald Trump's only daughter from his first marriage, which was to former Czech-American model and businesswoman Ivana Zelnickova. Ivanka is married to Jared Kushner, an Orthodox Jew and businessman. Both Ivanka and Jared were special advisors to Donald Trump when he was president.
Thursday evening, the House select committee to investigate the Capitol riot of January 6, 2021, held its first of six scheduled, public, televised hearings. The 1 hour and 50 minute affair included many video clips of pertinent events. I thought the second most important testimony delivered during the evening was that of Trump's Attorney General William Barr given to investigators months after the Capitol riot.
Barr said in his testimony to investigators that about one month after the 2020 election that, after he had thoroughly investigated whether or not the election had been fraudulent, he told President Tump that it had been a fair election and that there was not enough evidence of fraud to have produced a different result other than Joe Biden winning. He also said he told Trump that all assertions that the election was a "fraud," that it was "stolen," that it was "rigged," all of which Donald Trump himself had been constantly alleging publicly, was "bullshit." Because of Barr telling Trump this, Trump fired him or Barr resigned.
But I thought the biggest highlight of this first committee hearing was a very brief video clip featuring Ivanka. She said of Attorney General Barr's assessment that Mr. Biden had won a fair election, "It affected my perspective. I respect Attorney General Barr, so I accepted what he said."
Much of the committee's presentation had been reported previously in the media, but this testimony by Ivanka to investigators had never been reported before. Both Ivanka and Jared, at the requested invitation of the committee, had sat together for questioning by investigators for eight hours one day. It is expected that in future televised hearings by the committee, in which there will be three next week, there will be other such video clips featuring Ivanka and perhaps of her husband Jared as well.
It has been reported by the media, based on interviews with people who supposedly knew first hand, that both Jared and Ivanka Kushner began to separate from the Trump administration about two days after the election and therefore prior to Biden being declared by the media as the winner, which occurred one day later. This was reportedly because they thought Trump had lost and that Trump and some of his aides were determined to try to overthrow that result, and the Kushners did not want to be associated with that effort.
The evening after the election, President Trump held a press conference and said, "Frankly, we did win this election." It has also been reported that Jared, thinking two days after the election that Trump had lost it, said to Ivanka, "We're moving to Miami."
Donald Trump issued a statement yesterday on his social media platform Truth Social, "Ivanka Trump was not involved in looking at, or studying, Election results. She had long since checked out and was, in my opinion, only trying to be respectful to Bill Barr and his position as Attorney General (he sucked!)." Donald Trump is well known for having a weird habit of sometimes speaking of himself in the third person. But to refer to his pretty daughter Ivanka, who obviously has been his favored child, as "Ivanka Trump" rather than only "Ivanka" suggests to me that a serious rift in that relationship could be not far off.
What do you think?