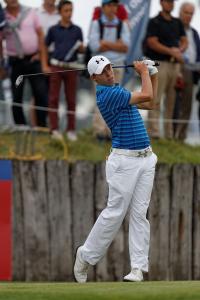 Twenty-seven year old Matt Fitzpatrick of Sheffield, England, won the U.S. Open today by one stroke over Will Zalatoris and Scottie Scheffler at the the historic, 140-year old Country Club of Brookline, Massachusetts. It was his first win on the PGA Tour and his first winning of one of the four major championships in golf. His father, mother, and brother had come across the sea and therefore were there to celebrate with him.
Fitzgerald put on quite a display golfing marksmanship today as he hit 17 or 18 greens in regulation and missed only three fairways. That many greens in regulation is golfing your ball, folks, on the narrow fairways of a U.S. Open. Believe, me, I know. I played in 12 U.S. Opens, making eight 36-hole cuts, and my best finish was 6th in 1972 after leading with 12 holes to play. U.S. Opens usually require more exquisite, premium shotmaking than the other three majors do.
For twenty-five year old Zalatoris, who looks like he could become a superstar, it was his third runner-up in a major in the last two years, yet he still has not yet won on the PGA Tour.
The leading players who were jockeying about that final nine holes included mostly Fitzpatrick, Zalatoris, and Scheffler, all of whom seemed to try to keep their emotions under control . Fitzpatrick bogied the 10 and 11th to fall back. But he holed a 60-foot birdie putt on the 12th hole that really got his motor running. (In the presentation after the tournament, he said the key to his winning was staying "patient.")
Fitzpatrick and Zalatoris were paired together today in the last pairing. Teeing off on the 19th hole, a par four, Fitzpatrick was leading Zalatoris and Scheffler by one stroke at 6-under par total. Zalatoris his first and drove in the fairway with a short iron to the green for his second shot. Fitzpatrick elected to hit a three wood-metal that he hooked into a left sand bunker that has a small, elevated, grassy mound in the middle. He could barely hit his iron shot at the pin by missing the mound, and that's what he did. It was perhaps his best shot of the day, especially under the circumstances, and it left him about a twenty foot birdie putt. Zalatoris then hit his second shot and his ball settled near Fitzpatrick's ball, on the same line to the hole but about four feet closer to the hole. Matt putted first and missed wide left, though leaving him an easy tap in for his par. Will then barely missed left to remain one stroke shy of Matt's win at 274 total.
Zalatoris' golf swing reminds me of my golf swing in my early days on the PGA Tour. I was blond and skinny like him. We both had upright golf swings with a slight pause at the top of the backswing. And both us had some reverse C action on the forward swing, which can result in some upper body recoil. That type of golf swing can cause you to miss right under pressure. That's what it sometimes did with me–"loosing it right" under pressure, such as when in the hunt to win during the last nine holes on Sunday. I've noticed that Zalatoris, even though he is likely destined to be a very fine player and perhaps a superstar, does have that problem. Then television commentator Paul Azinger, a PGA Championship winner, announced that the stats show that Zalatoris occupies the 203rd position on the PGA Tour for missing his full shots to the right. That is a phenomenal statistic that Zalatoris likely knows about and may in the future work to correct.
Fitzpatrick has made a change in his golf swing, and I didn't learn was it was. But I'll tell you this, his swing reminds me of Ben Hogan's swing. Hogan, who won eight majors, was the greatest ball striker of all time. Fitzpatrick does not start his swing like Hogan did, but after that it is quite Hoganesque. Matt starts by moving his right knee forward in a forward-press action and then turning his body early in his very fast backswing. He then lays the club off at the top, which means that his golf shaft points to the left of his target, which Hogan did slightly. But the main thing Matt does that looks like Ben's swing is that, well before Matt's club head reaches the end of its backswing, Matt has finished turning his body and begins to rotate it the other direction. The result is a very quick transition from backswing to downswing that results in maximum torque in his body and thus maximum club head speed, all of which Ben Hogan did so well and that made him so great. Plus, Matt does this quickly but, really, quite smoothly. You can tell because his head doesn't move around or do any dipsy-doodle. That was another reason Hogan's swing was so great. In sum, I'm expecting more great things in the world of golf from this Matt Fitzpatrick
A lot of golfing history has been made here at The Country Club of Brookline. For one thing, this was the fifth time the U.S. Open has been held here. One of the greatest performances in golf occurred the first time it was staged here. The amateur Francis Quimet won the U.S. Open here in 1913. It was the only time an amateur has ever won the U.S. Open. But I do say the man had an advantage–Quimet lived right across the street from this golf course. Also, Matt Fitzpatrick had come across the sea in 2013, exactly a hundred years later and when he was eighteen years old, to win the U.S. Amateur here at The Country Club.
Finally, Matt's win today put him in further rarified air by being only the second golfer to ever win both the U.S. Amateur and the U.S. Open on the same golf course, with the first one to do that being the GOAT–Jack Nicklaus.