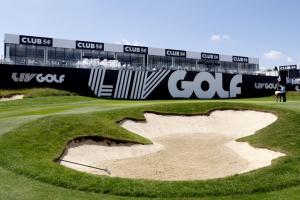 Four-time major championship winner Brooks Koepka, a native American, broke ranks today from the PGA Tour to join the new, Saudi-backed LIV Golf Invitational Series. This departure by Koepka is surely a major blow to the PGA Tour's resistance to this disruptive upheaval in pro golf. He was the number one player in the world less than one year ago, but he has fallen to 19th due to injuries.
The first LIV Golf tournament was held ten days ago in London. Their next event is scheduled to begin June 30 at Pumpkin Ridge in Portland, Oregon. Thirty-two year old Koepka and Bryson DeChambeau, the 2020 U.S. Open champion, are expected to make it their first LIV Golf event. LIV Golf has now signed up eight of the top fifty pro golfers in the world. Several of its players are non-Americans who have won at least one major in their careers. Abraham Ancer, who has a dual citizenship in both Mexico and the U.S., also recently announced he had joined LIV Golf
These major championship winners, which includes Americans Phil Mickelson and Dustin Johnson, are reportedly being guaranteed huge sums of money just to sign up, which does not include the big purses they play will play for, by Saudi Arabia's Public Investment Fund (PIF). It is controlled by Crown Prince Mohammed bin Salman (MBS). Saudi Arabia has always had a poor reputation regarding human rights.
Moreover, according to spy agencies around the world, even our CIA, MBS ordered his henchmen to lure dissident and world-class journalist Jamal Khashoggi–who was living in Washington D.C. and working for The Washington Post–to the Saudi consulate in Turkey where he was not only assassinated, but his body was grotesquely dismembered. Saudi Arabia has been increasingly involving, and financially investing, itself in sports for the supposed sole effort to improve its image to the world. Such an effort, which can involve large sums of money with no goal of being financially profitable, is called "sportswashing."
LIV Golf's format is different than that of other pro golf tours around the world, including the PGA Tour. Their field consists only of 48 players who all tee off at the same time, on all of the 18 tees, called a "shotgun start." There are 12 teams consisting of four players per team. So, these tournaments are both an individual and team event.
The PGA Tour suspended indefinitely seventeen of its members who competed at the LIV Golf event in London. That was because they were not granted a release to do so by Commissioner Jay Monahan. He called for a "players meeting" today at the PGA Tour's Travelers Championship, being held at TPC River Highlands in Cromwell, Connecticut, to discuss this greatest crisis in the nearly hundred year existence of the PGA Tour. It is expected that he will make an announcement to the media tomorrow.
Most experts think this conflict is headed for a big lawsuit. LIV Golf likely will allege that the PGA Tour is acting as a monopoly, thereby restricting free trade. The PGA Tour likely will argue otherwise, claiming it is an association (PGA=Professional Golfers Association) in which its members freely join by committing themselves to its bylaws. These include not participating a foreign golf event that is held the same week as a PGA Tour tournament unless the PGA Tour member requests, and is granted, a release to do so by Commissioner Monahan.
The Tour will argue that this "release clause," which has existed way back since I played the regular PGA Tour full time, 1964-1982, is necessary to be able to fulfill its contracts with its many tournament sponsors and television networks of guaranteeing a "representative field" of its membership, meaning that a sufficient number of star players will compete. The Tour likely will have witnesses who are executives from among its commercial sponsors and TV networks who will testify that this indeed the case. The Tour and its commercial sponsors may also add to its case its history of financially benefiting charities in local communities where its tournaments are held.