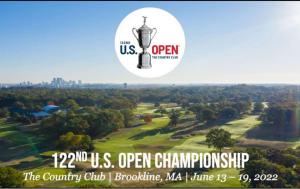 Will Zalatoris and Matt Fitzpatrick are tied for the lead in the U.S. Open at The Country Club in Brookline, Massachusetts, after three rounds with four-under par totals of 206. Impressive, twenty-five year old Zalatoris has been knocking at the door to get his first win on the PGA Tour, especially in the majors. Just last month, he lost the PGA Championship at Tulsa in a three-hole aggregate playoff to Justin Thomas.
Arguably, the four best golfers in the world are among the top eight finishers today: defending champion Jon Rahm at -3, Scottie Scheffler at -2, Rory McIlroy at -1, and Sam Burns at -1.
Will Zalatoris took the early lead in the clubhouse today with a three-under par 67. I think that was the low score of the day.
Jon Rahm birdied the short par four 17th hole to take the sole lead at five under par. On the par four 18th hole, the big, powerful guy barely drove in the left sand bunker and made a double bogey to finish one stroke back of the leaders. His iron shot out of the bunker was too low, hit the lip of the bunker, and bounded back to almost rest in his large footprints.
Television commentator and former PGA Championship winner and my friend, Paul Azinger, made an excellent comment about Rahm's failure to clear the edge of the bunker on that iron shot. Paul said that since Rahm swings with a noticeably closed club face on his backswing, he can have difficulty hitting his iron shots high enough.
It was a day of somewhat difficult scoring conditions with some wind and greens that the sun and wind are drying out to make them not so receptive for iron shots.
So, with so many of the best players in the world right there in the hunt, this could be another really exciting finish tomorrow in one of golf's four majors just like the last one.