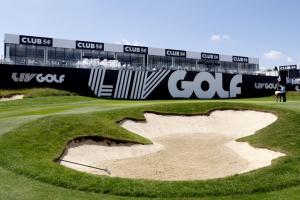 This LIV Golf series is in serious competition with the PGA Tour. Last week, its Commissioner Jay Monahan suspended the memberships of the 17 PGA Tour members who competed in the first LIV Golf event held in London last week. The main stars who played in it, and therefore were suspended indefinitely, included Phil Mickelson and Dustin Johnson. But Johnson resigned his PGA Tour membership.
It appears that LIV Golf will not succeed unless it can attract top pro golfers who are allowed to compete in golf's four majors: Masters, PGA Championship, U.S. Open, and The (British) Open. None of these are produced, and thus hosted, by the PGA Tour.
LIV Golf is having eight events this year. But they are not able to attract any of the major television networks in the U.S., all of which are quite satisfied with televising PGA Tour golf tournaments and now in their first year of a six year contract to do so.
None of the directors or committees of the four majors have made a decision about whether in the future they will permit LIV Golf pros to compete in their tournaments. But they will have to make a decision about this in the near future.
The Masters Tournament, staged every year in the spring season at the iconic Augusta National Golf Club in Augusta, Georgia, has a staid reputation about preserving the traditions of golf. Because of this, I could see that it might decide to prohibit LIV Golf pros from competing in future Masters tournaments except for one thing. Past winners are guaranteed entry in future Masters tournaments. Phil Mickelson has won three Masters tournaments.
The U.S. Open is being contested this week on one of the nation's oldest and most historic golf courses–The Country Club in Brookline, Massachusetts. Mike Whan, executive director of the U.S.G.A., which produces the U.S. Open, said this week about LIV Golf that he is viewing it "mostly as a fan because I like watching the best players in the world come together and play, and this is going to fracture that. I've heard that this is 'good for the game.' At least from my outside view right now, it looks like it's good for a few folks playing the game, but I'm struggling with how this is good for the game."
When Whan was asked if he could foresee the U.S.G.A. refusing to accept golf professionals competing in the U.S. Open, he seemed to answered "yes." The U.S.G.A. approved of 15 LIV Golf members competing this week in the U.S. Open because it was too short of a notice about LIV Golf to have done otherwise. But as for the future, it remains to be seen. The U.S.G.A is proud of its tradition of requiring its contestants to qualify to get in its tournaments, and LIV Golf seems to be quite different from that. However, LIV Golf pros would still have to achieve whatever is necessary for them to qualify for the U.S. Open, such as win a major.
The PGA Championship has a rule that its contestants must be approved by the PGA Tour. So, as it stands right now, it appears that LIV Golf pros may not be able to compete in future PGA Championships.
As for The Open, I have no clue.