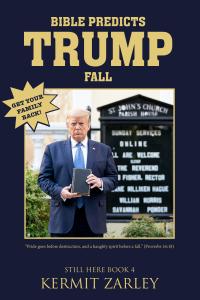 The special House committee to investigate the Capitol riot on January 6, 2021, and events related to it, held two televised hearings this week. Its 4th hearing on Tuesday and its 5th hearing was today. I have watched all five hearings. Each one lasted two to two-and-a-half hours. I believe these hearings are presenting the true facts of how former President Donald J. Trump constantly lied about election fraud and committed crimes in trying to overturn the 2020 election results. It all coincides with my approximately 350 posts I wrote on my Kermit Zarley Blog during the Trump presidency. Two hundred of them are included in my book, published weeks ago, and entitled Bible Predicts Trump Fall.
Tuesday's hearing was focused on especially former President Trump's involvement in trying to overturn the 2020 election results, in which Joe Biden won that presidential election, and Trump aides, lawyers, and cabinet members telling him there was no evidence of his claimed election fraud. Three witnesses were involved and questioned.
As expected, the star witness was perhaps Brad Raffensperger, the Republican Secretary of the State of Georgia. President Trump and his aides had conducted so much effort to get Georgia state officials to overturn their election results. Trump had made a recorded phone call to Raffensperger, and for 67 minutes Trump pressured him, even saying, now famously, "I just want to find 11,780 votes" which would be one more than what Trump lost to Biden in Georgia. That seems to be the smoking gun for an alleged criminal offense for District Attorney of Fulton County Fanni Willis in her investigation that is about to be wrapped up, prosecuted, and decided by a grand jury.
Another witness was Rusty Bowers, Republican Speaker of the House of the State of Arizona, where I live. Committee member and Democratic Representative Adam Schiff did the questioning of Bowers.
Trump phoned Bowers multiple times, even threatening him. Trump and his aides tried to get Bowers to illegally replace Democratic electors with Republican electors. Bowers said to Schiff, "what they were asking me to do would violate my oath to the U.S. Constitution." In a conference call with Bowers, the president, and the president's lawyer Rudy Guiliani, Bowers said he had seen "no evidence" of election fraud. Trump then said to Guiliani, "Get the man the evidence," and hung up. Guiliani then, quite surprisingly admitted in a seemingly unguarded moment to Bowers, "we've got lots of theories, but no evidence." Ha! Bowers said they never got him any evidence.
Bowers, a churchman, explained to Representative Schiff, "My faith is that the U.S. Constitution is divinely-inspired." Bowers added that he told Trump he "would not do anything illegally for him." Bowers kept a diary. He wrote in it about this pressure being put on him, "I do not want to be a winner by cheating. . . . I want to follow God's will." Bowers revealed that this pressure had resulted in many Republican voters threatening and harassing him and his family, even at their house.
The third and final witness was a black lady named Shaye Moss and her mother, Ruby Freeman. Both were Georgia election workers for many years. It was sad to hear these two ladies, who grieved about the pressure that President Trump and Guiliani put on them in phone calls which resulted in death threats from Republican voters because of President Trump singling them out in one of his political rallies, claiming they had committed election fraud although there was no evidence of it. The FBI had to move "Lady Ruby," her nickname, from her home for two months for safety. She told the committee, "Do you know what it feels like for the president of the United States to target me, Lady Ruby?" She says she now cannot call herself Lady Ruby. Shaye quit her election worker job because of all this, and she said many others are doing likewise. Congressman Schiff then pointed out that such pressure from government authorities, such as the president, is doing serious harm to our election process, which is the very core of our democracy.
The fifth hearing, today, also featured three witnesses in an effort to show how President Trump tried to get the Department of Justice–which is supposed to be independent from the executive branch of our government–to overturn the 2020 election results. These witnesses were three lawyers: Acting Attorney General Jeffrey Rosen, Acting Deputy Attorney General Richard Donoghue, and Assistant Attorney General of the Office of Legal Counsel (OLC) Steven Engel. Republican Representative and member of the committee Adam Kinzinger did the questioning of these witnesses.
Now, the attorney general is the head of the Department of Justice. It employs 115, 000 people which includes the FBI. Rosen was briefly the acting attorney general because Trump's chosen Attorney General William Barr, who had seemed to be his loyal lap dog, changed when President Trump kept saying after the election that it had been "rigged," "stolen" from him, and thus was "fraudulent." Barr had testified in a lengthy deposition to the committee, which has been shown throughout these hearings, that he looked into these allegations of election fraud and concluded they were not true. He says he told Trump it was all "bullshit." So, Trump soon fired him and Rosen took his place.
Rosen and especially Donoghue had several meetings with Trump in the Oval Office about alleged election fraud between December 15, 2020, and January 3, 2021. Kinzinger asked Rosen and Donoghue of Trump's many suggestions of election fraud, "Did any of the issues he brought up seem credible?" Donoghue answered simply, "No." Donoghue revealed that in one of the meetings Trump insisted to him, "Just say the election was corrupt and leave the rest to me and my Republicans in Congress."
The remainder of this hearing centered on Jeffrey Clark. He was a rather unimportant and unknown lawyer in the DOJ who was responsible for environmental issues. Republican Representative Scot Perry of Pennsylvania, who was a huge fan of Trump, introduced Clark to Trump as someone in the DOJ who might be able to get done what Trump wanted–which was for the DOJ to declare to especially the six swing states that the DOJ was concerned about possible corruption of the election and that those states should produce an alternative slate of Republican electors to replace its Democratic electors, since the election results of those states had shown Biden to have won. Clark had written a letter to that effect which he said if he was the attorney general, he would send it to the six states.
Trump then called an important meeting in the Oval Office on January 3, 2021, thus only two weeks before he was supposed to vacate his presidency on Inauguration Day. The meeting was mostly personnel from the DOJ. It included Trump, Rosen, Donoghue, Engel, Clark, and many other DOJ lawyers. Trump said he wanted to replace Rosen with Clark and send this letter to the six states. But he was feeling them out about it. Donoghue said Clark was not a criminal attorney, had no trial experience, and thus was quite unqualified to head up the DOJ. Clark defended himself by saying he had handled some environmental cases. Donoghue then said to him sarcastically, "Oh, fine, you go back to work and we'll call you if there's an oil spill."
Donoghue is this no nonsense fellow with a deep voice. That's why it seemed to me Trump focused on him among all others in that meeting. Trump then asked Donaghue what he thought would happen if he, Trump, replaced Rosen with Clark as attorney general. Donoghue said, "I'd resign. There's no way I'm serving under that guy."
Trump then turned to Engel and asked him. Engel said he would resign also. And every lawyer in the room, except Clark, said he would do the same. Special counsel Pat Cipollone said that sending out that letter to the six swing states would be "a murder-suicide pact." All of this was remindful of Saturday Night Massacre in Richard Nixon's presidency due to Watergate.
Donoghue then told Trump that hundreds of lawyers in the DOJ would do likewise. He then said to Trump, "How would that make you look as a leader for hundreds of lawyers in the DOJ to quit?" I think that got Trump's attention. So, he announced to the group that he would not replace Rosen with Clark.
The committee then announced that yesterday morning, FBI agents raided Jeffrey Clark's house before dawn and took electronic equipment. Since a federal judge had approved of this intrusion, it strongly suggests that Clark is in serious trouble due to being under investigation for crimes, which the DOJ does not state until its investigation is finished and prosecution begins with a grand jury.
The committee also announced that six Republican members of Congress had asked for a pardon from President Trump in the closing days of his presidency. That in itself suggests they feared they could be charged with criminal activity for helping President Trump in his efforts to overturn a free, fair, and trustworthy election.
Committee Chairman Bernie Thompson then called on Kinzinger and Representative Liz Cheney for closing comments. In Kinzinger's remarks he commended the witnesses and others for standing up to the pressure and said, "the only way for evil to succeed is for good men to do nothing."
The preface of my Trump book begins with this paragraph: "I'm an independent voter who is not that political. Yet I've voted for Republican presidents all of my life until lately. When Donald Trump began campaigning for the U.S. presidency, I thought he was unfit for the job and a danger to democracy. Yet I surmised that, being a successful businessman, he might be able to help our nation economically. But I thought he treated so many people disrespectfully. And I suspected his selfish and bullying persona could be a disaster for U.S. foreign policy. But most of all, as a lifetime evangelical, I was alarmed that evangelicals constituted such a large portion of Trump's political base, and that was causing many people to equate Trumpism with Christianity. I was most concerned about Trump's lack of ethics. So, I decided it was my duty to warn people about Donald Trump being president since I believe evil prevails when good men do nothing."
Chairman Thompson then announced that the last two of the planned seven hearings would be next month, though it is possible that there will be more. This is because new information is regularly being discovered. The hearing was then adjourned.
[Right now, I am giving complimentary copies of my Trump book, either ebook or print, to anyone who will read it soon, or read most of it, and consider writing a brief review of it on amazon.com. They just need to go to my kermitzarley.com website, click Contact, tell which book format you want, and provide a mailing or email address.]