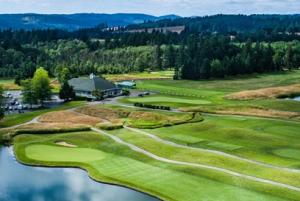 The disruptive, upstart LIV Golf Invitational Series comes to Pumpkin Ridge next week, and it could result in hostile demonstrations.
I've been blogging about the renegade American pro golfers who have joined the new, Saudi-backed LIV Golf Invitational Series that is causing quite a crisis in professional golf around the world. The Saudis have been investing big time in sports to try to clean up their miserable image about human rights, but especially their supposed assassination, and reportedly the grotesque dismemberment of his body, of world-class journalist Jamal Khashoggi.
One of these Saudi investments by its Public Investment Fund is LIV Golf. It had its first tournament in London two weeks ago. Several major championship winners who are members of the PGA Tour and some who are also members of the DP World Tour (formerly European Tour) participated in that event despite the PGA Tour rejecting their request for a release to participate in a foreign event opposite a PGA Tour event the same week, which was the RBC Canadian Open.
When that happened, Commissioner Jay Monohan of the PGA Tour immediately suspended those members indefinitely in accord with its regulations. The DP World Tour's CEO Keith Pelley just two days ago went further by fining three of its members who participated in that London event about $125,000 each and made substantial threats about the future. He also said those players will not be eligible to play in three upcoming, new tournaments this summer which are for the first time being co-sponsored by both the DP World Tour and the PGA Tour.
It turns out that the PGA Tour has a bylaw that says it cannot permanently ban a member, but the DP World Tour has no such restriction. Pelley, in making his decisive declaration, also mentioned a "strategic alliance" between the DP World Tour and PGA Tour, which was entered into (I think) in 2019. He said the emergence of LIV Golf is a serious threat to these two tours if not pro golf tours in general around the world and that it has caused the strategic alliance between the DP World Tour and the PGA Tour to be strengthened.
The second LIV Golf event comes to the USA for the first time next week. It will be held at the championship Pumpkin Ridge Golf Club in North Plains, Oregon. It is a small community nestled among pristine farmland and located twenty miles northwest of Portland. Already, a dozen of its members have resigned their memberships in protest of the club hosting LIV Golf due surely to its association with Saudi Arabia. Some of them have spoken out publicly against the Texas-based Escalante Golf, which owns Pumpkin Ridge Golf Club, for hosting LIV Golf, accusing it of aligning itself with Saudi "sportwashing." The original Pumpkin Ridge owners sold it to Escalante Golf in 2015.
Pumpkin Ridge Golf Club board member Andy McNiece has said publicly, "Escalante Golf has sold out our club's honor, and to a certain extent, I feel they've sold out a little bit of my honor, too." Another original club member reportedly has said, anonymously, "You think differently in Texas. Why don't you host it there? To me, the Khashoggi thing is extremely troubling. On principle, I could never support it for that reason."
However, the director of Esclante Golf said Pumpkin Ridge Golf Club had received 34 new members since its LIV Golf tournament was announced. The club's ground and its clubhouse have received a huge makeover since this announcement, and it has surely been paid by Saudi petrodollars.
Oregon's provocative, Democratic Senator Ron Wyden is quite critical of the Saudi Arabian government. He said of next week's LIV Golf at Pumpkin Ridge, "The Saudis are just trying to wash bloodstained hands."
Two other LIV Golf events will be held this year in the U.S. Both will be held on properties owned by former President Donald Trump via his Trump Organization.
Another aspect of this crisis in professional golf involves the surviving families of people who lost their lives in the 9-11 attack on the U.S., in which almost 3,000 Americans instantly died. That most horrific terrorist event in U.S. history was conducted by 19 Arab men, in which 15 of them were Saudi citizens.
ESPN reported three days ago, "A group of nearly 2,500 survivors of family members killed or injured in the terrorist attacks of Sept. 11, 2001, have written an open letter to PGA Tour members to thank them for remaining loyal to the tour and not joining the rival LIV Golf Invitational Series, which is being financed by Saudi Arabia's Public Investment Fund."
I wonder if there will be demonstrations at Pumpkin Ridge Golf Club next week when Saudi "blood money," as some are calling it, comes to the USA for the first time via these LIV Golf players.