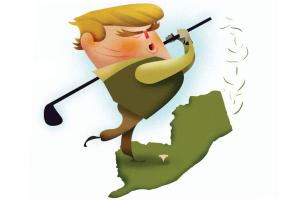 One of my favorite political-legal commentators on television is Neal Katyal. He is a former Solicitor General in the Obama administration. Indicating Katyal's legal expertise, he has argued orally a whopping 37 cases before the U.S. Supreme Court, with 35 of them having been in the past nine years. Most notably among them was when he was co-counsel for Vice President Al Gore in the 2000 presidential election debacle case known as Bush v. Gore.
On Thursday, the House Select Committee investigating the January 6th Capitol riot held its fifth of a planned series of seven televised hearings of its investigation. All have included in-person witnesses and much video of mostly its investigative lawyers conducting depositions involving the questioning of witnesses under oath.
Also on Thursday, Richard Donoghue, former Acting Deputy Attorney General of the Department of Justice, emerged as the most prominent of the three in-person witnesses along with his boss, former Acting Attorney General Jeffrey Rosen. After this hearing, on MSNBC's "Deadline White House," host Nicolle Wallace asked Katyal for his reaction to the hearing. Mr. Katyal said Mr. Donoghue's testimony represented "the soul of the Justice Department. It's not political." Katyal added, "Donald Trump is not only unfit to be president of this country, but even to be in this country. The picture today was a third-rate dictator somewhere else."
I fully subscribe to that, as my book, Bible Predicts Trump Fall, lays out. Moreover, the Justice Department, now headed up by Attorney General Merrick Garland, has of late likely indicated it has been carrying on its own investigation of the January 6th Capitol riot and events involving it. This is suggested by an FBI raid, on Wednesday morning, of the home of Jeffrey Clark, a former DOJ subordinate. I blogged Thursday that President Trump wanted to replace Acting Attorney General Jeffrey Rosen with Jeffrey Clark since he was willing to do anything Trump wanted in order to try to overturn the 2020 election results. Plus, the DOJ has sent subpoenas to many Republican lawmakers involved in efforts to illegally replace the Democratic electors in swing states that voted for Biden with Trump electors.
On October 16, 2020, less than three weeks before the presidential election against Joe Biden, incumbent President Donald Trump said in a political rally in Georgia, "Could you imagine if I lose? I'm not going to feel so good. Maybe I'll have to leave the country, I don't know."
What if the Justice Department investigates former President Trump for crimes, and Trump discovers that he is about to be prosecuted for them, which could result in Trump going to prison? If that were to happen, I could see The Donald trying to leave this country, thus fleeing criminal prosecution. Usually, the Justice Department takes measures to try to prevent people under its investigation from fleeing the country. But that might be more difficult to do with a former president.
Where might Trump go? Two of Donald Trump's favorite countries when he was president were Saudi Arabia and Russia. He had extraordinary relations with Russian President Vladimir Putin. And President Trump visited Saudi Arabia with a huge welcome. Plus, the U.S. does not have an extradition agreement with either Russia or Saudi Arabia.
So, I could see The Donald hightailing it outta here to either Russia or Saudi Arabia. How? Either country might send a big jet to get him. There's only one problem with Russia–no golf courses. So, I think Saudi-land would be the more likely destination. Plus, they are building a lot of golf courses and are now financially backing the rebel pro golf league LIV Golf, which will have two of their tournaments at Donald Trump golf courses this year.
So, if Trump flew the coup, that would prove what attorney Neal Katyal said this week about The Donald, that he is "unfit for this country."