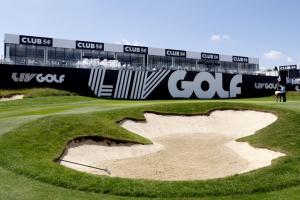 The disruptive, Saudi-backed LIV Golf Invitational Series is scheduled to have its second event. It will be this week and the first in the U.S. It will be held at Pumpkin Ridge Golf Club in North Plains. With a population of only 3,500, North Plains is located twenty miles northwest of Portland.
I've already blogged about the possible hostile opposition this event may incur. It's because Saudi Arabia is financially backing LIV Golf, offering huge amounts of money for leading PGA Tour players to join it.
Two weeks ago, the PGA Tour suspended seventeen of its members who participated in the first LIV Golf event, in London, for not being granted a release to do so. It's because that event was held during the same week as a PGA Tour tournament–the RBC Canadian Open. And I've written other posts about this biggest crisis in the entire, nearly 100-year history of the PGA Tour.
It turns out that the mayor of North Plains wrote a letter of concern to Pumpkin Ridge Golf Club's owner–Texas-based Esaclante Golf. One concern is that many Oregonians are upset with Saudi Arabia for another reason as well. A Saudi student attending college in Portland was charged with the crime of a hit-and-run death of a fifteen-year old girl. Just before his scheduled court appearance, the Saudi government supposedly sent an airplane and whisked him to Saudi Arabia.
Also, a letter signed by North Plains mayor Teri Lenham and ten other mayors of surrounding cities was made public. It  says of this LIV Golf Portland tournament, "We opposed this event because it is being sponsored by a repressive government whose human rights abuses are documented. We refuse to support these abuses by complicitly allowing the Saudi-backed organization to play in our backyard."
I've reported how Oregon Senator Ron Wyden has been speaking out against it as well. He has explained, "It's just a page out of the autocrats' playbook covering up injustices b y misusing athletics in hopes of normalizing their abuses."
[BTW, Yours Truly, as an 18-year old amateur golfer, airmailed the green on the last hole of the 1960 Oregon State Open golf tournament in Portland to make a bogey and finish second. No money–just hardware!]