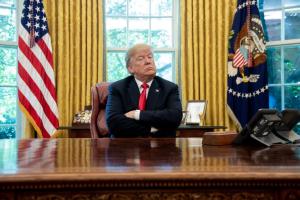 As I stated in my last post, the three most prominent people who influenced Donald Trump to become the person who he is today were Frederick Trump Sr., his father, Norman Vincent Peale, a pastor in Donald's youth, and Roy Cohn, who was no doubt the most influential lawyer in Donald's life.
Donald's father taught him how to be a businessman. He may have influenced him to be a white supremacist. Fred Sr. was arrested in 1927 at age 22 for refusing police orders to stop marching with the Ku Klux Klan in Queens, New York.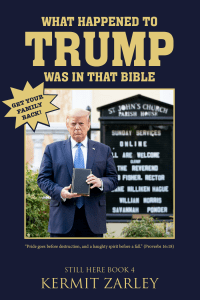 As for Roy Cohn, he taught The Donald how to sue everybody he didn't like. They met one night at a night club. Donald told attorney Cohn the federal government was suing his father's real estate company, alleging it "discriminated against blacks." In my book, Bible Predicts Trump Fall, I relate about this as follows (p. 12): "Cohn said, 'Tell them to go to hell and fight the thing in court and let them prove you discriminated.' For that, Cohn became the Trumps' lawyer and Donald's tutor for the next thirteen years. Roy taught Donald to fight City Hall through the courts to get whatever he wanted as a real estate developer. Cohn instilled in young Donald a tenacious spirit to never give up, never regret, and never admit defeat."
So, former U.S. President Donald Trump owes his tenacious spirit of refusing to admit defeat in the 2020 presidential election to Roy Cohn. He became a criminal defense lawyer who worked for some Mafia figures including John Gotti of the Gambino family.
Similar to Cohn's influence to never admit defeat was Norman Vincent Peale's affect on The Donald about thinking positively. Peale's first book, The Power of Positive Thinking, became a bestseller. The following is from my book (pp. 7-11):
"Norman Vincent Peale. It will come as a surprise to many readers that Donald J. Trump had a church background while growing up. He attended Sunday school at First Presbyterian Church in Jamaica, Queens, New York City. He was confirmed there in 1959 at age thirteen. Later, his father Fred would drive the family from Queens to Manhattan Island to attend Sunday services at Marble Collegiate Church, of the (Dutch) Reformed Church denomination, located on Fifth Avenue. Pastor Norman Vincent Peale (1898-1993) had become renown with a bestselling, self-help book. Entitled The Power of Positive Thinking,[1] it has now sold over five million copies.
"Donald Trump has often credited Dr. Peale with having a positive influence on his life. He says it helped him get through 'difficult times,' especially in business. In July, 2015, Donald told the Iowa Family Leadership Summit about Peale, saying, 'You could listen to him all day long, and when you left the church, you were disappointed it was over. He was the greatest guy.' Donald also has said, 'He thought I was the greatest student of all time.' In fact, Donald and Ivana, his first wife, were married at Marble Collegiate Church as were two of Donald's siblings. Both funerals for Donald's parents were held there.
"Norman Vincent Peale got interested in positive thinking to help himself. He was the son of a physician turned Methodist minister. Norman said while he himself attended Ohio Wesleyan University, a professor challenged him to improve his personality. Norman admits he was 'shy, bashful and reticent . . . a scared rabbit, just scared of everyone.' He began reading 'possibility thinkers' such as Ralph Waldo Emerson.
"Peale wound up preaching to thousands every Sunday at Collegiate Marble Church for decades. He also became a prolific author of 46 books and the founder of some organizations. Drawn to successful men in business who were politically conservative, Peale co-founded works with such leaders as retailer J. C. Penney, radio and TV personality Arthur Godfrey, and Thomas Watson, founder and president of IBM. Peale had his own radio program for 54 years. He and his wife founded and produced the inspirational magazine Guidepost. In fact, Peale was so discouraged with his Power of Positive Thinking manuscript that he reportedly threw it in the wastebasket, but his wife retrieved it and took it to a publisher.
"Yet Norman Vincent Peale had his critics. They consisted mostly of psychiatrists, psychologists, and theologians. Psychiatrist R. C. Murphy alleged that Peale rejected self-knowledge, so that 'self-hypnosis' was 'the cornerstone of Mr. Peale's philosophy.' Murphy added, 'For him real suffering does not exist.'[2] So, some experts claimed Peale's positive thinking was a denial of reality. Later psychologist Mary Trump writes, 'When Fred heard about Norman Vincent Peale in the 1950s, Peale's shallow message of self-sufficiency appealed to him enormously.' She labels Peale 'a charlatan' whose message anticipated 'the prosperity gospel,'[3] surely referring the teaching of some Pentecostals today.
"The American Psychological Association ranked psychologist Dr. Albert Ellis (1913-2007) as the second most influential psychotherapist in the 20th century, thus behind Carl Rogers who was first and ahead of Sigmund Freud who was third. Ellis was an originator of cognitive therapy. He wrote extensively against Norman Vincent Peale's teachings, alleging it was 'unrealistic.' He documented many cases of patients who suffered psychologically from Peale's positive thinking. Ellis claimed that what Peale taught people 'often prejudice[s] them against effective therapy.'[4]
"However, it should be noted that Ellis was an atheist. Plus, at the end of the first chapter of The Power of Positive Thinking (p. 13), Peale lists ten 'rules for overcoming inadequacy attitudes.' One says, 'Get a competent counselor to help you understand why you do what you do. . . . Self-knowledge leads to a cure.' Also, Peale says of their church clinic (p. 174), 'we now have twelve psychiatrists on the staff.'
"My friend Dr. Randall Balmer is a leading historian of American religion. He says, 'The criticism of Peale was that he was soft, that his theology was unsubstantial.'[5] That's what turned me off when I read Peale's book in the 1970s. In Chapter 175 of this book ('Trump's Positive Thinking Is Killing Him'), I relate my experience back then of reading Peale's The Power of Positive Thinking. I thought its overall message was simple and sound—think positive to achieve happiness and success in life. So, I think there is a lot in this Peal book that can help people. Yet I had some theological objections to the book. One was that Dr. Peale often quotes the Bible out of context. A text taken out of context becomes a pretext for a meaning unintended by the author. More importantly, I wondered if Peale was a universalist.
"For example, in the first paragraph of Peal's book he states (p. 1), 'this book will help you believe in yourself and release your inner powers.' He then tells about a man who complained to him about having so much self-doubt, thus no confidence. Peale recommended he repeat often to himself the apostle Paul's saying, "I can do all things through Christ which strengtheneth me" (Philippians 4:13).' I recall when I first read this, on p. 2, nearly fifty years ago that I thought it was a misapplication of Scripture, and I still do. I mean that it applies only to those who believe in Jesus as Christ, Savior, and Lord. Yet Peale says nothing about the man's spiritual status, and it appears that he didn't inquire about it.
"At the end of the first chapter of Peale's book (p. 12), he has 'ten simple, workable rules for overcoming inadequacy attitudes and learning to practice faith.' But it is 'creative faith in yourself' (p. 1). In one rule (p. 13), Peale cites the apostle Paul saying, 'If God be for us, who can be against us?' (Romans 8:31).' In another rule he again cites Philippians 4:13. But Paul wrote these things to genuine Christians, and he meant them only for such believers. Peale does the same with Jesus' proclamation, 'the kingdom of God is within you' (Luke 17:21).' This text is often misunderstood. I think Jesus meant that his very presence was the embodiment of the kingdom of God (cf. Luke 11.20). But Peale takes these New Testament texts out of context and applies them to all of his readers, telling them to realize God's power within them. In contrast, Paul teaches that God's power resides only within true believers in Jesus.
"Reinhold Niebuhr (1892-1971) was a theology professor for thirty years at Union Theological Seminary in Manhattan. After his death, TIME magazine called Niebuhr 'the greatest theologian in America since Jonathan Edwards.' Niebuhr was known as 'America's Theologian' mostly because of his analysis of national politics and public affairs. Even though he was a Dutch Reformed theologian as was Dr. Peale, Niebuhr alleged that Peal's teaching 'corrupted' the Christian gospel and 'hurts people too.' He claimed it 'helps them feel good while they are evading the real issues of life.'
"Peale's philosophy was not new. It was the same as the teaching of the French psychologist Émile Coué (1857-1926). His self-improvement mantra was, 'Every day, in every way, I'm getting better and better.' Coué emphasized repetition. He had his patients say this mantra at least twenty times a day. (I remember one day when I visited my beloved uncle Victor Zarley, a Unity pastor. He played a tape recording for me to hear which repeated this saying over and over.) Coué had begun his career by practicing hypnosis on his patients. But he later turned to autosuggestion, which is often identified as 'self-hypnosis.'
"Peale also had both admirers and critics in politics. Several U.S. presidents spoke highly of him, including Richard Nixon and Ronald Reagan. Earlier, Peale encouraged President Eisenhower to put 'In God We Trust' on our currency and add 'under God' to the Pledge of Allegiance. And in 1984, Ronald Reagan awarded Dr. Peale with the Presidential Medal of Freedom, the nation's highest civilian honor.
"But Adlai Stevenson was no admirer of Dr. Peale. Stevenson was the Democratic intellectual who lost the 1952 presidential election to Republican Dwight D. Eisenhower. Stevenson said in a speech that year (also in 1960), 'I find Saint Paul appealing and Saint Peale appalling.' That was because Peale had said Stevenson was unfit to be president since he was divorced. And years later, Peale said John F. Kennedy was unqualified to be president due to being a Roman Catholic. Former President Harry Truman called that 'both bigotry and a violation of the constitutional guarantee of no religious test for public office.' Peale then regretted saying that about Kennedy and decided to no longer speak publicly about politics.
"Donald Trump may have taken Dr. Peale's positive-thinking to another level unintended by the pastor. Trump's positive thinking became magical thinking that often was untethered to reality. That's what you call self-deception—living in a dream world. But Donald would not have arrived there without being the classic narcissist that I believe he is. The problem is that he infects others with his delusions. Someone else who influenced Donald Trump in this way was a lawyer who became his primary mentor."
[1] Norman Vincent Peale, The Power of Positive Thinking (orig. Prentice-Hall, 1952; New York: Simon & Schuster, 2015).
[2] R. C. Murphy, "Think Right: Reverend Peale's Panacea," Nation (May 7, 1955), 398.
[3] Mary Trump, Too Much and Never Enough, 37-38.
[4] Albert Ellis, Overcoming Resistance: Rational Emotive Therapy with Difficult Clients (New York: Springer, 1985), 147.
[5] The Washington Post, January 21, 2016.