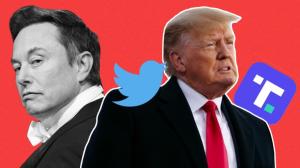 A feud has erupted between former U.S. President Donald Trump and business tycoon and engineer Elon Musk. Musk is now the richest man in the world, being CEO of Tesla, SpaceX, and other business ventures. These two had been somewhat friendly to each other for years. Musk was on President Trump's business council.
When Trump was president, he had about 80 million followers on Twitter. Then Twitter banned his account since his tweets contained so many lies and incendiary rhetoric that failed to meet Twitter's requirements. Trump was disappointed in losing this megaphone. While president, he tweeted about a dozen times per day. Some White House aides thought it was detrimental to his job.
Musk loves to tweet, too. His number of Twitter followers has been growing so that it now exceeds 100 million.
Months ago, Elon Musk made an offer to purchase Twitter for $44 billion. He said if the deal happens, he will reinstate Trump's Twitter account. That's despite his many lies, false statements, and inflammatory remarks that could lead to violence.
Here's what has been happening lately in this recent feud between Donald Trump and Elon Musk, though I'm augmenting some of their comments JUST A LITTLE:
Musk: He has been criticizing the Democratic Party lately. He said a few days ago that he has "always voted Democrat," but in June he voted Republican.
Trump: Saturday, Trump spoke at a political rally in Alaska with Sarah Palin. He said of Musk, "You know, he said the other day, 'Oh, I've never voted a for Republican.' I said, I didn't know that. He told me he voted for me. So he's another bulls___t artist."
Musk: "Takes one to know one!" Well, not quite. Musk really said, "Trump would be 82 at the end of [a second presidential] term, which is too old to be chief executive of anything, let alone the president of the United States of America."
Trump: Back in the summer of 2020, thus just two years ago when Trump survived COVID, he said in a phone interview with Fox News that it was largely because "I'm a perfect physical specimen, and I'm extremely young." This time, Trump responded, "Elon, once a stable genius, always a stable genius."
Musk added to that remark, "I don't hate the man, but it's time for Trump to hang up his MAGA cap and drive into the sunset–in a Tesla."
Trump: "No way, hosea! I don't believe in global warming or your EVs."
Musk: "That's because you trash scientists and don't read books." Back when Musk was on Trump's business council, he pulled the U.S. out of the Paris climate accord. Musk promptly resigned from the council in protest.
Musk: He really did add, "Dems should also call off the attack." He seemed to refer to the televised hearings of the House Select Committee to investigate the January 6th Capitol riot. Oh, after Trump's incitement to insurrection speech that day, he went to the White House and spent the next 187 minutes refusing the pleas of several aides and his daughter to call off the rioters. And since then to the present, for 18 months, he keeps lying to his many millions of Republican supporters about a lost election, thus destroying their faith in our elections. So, Elon, how about The Donald first calling off his attack on America's elections.
Musk recently pulled out of the Twitter deal, alleging that Twitter made "false and misleading representations" about the enormity of its fake accounts, many being bots. Twitter said it was about 5%. But Musk cited two recent studies that claim its more like 20-25%. So, Musk pulls out of the Twitter deal, accusing Twitter of "making false and misleading misrepresentations," but Musk would reinstate Trump's Twitter account even though he is the king of making false and misleading statements. If Musk buys Twitter and reinstates Trump, and Trump accepts, this feud might get much, much bigger–all on Twitter.