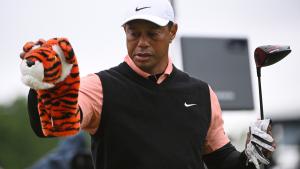 The 150th (British) Open is this week, and where else but on the first golf course ever built–the Old Course at St. Andrews. Tiger Woods is playing, though it is a challenge for him to do so since he limps around somewhat on his leg that he almost lost in a solo car accident nearly 18 months ago.
The controversy about the Saudi-backed rebel golf tour called LIV Golf Invitational Series just won't go away. It is without a doubt the biggest threat to other pro golf tours around the world, but especially the PGA Tour and the DP World Tour, which is the former European Tour. In 2019, these two pro golf tours, which have always been the two foremost pro golf tours in the world, joined together in an "alliance" to strengthen their opposition to something like this LIV Golf, which they were anticipating.
Over a dozen members of each from the PGA Tour and DP World Tour have played to the first two LIV Golf events in the past month. They were suspended or banned for doing so, and some were fined. I won't go into anymore detail about this since I have been blogging quite a bit about it. You can read some of my posts here and here and here and here.
Today, in a press conference Tiger Woods blasted LIV Golf again, this time with more explanation I thought was good and insightful. There are a lot of golf fans, and even some people reading my blog posts about this, who don't understand much about pro golf but are speaking their minds favoring LIV Golf. They need to listen to the Tiger today.
Tiger said of LIV Golf pros who have competed very successfully for many years on especially the PGA Tour, but also the DP World Tour, "What they've done is turn their backs on what has allowed them to get to this position." This is what I meant when I posted that LIV Golf is just grabbing some top pros without making any contribution to creating a pro golf tour wherein thousands and thousands of golfers who yearn to play on the PGA Tour have worked hard and gone through the many levels of competition to get there. Thus there are hundreds of members of the PGA Tour or its sub-tours whereas LIV Golf only has 48 players for its 54-hole tournaments. And Tiger was especially critical of that instead of the traditional 72-hole tournaments, as in all PGA Tour tournaments and all four majors.
I thought Tiger was so right again when he said, "What is the incentive to practice or go out and earn it in the dirt? You're just getting paid a lot of money up front and playing a few events and 54 holes."
Well, LIV Golf has announced that their eight events this year will be increased to 14 events next year. But I think as Tiger does, that the incentive for being guaranteed so much money, which the PGA Tour has always been against, is not conducive to working hard at your profession and therefore competing to the maximum by practicing and working. It just looks like players will get lazy.
Tiger also raised an interesting point by indicating he has issues with the 67-year old director of LIV Golf and one of the superstars of our profession–Greg Norman. Norman has been extremely antagonistic toward the PGA Tour, which is where this Australian gained his stardom and lived in Florida year round for decades. Tiger said, "Greg has done some things that I don't think are in the best interests of our game." Wow! That has been Norman's main mantra for LIV Golf, that it grows the game whereas he accuses the PGA Tour of being somewhat of a detriment to the game by alleging it is a monopoly. I'm not sure what all Tiger has in mind by that comment, which may include things I nor the public knows about.
Forty-six year old Tiger Woods also made this remark about two-time Open champion Greg Norman because, this week at The Open, Norman received a letter from host Royal & Ancient Golf Club that he was not being invited, as all other past champions are, to the celebration festivities this week regarding it being the 150th Open and where golf began. Tiger therefore said of this decision, "I believe it is the right thing to do."
The R&A likely made this decision more to avoid as much as possible the distraction that this LIV Golf is causing wherever top pro golf tournaments are held. It just shows that this controversy will continue to heat up, and it's definitely headed for court to become the biggest lawsuit in the history of golf.