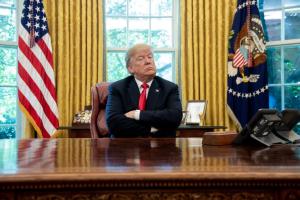 In the 16-page Introduction of my book, Bible Predicts Trump Fall, I tell about the three most prominent people in Donald J. Trump's life who influenced him to become the person who he is today. The Introduction has three subheads for each of these people as follows: (1) Frederick Christ Trump Sr., who was Donald Trump's father, (2) Norman Vincent Peale, who was the pastor of the church that Donald Trump attended in his youth, and (3) Roy Cohn, who was Donald Trump's foremost lawyer who "became a criminal defense lawyer for several New York Mafia figures, such as John Gotti of the Gambino family" (p. 12).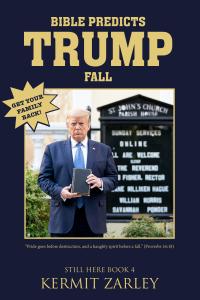 In this Introduction, I often quote from an eminent Trump biographer. I begin by saying of her, "Professor Gwenda Blair of Columbia University has written multiple, biographical books about Donald Trump, his father, and grandfather" (p. 3).
In today's New York Times, distinguished journalist Peter Baker has an article entitled, "New Insights into Trump's State of Mind on January 6th Chip Away at Doubts." He says especially that Cassidy Hutchinson's televised testimony last week to the select committee investigating the January 6th Capitol riot has done that by her claiming that after Trump gave his noon speech that day at the Ellipse, he demanded that his armored vehicle driver take him to the Capitol so he could join the rioters, if not lead them. She says that is despite that he had just been told before he delivered his speech that some of the rioters were armed and could be violent. Baker and many others are saying that these revelations indicate Trump's intent was to cause violence in order to disrupt the members of Congress from performing their traditional task in the transition of governmental authority to count the Electoral votes signifying that Joe Biden had won the presidential election months earlier fair and square.
Baker then adds this paragraph about Donald Trump, "'He learned from Dad, Norman Vincent Peale and especially Roy Cohn that you can get away with almost anything if you never back down and insist long enough and loud enough that you're right, and he held onto that right up to the final ride' back to the White House, said Gwenda Blair, his biographer, referring in turn to Fred Trump; the author of 'The Power of Positive Thinking'; and Senator Joseph McCarthy's red-baiting chief counsel, who became a mentor to Mr. Trump. For Mr. Trump, "he was being completely consistent with the way he has acted his entire life.'"
Roy Cohn seems to have been one of the people in Donald Trump's life who influenced him to think, talk, and sometimes act like a Mafia mobster. Peter Baker concludes his article with the following three paragraphs:
"Addressing the crowd, he [Trump] declared that he would go with them to the Capitol. But when he climbed into his armored vehicle, the Secret Service refused to take him, citing his own security. According to what Ms. Hutchinson said she was later told by Anthony M. Ornato, a deputy White House chief of staff, Mr. Trump erupted in rage and demanded to go there.
"They returned to the White House instead, where Mr. Trump stewed about being thwarted. As he watched television images of his supporters rampaging through the Capitol, he agreed with those in the crowd calling for Mr. Pence [Trump's Vice President] to be hanged.
"Indeed, according to Ms. Hutchinson's testimony, he was on the side of the mob. As she heard Mr. Meadows put it, 'He doesn't think they're doing anything wrong.'"