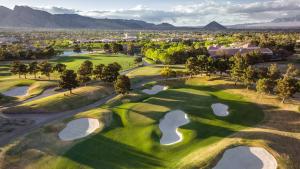 Patrick Cantlay shot 60 and Tom Kim shot 62 to tie each other for first place at 19-under par at TPC Summerlin in Las Vegas, Nevada, after three rounds of play today in the PGA Tour's Shriners Children's Open. The scores were low today, with another 62 and three 63s on the par 71 layout that I used to play on the Senior/Champions Tour.
Cantlay missed a 24-foot putt on the 18th hole to just miss shooting in the 50s. He admitted afterwards that he has never shot in the 50s. Cantlay recently has been somewhat dominant on PGA Tour except for the majors, with six wins in the past three years.
Kim, being only 20-years old, is dominating on the PGA Tour among its youngest players and is even vying to beat an early Tiger Woods record.
My only realistic chance on either the regular PGA Tour or its Senior/Champions Tour to shoot in the 50s was also at Las Vegas on the Senior Tour. It was the Las Vegas Senior Open at the par-72 Desert Inn Country Club in 1993. I needed two birdies the last two holes to shoot 59 and finished with 62. I guess you could say I choked!