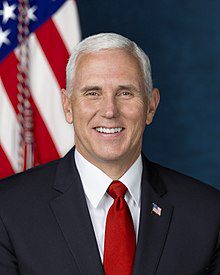 In this blog, I have quoted more than once from my book, Bible Predicts Trump Fall, saying that evangelical Mike Pence–who is very public about his Christian testimony–should not have been Donald Trump's vice president. I've gotten some pushback about this.
The U.S. president and his or her vice president are a two-person team much like two people entering into a business partnership or a little like a man and a woman becoming married. When I criticized Pence in my book for accepting Trump's invitation to be his vice president, I quoted from the KJV in the apostle Paul's writings for support. Now I will quote that text, 2 Corinthians 6.14, from the NRSVue and explain further: "Do not be mismatched with unbelievers. For what do righteousness and lawlessness have in common? Or what partnership is there between light and darkness?"
As I blogged days ago (see above link), in my opinion Mike Pence appears to have acted in an "unChristian" manner by refusing to testify about his conversations with President Donald Trump when asked to do so by the Special House Committee that was investigating the January 6th Capitol riot. And Pence refused last week to do so when the Department of Justice's special counsel Jack Smith issued him a subpoena. That no doubt will go to court, and it seems most legal experts say he will lose and have to testify.
Why is Mike Pence refusing to be an honest man and tell what he knows? His reasons don't hold up. He said of the Committee, "They don't deserve my testimony." What! That seems to me to be a bunch of rubbish. The Committee's request for his testimony was what the majority of the American public wanted. Most Americans want to know what the truth is about Trump's efforts to overthrow the results of the 2020 election, which he lost, and why he has said ever since that it was a fraudulent election that he really won, which is quite false.
I suspect Mike Pence is refusing to testify because he is worried that he may be in legal jeopardy for being complicit in crimes Donald Trump may have committed while president. Whenever Trump may have committed such crimes, and Vice President Pence should have realized it, the law requires that he should have warned Trump about it. Instead, Pence often was Trump's lap dog, obedient to his master.
I have blogged twice, here and here, about this during that presidency, asking if Vice President Mike Pence refused to warn President Trump of his possible criminal behavior due to Pence's misunderstanding of two biblical texts about honoring the king. Many Christians misunderstand Romans 13.1-7 and 2 Peter 2.13-14 by taking them out of their contexts.
If Mike Pence is worried about legal jeopardy for being criminally complicit with Trump–I think that will prove that Pence as a Christian never should have become the vice president of billionaire Donald Trump, a man who had quite a reputation for being a lawless and very litigious businessman in New York City.
Moreover, some pollsters say Trump won the presidency because he got the evangelical vote due to Pence. That obviously was why Trump picked him. Twenty-five per cent of Americans claim to be evangelical in faith. And Pew Research Center said 81 per cent of evangelicals who voted in the presidential election in 2016 voted for Donald Trump.