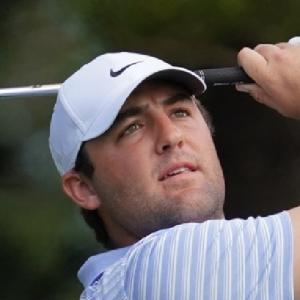 I was mentioned in a New York Post article published Saturday entitled "Inside the PGA Tour Bible Study Group helping golf No. 1 Scottie Scheffler." I've blogged before about Scheffler and his Christian faith. But I don't recall saying much about his involvement with the PGA Tour Bible Study.
Gavin Newsham, the author of this article, is a sports writer who has authored several books on professional athletes. He phoned me last June to interview me about the history of the PGA Tour Bible Study as a prelude to a possible article about it that he would write for the New York Post. It was put on hold. Then Gavin phone me about it two weeks ago, saying he needed more information and that it would be published.
One reason they did was that Scheffler, the current Masters champion, is presently the #1 pro golfer in world rankings. Another reason may have been that he had a chance to win the Dell Technologies Match Play championship yesterday at Austin, Texas. Scheffler made the semi-finals and got beat in sudden death by his close friend Sam Burns. Burns went on to win this World Golf Championship, one of only four on the PGA Tour, by soundly defeating the yet winless and upcoming Cameron Young 6&5.
Anyway, the article relates some history about the PGA Tour Bible Study and has photos of me and my close friends Jim and Babe Hiskey, since we started the group. It also has photos of players those who attend the group nowadays, such as Scheffler, two-time Masters champ Bubba Watson (though he is now on the LIV Tour), Stewart Cink, Kevin Steelman, and 2012 U.S. Open champion Webb Simpson. It quotes especially Scheffler about his faith and involvement in this group. The article tells how Scheffler had said last year when he won the Masters, "The reason why I play golf is I'm trying to glorify God and all that He's done in my life."
Author Newsham then explains, "Scheffler is one of a growing number of pro golfers proud to wear their Christian beliefs on their sleeves. . . . Each week during Tour, on Tuesday evenings, Christian golfers meet at the PGA Tour Bible Study group. There is no official membership and you don't even have to be a Christian to attend. You can be agnostic or even atheist and still show up and engage in the discussions, as long as you've been invited by a regular and know what to expect."
That's the way we started it, as an "open" group irrespective of faith commitments, and I'm glad it is still conducted in that manner. I was surprised Newsham says the weekly meeting is so well attended by the pros, their wives, and a few caddies that sometimes there are not enough seats and that the count can be as high as a hundred people.
The article has a picture of Tiger Woods and mentions his return to Buddhist faith, which reflects the influence of Tiger's Asian mother.
The article questions Watson's recent jump from the PGA Tour to the LIV Tour since that new tour is financially backed by the Public Investment Fund of Saudi Arabia, a nation where Christianity is illegal.
Gavin quotes me in the article as follows, "There was no Christian presence on the PGA Tour, in the sense of a gathering, before we started the PGA Tour Bible Study." The article says there is still no other religious gathering on the PGA Tour. The article ends by saying, "For Kermit Zarley, the fact the Bible Study group is still going strong, nearly 60 years on, is a source of joy. 'I'm really glad to see that the group is still going and having an impact,' he told The Post. 'What started small in 1965 has touched many lives in pro golf and especially among many pros who went on to win dozens of major championships.'"