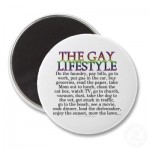 I read and hear the phrase "homosexual lifestyle" so frequently that I have decided it is time to tell the truth about my homosexual lifestyle.  The best way I can think to do that is simply share scenes from this past week. I hope you will not be shocked, I hope none of the scenes below are offensive.
My homosexual sisters and brothers, you are invited to share scenes from your homosexual lifestyle in the comments below so we can finally be seen for who we really are.
Monday August 6 – got our 5th and 9th graders off to their first day of 2012-2013 school year.
Tuesday – I drove over to a hotel in Decatur, GA to install a prayer room in one of the meeting spaces of the Courtyard Marriott Conference Center.
Spent the rest of the week making sure the prayer room was carefully tended and all supplies at the interactive prayer stations were ample.
Led a four-hour workshop exploring social media for ministry with pastors from around the US and one from Canada!
Had coffee with a friend who is a minister and musician.
Hung around over 200 clergy and other church nerdy types at the National Church Leadership Institute.
Smiled
Picked up a roll of mustache imprinted duct tape for my 10 year old who is currently into making flip flops and hand bags out of wildly pattered tapes.
Shared a lunchtime meal with a good friend, the chaplain of a local women's college.
Visited my 14 year old's new high school to meet with counselor and make sure the schedule of classes is the best fit for my girl.  Stopped by the principal's office to offer my volunteer time helping out with communication for the school community.
 Ate a sandwich from Jimmy John's (went with the bootlegger filled with roast beef and other yummies).
Stopped by the grocery store to pick  up a few items we forgot.
Listened to my friend's new CD.
Took my teenager shopping for a few more school supplies.  We ended up spending the whole morning shopping, eating lunch and having a great time together.
Laughed
Visited a friend's house four times a day to care for his dog while he is away visiting his father in Alabama.
Sat up late watching an episode of Rev. while waiting for my wife to get home from an extra job where she provided security for one happy couple's wedding.
Snuggled
Brandied a bag of black cherries for a cake recipe.
Argued with my wife about something insignificant.
Cried
Made up
Went back to the grocery store to fetch the forgotten supplies for the black forest cake project the wife and ten year old were working on.
Read a couple of great articles about digital ecosystems.
Enjoyed a sinfully delicious beer from Southern Tier called Creme Brûlée.
Threw the tennis ball for our two dogs.
Laundry
Invited a neighbor to church (she's been meaning to come and will soon I know).
Made a slow cooker recipe from the Hungry Girl cookbook to take to church for Second Sunday Supper.
Dishes
Delivered kids to church then dashed back home to get yummies for Second Sunday Supper.
Cried during the sermon.
Cried during a song.
Sliced cake for friends.
Hugged
Hung around on Facebook.
Gave the teenager "lights out" – three more times.
Prayed
Kissed my wife goodnight.
Slept
Had a cup of coffee.
Wrote