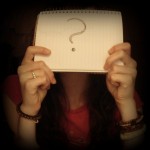 Friends, I don't struggle under any delusion that you have been counting the days since our last conversation but every day that I let pass without a word or two on Coming Out Christian I actually miss y'all. I have been a little preoccupied the past couple of weeks (good stuff!) but I am back on task and looking forward to a great fall of sharing stories and growing closer to God through relationship with the friends we meet here.
I am currently working on a review of a new resource from Auburn Seminary for engaging conversations with conflicted Christians but in the meantime I have a three questions for ya…
Are there specific questions about being gay and Christian in America you'd like to explore here? Questions are holy so don't be shy!
Who would you like to meet here on Coming Out Christian? Throw some ideas at me and we'll see if we can get them to hang out with us for a day or two.
Do you have a story you'd like to share? Remember, I am clear that it is through relationship, through our shared stories that I believe we all move forward in our journey of becoming. Allies, lesbian and gay Christians, transgender folks of faith, conflicted straight Christians with a longing for a holistic synthesis of your faith and desire for social justice…all are necessary conversation partners here.
In other words, you are invited to lift up your questions and ideas to help co-create the conversation at Coming Out Christian this fall. I look forward to hearing from you.