"I like your Christ. I do not like your Christians. Your Christians are so unlike your Christ. The materialism of affluent Christian countries appears to contradict the claims of Jesus Christ that says it's not possible to worship both Mammon and God at the same time." – Gandhi
I am feeling particularly punchy today; you know that feeling when you are just up to your eyeballs in being accommodating, sweet and polite to a fault and then suddenly (praise Jesus) you awaken to the clarity shimmering beneath the surface. So I hope you will extend a little grace and latitude while I release the hydrant of clarity here.
See here's the thing – did y'all know that a whole lot of people just flat out hate Christians?
Well, duh.
Seems that a few of my Christian friends, with good hearts and vague cultural awareness, really don't know that people out there hear the word Christian, or Jesus and cringe (or throw up a little) – bless their hearts. Really? And the reticent are not just the folks you might think (yeah, Fox, not just "foreign fundies"), but your very own neighbors, your very own coworkers – hell, your very own children. Love you, but have you no idea that Christians have been asshats for centuries? Have you no clue that, under the banner of heaven, atrocities have been (and still are) perpetrated "in the name of Christ"? Do you really have no clue why your neighbors, coworkers, strangers at pubs and folks of other faiths around the world would detest Christians? Have you truly that Bambi stare when you hear that another country hates America?
But just because the nimrods keep screwing it up; and just because the media loves to play with the shiny toys of hatred and vitriol – that does not mean that The Way of Jesus is lost – as one of my universal sisters has said it well – "the only thing that keeps us distant, it is that I keep fuckin' up".
If you do not believe that Fred Phelpses (or Mark Driscolls) of the world represent the Jesus you know from scripture, tradition, reason and experience – then it is about damn time to speak up. Praise be to God for those who do speak and act up on behalf of the Jesus I know, love and try my best to follow. Folks like- Susannah, Rachel, Doug, Kathy, Brian, Anne, Mike, Jennifer, Peter, Phyllis, et al…
We CAN keep leaning into the everlasting arms and seek to absorb the warm compassion so that we are able to radiate the pure light of God's infinite love back to the world. And yes, we can speak up. We can act up. We can participate in the process of bending the arc, co-create the Kingdom of God, with God. And sometimes that means calling out what is detestable. And yes, sometimes that means shuttin' the hell up and just being present to the pain of the world.
Ok, now that the rant is over I want to: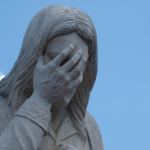 A. Ask y'all to name one way Christianity has F'd up and share it here – for the folks who may not know.
B. Ask you to look around and name one way that followers of Jesus have helped realize peace and justice here on earth – for the folks who may not know.
C. Ask you to tap into your faith and courage and speak (more gently than I perhaps) truth to power where ever that power may slither – so that others may know.
D. Ask y'all to forgive me for the freak out (and to please come back after today).