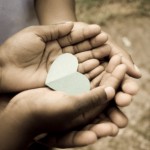 And then there are the nights when I toss and turn, worried that I'm wasting my time, passion and faith scribbling notes in cyberspace when I could just shut the hell up and earn some blisters serving a sick, poor, oppressed, imprisoned, widowed, orphaned, abused, raped, exhausted world. Every so often I am nagged by the conviction that I'm merely playing with a worn out set of theological tinker toys while others (like local folks at the Open Door in Atlanta, or down on Koinonia Farm, or in our church's very own soup kitchen, or a constellation of saints past and present around the globe) are doing the heavy lifting of living the Gospel in radically tangible ways.
Then the morning comes and I can hardly breathe until I've written something.  I listen to the booming whisper of a voice inside and outside of me  that beckons to share my yearning for justice, my longing for love and my palpable prayers for peace.  I awake to the ever simmering need to connect with someone, anyone who maybe, just maybe, needs to hear what I longed to hear when I was  in my darkest days, poisoned by the persuasion of "good Christians" who convicted me of a violent, angry, hateful God.  Or the days slick with a self-loathing swallowed in a loving spoonful of cherry-picked, for-your-own-good "theology" rammed down my throat by manipulative, self-serving "leaders". So I listen to the still, small voice.  And I write.  I serve in the way I understand I have been called to serve.
We all have our parts to play in kingdom building, my tools just happen to be monkey-barrel brimming with anxiety, a nearly balanced scale of love & anger, an almost naive sense of idealism, a generous helping of prayin', dark coffee, light toast, a dozen or so notepads, pencils, screens and keyboards.
Eventually we have to shut up, stand up, turn off the damn computer and get our hands and hearts dirty in the world.
So this last Sunday while at church, we were bringing our gifts to share for Epiphany Sunday.  Although my first thoughts were to offer a social justice Bible study, an LGBT spiritual book club, theology on tap, or some such "thoughts and feelings" gift I decided at the last minute to not bring what I wanted to give but be open to what is needed.  After we took communion we could leave on the alter a note-card with our gift or take a slip of paper with a gift.  As I dipped my hand in the bowl with the gifts to take, for a split second I still hoped for something easy, something that I wanted to give rather than what the community needed, what God needed.  Damn ego.  But in the surrender I pulled out the slip that read "service." And my heart knew at once the type of service…the kind that would require me to be inconvenienced, maybe be a little uncomfortable, shut up, stand up and get to work.  Thanks be to God.
How are YOU called to serve this year?