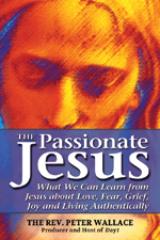 In his new book, The Passionate Jesus: What We Can Learn from Jesus about Love, Fear, Grief, Joy and Living Authentically; Peter Wallace offer readers a look at five emotions that Jesus experiences in the Bible and invites us to live our own lives with "passionate emotional authenticity." Lordy this is a breath of fresh air that breaks with an all too common depiction of a serene and dispassionate Jesus who floats coolly from one biblical scene to another. This idea of a calm and detached Jesus is often used to suggest that Christians are not supposed to experience "negative" emotions, only some bizarre half life of love, joy and peace with nary a wrinkled brow as we recline in our blessed assurance. Peter invite us to explore the emotions of love, anger, fear grief and joy through the lens of Jesus' experiences with these emotions and learn how to live authentically. But this is not a self-help book of emotional indulgence for self-serving ends. Peter points to the ways that authentically experienced emotions can be channeled for justice. And you know I like me some authentic justice!
There is so much to like about Peter's cogent and faithful exploration of Jesus' emotions that I've invited him here to talk about a couple of his chapters.
Q: Much of this book points to living "authentically" as Jesus did – say more about what being authentic to ourselves means and how that connects us more deeply to Jesus.
"Before I undertook this intentional study of Jesus' emotions, I never really realized how honest, direct, and authentic Jesus was in the gospel accounts. I understand authentic living to mean being at peace with oneself, and only then can one be at peace with God and with others; it's designed to be an open, continual three-dimensional transaction between God, myself, and others. If we have constructed self-protective barriers, designed to keep others from fully knowing us but which also keep us from fully knowing and expressing our own identity, then we can never fully know Jesus.
As long as we have boarded up rooms within our soul—rooms filled with things we may be ashamed of or fearful of or confused by, but which are nevertheless aspects of who we are—Jesus can never fully enter our whole being. And so the open, continual transaction between ourselves, God, and others gets blocked. We have to open up those rooms, fling wide the windows of our soul, allow our light to shine, and let the breeze of the Spirit of God move in and through us. This is authenticity, and it makes a difference."
Q: In the introduction you share a glimpse of your struggle to accept the fullness of who you are, to incorporate your authentic sexual self into your larger sense of self as related to others and God. Can you say a few words about what you understood as the most powerful force preventing you from living authentically? Was there a critical moment/idea/person that unlocked that door for you?
"I am of the age that, when I was a young man struggling with surprising desires I'd had as long as I could recall, I saw absolutely no model for how to deal with them. I felt as though I were the only person on earth who felt this way. Raised in a moderately progressive Christian home for its time, I nevertheless assumed something was broken inside me, something wrong that must be denied and locked up, something I would try desperately to fix for so many years in so many ways. I don't recall any discussion of homosexuality, pro or con, in church as a youth. I felt I was on my own, and alone. So I plowed through life intent on following the proscribed path of "normality," as I understood it. And I carried around within me this existential angst that something was not right, never right. So I don't blame the church I grew up in, or my family, or society; I only blame myself.
As I reached adulthood, though, I moved into much more conservative Christian circles in college and seminary and for some years beyond. In hindsight I realize that I subconsciously made this move, at least in part, because of my intention to control my thoughts and desires, my very self. In those circles the issue of homosexuality was black and white, and so it felt "safe" to comply, to wall off part of myself, because that had to be the godly thing to do. So my drift toward conservatism was a way to control what I was told clearly needed to be controlled if not expunged.
My move toward self-acceptance was slow and painful. After some years, at a crisis point in my faith and career over other issues, one Sunday I found myself, to my surprise, in an Episcopal church. And I was home. Over a period of several years my rector lovingly presented a life of faith that was authentic, honest, intelligent, and merry. Along the way, he spoke forcefully on behalf of gay marriage and gay clergy, resulting in a turbulent split in the parish. I was actually one of those who left the church in protest for a year—as I say, it was a slow and painful process, and I feared the personal consequences of agreeing with him. But the seeds had been planted, and when I returned to this parish a year later, burned out from wrestling with the negativity I faced elsewhere, I found myself at home once again, and slowly began to see the possibility that gay people could also be Christians loved by God.
Then, when I began working for a mainline religious organization, I started getting to know a number of brilliant and delightful gay and lesbian ministers, and over time began to see that gay people could be fully themselves and still serve God. It was a revelation to me. Probably the pivotal moment, when I realized I needed to deal with my own situation, came in the summer of 2003. I attended the Episcopal Church's General Convention as a representative of my organization and got to meet Bishop Gene Robinson, who has become a hero of mine. Two weeks later that same summer, in the very same convention center in Minneapolis in fact, I also attended the United Church of Christ General Synod, and there found supreme affirmation of lesbian, gay, transgendered, and queer folks. The months that followed were painful and fearful, and yet intentional as I sought the wisdom of some trusted people who helped me discern my own process, and within a year I had come out to my family and friends. The point is, it was the example of so many faithful people who were able to be fully themselves and fully God's that began to nudge me out of my protective shell."
Q: In the chapter on Love you say "I can't remember a time when I did not believe that God loved me…." I would love to hear more about your gut instinct that assured you that you are infinitely loved by God and how you stayed with the church even though the picture of God that was painted was opposite of your experience of God.
"I was raised as a preacher's kid in a Methodist parsonage. My parents were dedicated to their faith and their church, and so I was always very involved in church from childhood on. I had a perfectly wonderful childhood. I just knew that I was loved, not only by my parents but also by God. The God I learned about in Sunday school and church was a God of love, not of judgment. So unlike many LGBT folks who felt condemned by their church and their God, I don't recall feeling anything like that. However, neither do I remember as a child or youth any acknowledgment of the possibility that God had made me different, that there's a reason why God made me this way, that I can live and love fully just as I am and continue to be loved by God not only in spite of that but because that is part of who I was created to be.
So as a youth I learned to compartmentalize—God is love, yes. God loves me, yes. I am a good person, well, I try to be. But these desires, this wiring that seems to be irreparable in me, let's just set that aside and lock it up. I couldn't figure out how it fit, but I assumed it could not fit. Not because I was taught that directly, though certainly I had picked it up through all sorts of religious and societal sources. What became painful to me was when I sojourned in more conservative circles and heard point blank that being gay–the way it seemed God had made me–was wrong, even evil. This made no sense to me. Why would God then make me this way? But it had to be true because these religious authorities were telling me so. That's when I added more deadbolts to the locked room in my heart. The problem is, when you do that, the life that is locked inside eventually demands to be let out one way or another. Thank God I found a church that, by and large, has a much more honest and loving approach to all of God's creatures. It is because of that church that I was inexorably able to accept myself the way God made me."
Q: As you begin explore the ways we see Jesus express anger you invite us to look more closely at a story found in both Mark and Luke that depicts Jesus healing a man, in a synagogue, on the Sabbath. You summarize this encounter with a sentence that just jumped off the page for me: "Jesus rebels in anger against a power system that holds hurt people hostage." Can you say a word about how you believe we are called to experience the "anger of Jesus" and confront power systems today? Are we called to openly rebel against powers, social and religious, that continue to hold hurting people hostage? How can we effectively direct that anger on behalf of LGBT folks?
"I say let's consider Jesus as a model for righteous anger in the service of justice. Time after time throughout the gospels, Jesus angrily challenges the religious authorities, mocking them for their self-protective, self-promoting ways. He drives the elite crazy by spending time with and showing favor to the poor and marginalized. He questions assumptions and challenges the status quo. And as a result he becomes the target of those in authority. Ultimately those authorities tried to satisfy their hurt feelings by killing him. You know how that turned out.
Nevertheless, Jesus showed us that there are times when we must stand up and express truth to power in constructive, meaningful, unyielding ways despite the possible consequences. When Jesus expressed anger in the gospels, he was clear and direct, possessing a particular purpose: to bring about justice or reveal malice or ignorance. He made no personal attacks, but sought to uncover the evil behind the actions. There is no record of Jesus being angered by a personal offense no matter how wrong, unjust, or violent it may be. He lived and taught that the one who is persecuting us is also created in the image of God and loved by God, and in that reality we can love our enemy. Just as God is righteously angered over oppression and injustice, so should we be. Learning how to balance these teachings and actions is a lifelong process for those who choose to follow his ways.
When it comes to LGBT folks, I think we need to speak out more on the injustices they face, and encourage our religious and political leaders to do the same. Many churches and organizations are doing this, and I think it's making a difference. But there's a phenomenon I see frequently in some churches that say they are reaching out to LGBT folks, sharing God's love with them, even welcoming them–and yet they expect them to change or remain celibate in order to be fully acceptable not only to them but to God. We need to call out this hypocrisy. Aside from that, there remain enormous legal and social inequities that LGBT folks are expected to just continue to accept. I think we need to speak up, take political action, and join in efforts that are making a difference in this arena."
Q: As we look closely at Jesus' expressions of anger we begin to understand how agapic love and holy anger are inextricably linked. Can you talk about how you understand these emotions to be connected?
"I believe Jesus' mission was to liberate human souls into a loving way of life. He is in pursuit of what matters to God—and so as part of that mission he reveals dishonesty, fights injustice and subjugation, causes change, sets thing right. Undergirding every expression of his anger in the gospels is love; Jesus speaks the truth in love, usually on behalf of those God particularly cares for, the poor and marginalized. In every case the anger of Jesus is the passion of love. His love of God, his zeal for the ways of God, his mission to open the way to God to all, together make him indignant at whatever dishonors God and whatever impedes others from knowing and experiencing life as God intends. Jesus' example and teachings reveal to us that anger, channeled and directed in love, can proclaim a better way and fuel positive acts in God's name."
Q: You move us through the emotions of love, fear, grief and joy with equal grace and integrity to a conclusion where you invite us to "Live with passionate authenticity, as honestly and fully as Jesus did…" and end with a question, a challenge even – "now what?" What is our first step toward living authentically and once we've begun the journey where do you hope our compass leads us?
"Whatever aspect of our identity we're wrestling with or denying, whether it's our sexuality or something else, I believe that living authentically starts with a loving self-acceptance. If you read the gospels with open eyes and mind, you will find a Jesus who is utterly transparent, fully realized, and driven by God's love and justice. This Jesus calls us to follow him, to live in the same way he did. But I believe that can only happen after we do the hard work of getting to know, as deeply as we can, not only Jesus but ourselves. When we learn to embrace our whole self, when we are able to integrate every aspect of ourselves into our identity, we are far better able to serve others. We no longer need to fight the inward battles, so we're ready to take on the challenges of doing justice, loving mercy, and walking humbly in this world of desperate need.
I feel I am just starting to catch a glimpse of what Jesus wants for me regarding the way I live. But I believe Jesus can be for all of us a revolutionary model of one who knows and loves himself and God so thoroughly that we can't help but grow toward wholeness and authenticity. We can become more open to our calling and purpose to love and serve as we come to full acceptance of our God-imprinted, Spirit-caressed identity."
Thank you Peter, thank you for sharing so much of yourself with us here. I do hope folks will consider picking up a copy of your new book to explore with you how we can learn from and live into an authentic, passionate life in and through Jesus.
If y'all want to read more about Peter's latest book you can check out his in-depth essay right here on Patheos!
---

The Rev. Peter Marsden Wallace is executive producer and host of the national ecumenical Day1 radio and internet ministry (Day1.org) and president of the Alliance for Christian Media, based in Atlanta, Georgia. He the author of nine books, including The Passionate Jesus (SkyLight Paths Publishing); Connected: You and God in the Psalms; Living Loved: Knowing Jesus as the Lover of Your Soul; Out of the Quiet: Responding to God's Whispered Invitations; and TruthQuest Devotional Journal. He has contributed to numerous books, study Bibles, devotional guides, magazines, teaching curriculums, video series, and other resources. He blogs regularly at HuffingtonPost.com and Day1.org, as well as other websites.