It was a sunny Monday morning in June and I was sitting at my home computer wearing t-shirt and shorts making a
list of details to take care of for a conference on preaching I was organizing.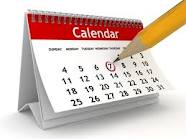 The phone rang. It was Herbert Coleman, Director of Recruitment and Admissions
at Perkins School of Theology where I work. I feel it is ok to mention him by
name since this story in no way reflects badly on anyone but me. Herbert has a
beautiful, deep voice. "Hello, Alyce," he said. "Are you still planning to be
present to speak with the Project Transformation group this morning?"
I experiencing that sinking sensation as a vague memory flashed through my mind that I had agreed to speak
to a group of summer interns working with children in Dallas daycare programs.
"When was I supposed to be there?" I asked.
"15 minutes ago."
"I'll be there in 25 minutes. "
"Herbert, one more thing. What am I supposed to talk about?"
"Fear and faith in the Bible."
I quickly threw on what I call my "default outfit." That's the one I keep handy
for times when you have to get ready for work and out the door in record time. Everyone
should have one hanging in their closet, to be changed according to the season.
No time to tame my unruly locks. No time for
make up. Without going into detail, let's just say that I made excellent time
on the 25 mile drive from home to school.
The talk went fine. I was quite energized by the adrenalin, especially during the first
half of my talk, the "Fear" part. Herbert was very gracious and forgiving, and all is well that ends well.
But the experience did get me thinking about times when I have not been where I was supposed to have been over the past few years.
Since misery loves company, I sought out stories from others of similar occasions for
them. Nobody had much for me. One friend told me about the time when he had agreed to sing
for a wedding and forgot and was on a blind date instead. But he still got to
the wedding and sang and later married his date, so that didn't help at all. I
guess my friends and acquaintances are too well organized and responsible to
not be where they're supposed to be at all times.
Fortunately, I remembered an experience my Dad told me about that brought some comfort. Before
his death in 2002, he was a novelist and publisher and a sought after speaker. He
was a master at finding humor in ordinary situations, even negative ones, so he
wouldn't mind my sharing this. One afternoon he was sitting in his kitchen
having a scotch and soda and the director of the library from the college 2
hours away where he was supposed to be making the talk for the opening of the
new library called. 150 people were sitting in folding chairs waiting for the
renowned novelist to appear. Yeah, that was way worse than my gaffe.
There are three steps involved in damage control when you have not showed up where
you were supposed to be. First is the apology. Apologizing is an art. You don't
to appear too self deprecatory. "I'm filled with shame, horror and self
loathing. I beg your forgiveness." is too much." "Oops, my bad" is not enough.
"I'm very sorry. I meant no disrespect to you or the group. I regret the
inconvenience my forgetfulness caused." That's pretty good.
The second step is self examination. This is to be conducted in the privacy of your
own thoughts, not in audible Shakespearean soliloquy style. "I wonder what is at the root of my forgetting
to show up places I've said I'll show up? Is it a sign of my fundamental
irresponsibility? Did I really not want to be there at some subconscious level?
Is it a sign that I've got too much on my mind or that I'm losing my grip?
Should I just chalk it up to human error and move on?
The third and final step is a hybrid, a combination of self defense and resolve to do better
in the future. "I've only not shown up where I was supposed to be three times
in the past 12 years. Ok, maybe four. That's not too bad a record. I'm
fundamentally a very responsible person. This will never happen again."
Now let's turn to times when we have been places we shouldn't have been. In this
regard, I can't help but think of Carly Simon's immortal lyrics from her 1972 hit
"You're So Vain."
"You're where you should be all the time, and when you're not you're with some
underworld spy or the wife of a close friend, the wife of a close friend…"
There are a number of nefarious examples we could cite of people being where they
shouldn't be doing what they shouldn't be doing. Infidelities, misdemeanors,
and felonies involve people being where they shouldn't be, doing what they
shouldn't be doing. I'll limit myself to a couple rather innocent examples and
leave it to the reader to brainstorm others. If you're vegan and everyone knows
that about you because you talk about it all the time and prosletize as well,
it's embarrassing when a friend or acquaintance catches you at "In and Out'
sitting in a dark corner with a hamburger. Speaking from hypothetical personal
experience, I probably have no business being at DSW trolling for discounted
shoes on the back clearance racks when it's the end of the term and I should be
home grading papers since grades are due to be entered by noon the next day. If
your blood sugar or bad cholesterol was high on your last physical you probably
shouldn't be at a high fat specialty ice cream parlor with a name like Cold Flab
Creamery ordering a large cone.
Sooner or later, I seem compelled to seek a deeper, spiritual meaning for everything.
It's either a blessing or a curse. So the question arises for me and maybe for
you with regard to our relationship with God: Are we ever in a place where we
have no business being, thinking thoughts we have no business thinking, that
result in behaviors and speech that lead to even worse places?
On the other side, is there somewhere I could or should be, that I promised to be,
hoped to be, that I'm not?
At the moment, since I'm sitting at my computer in my home office writing this blog,
I'm not somewhere I shouldn't be.
But if you'll excuse me, I'm going to check my Outlook calendar to make sure there is
not somewhere else I should be right now.