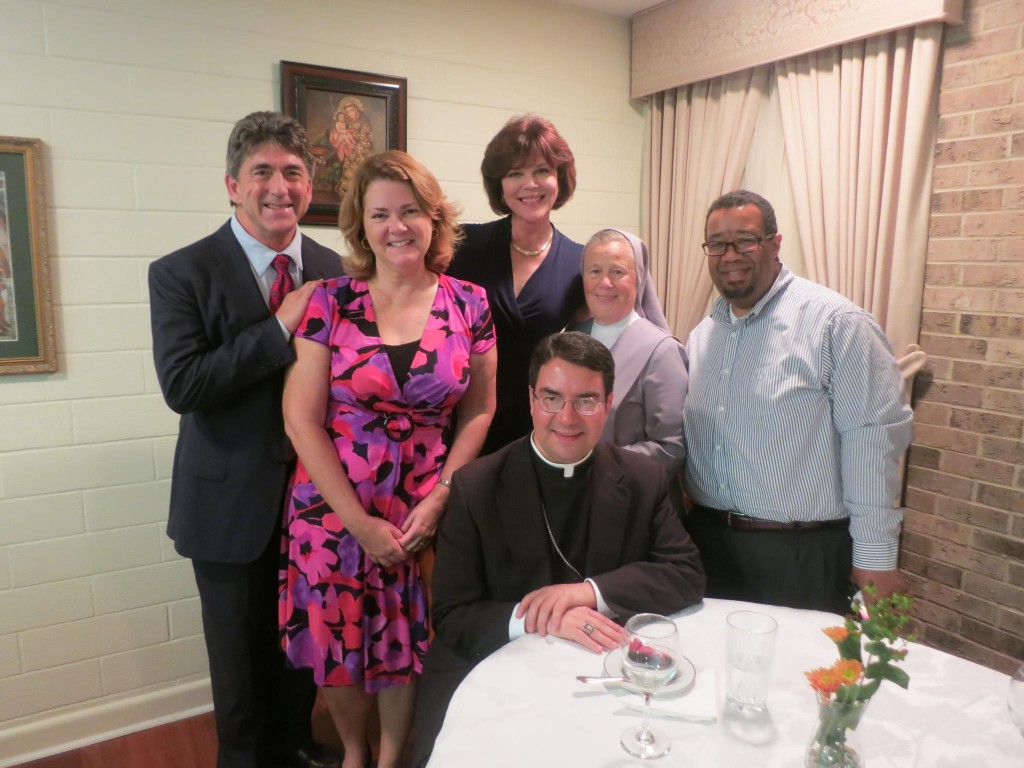 During the Synod on the New Evangelization, I've been greatly enjoying the frequent newsy blog posts from Tucson Bishop Gerald F. Kicanas. His "Inside the Synod" reports give us a true look into the important work being undertaken at the outset of the Year of Faith.
Yesterday's missive was no exception. One particular section hit me with great impact:
In our Diocese of Tucson as in so many dioceses, most Catholics are at best Sunday observers. They do not bring their faith into daily and active involvement in proclaiming Christ in their homes, places of work, and in the community. How can we engage them in their responsibility to make their faith central to their lives? How can we get Catholics more engaged in the social mission of the church?

A challenge for the synod fathers is to understand how we might better catechize the people, deepen their knowledge of the faith and their understanding of what it means to be a disciple of Christ. All of us struggle with this challenge. So few people take part in adult faith formation. We have so little time with young people in religious education classes and in our Catholic schools. Can we find more effective ways of communicating the faith, especially with the young?

Cardinal Wuerl reminded us of what we know so well, that "parishes … are the recognized place where … the life of the church unfolds." Archbishop Daniel Pilarczyk wrote a book in which he said the parish is the place where our people live. I see this in our diocese. Some feel their faith is deeply nourished by their parish and some feel their spiritual lives are left barren in their parish. If only we could make every parish alive and thriving.

Within the parish, the role of the catechist, the family, the laity and the priest are preeminent. Cardinal Wuerl raised the question whether this is the time to give the catechist an instituted, stable ministry in the church? "How might the church better support and guide the family in its crucial ministry in their responsibility for the transmission of the faith and human values?" "How can the church more fully integrate the laity in the organization of the local church?" "How can the church foster a renewed missionary imperative to the ministry of priests?" How can seminaries form a generation of priests intent on evangelization?
My reading of this particular report was colored by two recent experiences. The first was my lunch just yesterday with the RCIA director at our parish. Our conversation ranged from how we can get more parishioners out to mid-week faith formation events to my defense of the fact that one's faith can truly be fostered and nurtured through online measures (obviously not as a replacement for frequent reception of the Eucharist or participation in a parish community). That's a topic I'll take up on another day, but our frustration was echoed rather eloquently by Bishop Kincanis' report.
The second, and perhaps more compelling thought I had was of my experience last weekend in San Antonio at the Archdiocesan Catholic Formation and Leadership Conference. The photo I've shared above was taken during our Friday night Speakers' Dinner with Bishop Oscar Cantú, S.T.D. At the end of a day full of teaching, worship and networking, we'd come together to enjoy an evening of conversation and friendship. That night, we prayed together, laughed together, shared a great meal, and pondered "what's working" in our own apostolates around the country. When I look now at this photo, I see the Faces of the New Evangelization. Each of us — in our own unique ways and our own particular mission fields — are responding to those "How can we???" questions asked by Bishop Kicanas.
Bishop Oscar Cantú, pictured in the center of the photo, impressed me beyond measure. With San Antonio's own Archbishop The Most Reverend Gustavo García-Siller at the Synod (and sending back daily video messages for his flock on their Facebook page), Bishop Cantú presided over the liturgies for the weekend, but also interacted in an incredibly open and personal fashion with all of those in attendance. Clearly beloved by the people he serves, Bishop Cantú also seems to really have his pulse on the work of the New Evangelization.
Let me tell you just a bit about some of the other faces (mine excluded) pictured above. From left to right they are:
Marcellino D'Ambrosio, Ph.D. founder of The Crossroads Initiative and a noted speaker, educator and author – Dr. Marcellino, a former rock star bassist, shared his own personal reversion story at the conference and has devoted his life's work to promoting spiritual wellbeing.
(Me)
Barbara J. Elliott, M.A.T. of the Center for Cultural Renewal, a convert to Catholicism and an educator and active social entrepreneur making real change in some of the most challenging environments in our country.
Sr. Ann Cassidy, FMA a Salesian Sister, (Daughters of Mary Help of Christians) and an educator,administrator, catechist and youth minister for over 35 years. Sr. Ann Cassidy has served in 10 Archdioceses/dioceses throughout the US – sassy, sweet and full of life, Sr. Ann has had an impact on countless young lives
Brian K. Johnson, who currently serves as the director of the Office of Youth Ministry for the Diocese of Galveston-Houston and who has formed youth and young adults in dioceses across the country. Brian is funny, faith-filled, and has a thorough understanding of how we serve a continually more important segment of our Church — her youth and young adults.
While work continues at the Synod and our Holy Father, Cardinal Wuerl and the assembled Synod fathers and auditors continue to grapple with such questions as those listed above, I am thrilled to have met firsthand a committed and diverse group of the faithful who are on the front lines of the New Evangelization. And the great news is that this small cluster represents only a tiny fragment of those of us — you included — who cherish our faith and desire to share it with others. The challenges are great, but the potential is phenomenal too.
Today, I invite you to use the comment box to share your nominations for more "Faces of the New Evangelization". Who would you point to as a wonderful example of someone who's put faith into action and who's at work spreading the good news? They can be big names or well kept secrets — or you can even share with us ways that you are a "face of the New Evangelization". I hope to take many of your suggestions and do future profiles here on the blog, making "Faces of the New Evangelization" a regular feature here at A Good Measure.