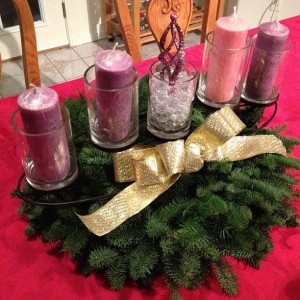 Tonight, I am experiencing an odd experience — incredible anticipation for the start of the Advent season and our new liturgical year.
Why is that odd? Well, I'll admit to often having been an Advent slacker. Too many years, I didn't truly embrace the season until well into the second — or sometimes even third — week. It's such a busy time of the year, and though I did "go through the motions" those years, my heart wasn't in it.
And can I make another confession? Last year, when Advent rolled around, I could barely stand the sight of purple and rose. Why? I'd spent the Autumn months of 2011 locked away in our university library, researching and writing my little Advent devotional O Radiant Dawn. You would think that spending so much time reading and contemplating the scriptures of the season would leave one more inspired than ever. Truthfully, last year, it didn't.
But it must have planted some tiny, baby seed that caught enough light and sustenance to be nurtured within me. This year, rested up a bit and in amazing spirits, I am raring to embrace Advent. This Fall, I've been fortunate enough to give several talks about the season of Advent. Somehow, in coaxing others to embrace what is truly at the core of the season, I'm finally understanding it for myself.
What's interesting is how I now realize that though our participation in Advent heightens at this time of the year, in honesty we are always a people of Advent. Yes, we celebrate Christ's coming at Christmas, but we are also constantly called to be a people of readiness for his Second Coming, and we joyfully receive him in our hearts and souls each time we receive the Eucharist.
Perhaps you're where I was last year — not ready, non-compliant. I'd ask you to separate in your mind your "readiness" to do stuff like decorating or even embracing traditions such as Advent calendars and wreaths from your willingness to be a person of Advent. Strip away any expectations you may have for how this season is supposed to "look" and focus more on what's happening inside. Please also know that since I've been through my own spiritually dry times, I am praying in a special way for those of you who aren't quite there yet, for whom tomorrow (and perhaps several more days) will come and go with no discernable change in your life.
Are you "ready" for Advent this year? What helps you to keep this season faithfully?