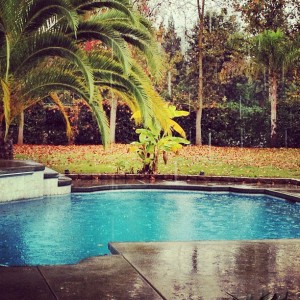 True confessions time: rain depresses me.
Actually, "depresses" is not really the right word — but "dampens my spirits" seems too silly to say. Regardless, unlike others in my family who love the lack of Fresno heat and her sun that withers our raisins, when it starts raining I feel like curling up in bed and going into hibernation mode. And today is not a good day for that! I've got so much to share, that I'm going to resort to doing the "laundry list" style of post in the hopes that I can pass along much of the good information that is covering my desk today. So grab your favorite warm beverage and join me:
The National Religious Retirement Collection will be taken up in parishes the weekend of Dec. 8-9. If you want to know why it is important, consider the following: The U.S. Social Security system projects that it needs four wage earners for every retired beneficiary in order to keep the system solvent.  By 2022 religious institutes will have one wage earner for every four retired – the exact inverse. If you want a worthy collection, this one is it. Check out www.retiredreligious.org
#FundingFriday – Speaking of supporting great causes, spend $5 (or more) today to support the National Catholic Bioethics Center. Matt Swaim's got the complete rundown here, but you're most welcome to just go straight over to their Indiegogo page and make your donation. I'm trying to remember to tie my #FundingFriday participation to a few acts of sacrifice and prayer during the week. Even after only a few weeks, Matt's project has been a blessing in my life. I invite you to help change the world a little today!
College Apps – If you can spare a prayer today, please pray for parents of teenagers all over the country tonight whose "precious little darlings" were up all night putting the finishing touches on college apps that are due today. I'd complain about my son's procrastination on completing his apps for the University of California, but alas I fear he gets that bad habit from his Mom. We'll have another round of deadlines toward the end of December, so maybe last night's 3:30 am bedtime taught us a thing or two about waiting until the last minute…

My Year of Faith App – Today, we're on Day 51 of the Year of Faith. Along with reading the day's Catechism portions each morning with Flocknote, I've been enjoying the daily inspiration provided by the Diocese of Ft. Wayne South Bend's My Year of Faith App. Yesterday, I was fortunate enough to have a post featured on the App about Celebrating Advent as a Catholic Family. If you're a smartphone owner, definitely check out the app for a year's worth of goodness!
Advent Music – We celebrated this week with the great news that ADVENT AT EPHESUS from the Benedictines of Mary, Queen of Apostles, has debuted at No. 1 on Billboard magazine's Traditional Classical Music Chart. The initial release from De Montfort Music also earned the No. 3 spot in Billboard's new-artist "Heat Seekers" chart, which encompasses all music genres. EWTN has announced multiple broadcasts of a 30-minute special on the Benedictines of Mary, Queen of Apostles, and the making of ADVENT AT EPHESUS. The special debuts at 11 a.m. ET on Dec. 2, the first Sunday of Advent. Other broadcasts are set for 4 a.m. and 10 p.m. ET on Dec. 5, 6 p.m. ET on Dec. 12, and 9 a.m. ET on Dec. 15. Order or download the CD here.
There's more, but I'll save it for another day. If I've missed anything of importance, please chime in below in our combox!