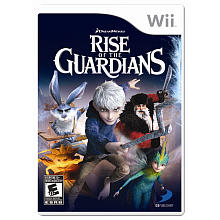 Today, we're going to have some fun! I hope this weekend to get out to see Rise of the Guardians. Patheos' own movie reviewer, Bill Blankschaen says of the film, "Rise of the Guardians is the perfect film for kids from ages 4 to 10 to see with parents and grandparents."
I can't give the movie away (yet), but I do have the chance today for you to score on an excellent Christmas present for the gamers in your life. This week I'm giving away one copy of  "Rise of the Guardians: The Video Game" for Wii. Here's the description:
Let your imagination soar in Rise of the Guardians: The Video Game as you play as one of the classic childhood legends, including: North (aka Santa Claus), Tooth (aka the Tooth Fairy), Bunnymund (aka the Easter Bunny), Sandman, and Jack Frost. In this action-packed adventure game, each Guardian has their own set of upgradable and extraordinary abilities that will help you take on the evil spirit "Pitch" and his infectious nightmares. Along the way, you'll unlock new powers and spellbinding special moves that will increase your character's strength and skills throughout the game, plus you can unleash cool team attacks with your fellow heroes. With drop-in-and-out multiplayer action supporting up to four players on consoles, you and your team of Guardians will work together to protect the hopes, beliefs and imaginations of children all over the world!
To enter to win this game, simply leave a comment below by the contest deadline, Sunday, December 2, 2012 at Midnight PT. One (1) winner will be randomly selected to win the game. 
Here's the trailer for the film — let me know if you've seen and enjoyed it, and good luck in this week's contest!
Update: Our winner — Mandy — has been notified by email. Please keep an eye on my contests for additional opportunities to win!