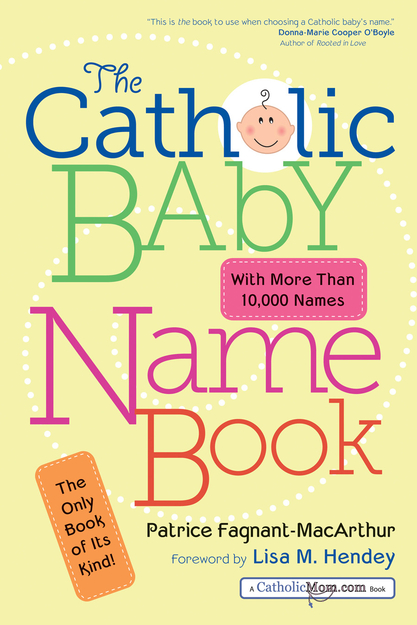 I was in "college orientation zone" for the past three days — believe it or not, without wifi (fodder for another post!) — so I have been pretty out of sync with news. But a quick look at Twitter here at the airport let me know that the highly anticipated royal baby has indeed been born.
My mind immediately went to this article I'd recently seen on the naming of that baby. I've also heard that traditionally, a royal baby's name may be delayed in being announced for up to several days.
This gives me plenty of time to rush my favorite baby name book to Catherine, Duchess of Cambridge, and husband Prince William. The Catholic Baby Name Book by my friend Patrice Fagnant-MacArthur is obviously the perfect baby-moon gift! Yes, the baby isn't Catholic, but this wonderful book has multiple names that would be worthy of a future king, including some held by past kings who were saints!
Here's a description of Patrice's book:
With more than ten thousand names of saints and biblical figures, this first-ever guide to Catholic baby names helps expectant parents find a beautiful and creative name for their child. Each entry includes the meaning of the name, language of origin, variations in form, a capsule biography, and relevant feast days and patron saint information. While it has become increasingly popular to name a baby after a town or a food, readers will discover here a bounty of names that are fun, creative, and Catholic. This new book in the CatholicMom.com Book series boasts thousands of names of saints from Christian tradition and the scriptures, including those newly canonized by popes John Paul II and Benedict XVI. Among the fun facts to be discovered: there are ten ways to spell Regina, the perennially popular name Jayden means "thankful" and "God has heard," and Sophia–the most popular girl's name in 2012–was a saint who had three daughters named Faith, Hope, and Charity (who were also saints!).
Let's have some fun with this topic… what is your prediction for the baby's name? What would you name the baby if you had naming rights? Tell me in the comments below by 8 am Pacific time on Friday, July 26 what you think the baby's name will be or what you think it should be. One commenter will be randomly selected to win a copy of Patrice's awesome book. Even if you're not expecting, this book makes a great gift and a fascinating read.
Update: Our randomly selected winner is Marla. Thanks to all who participated!