Thank you to John Clem for making this weekly feature possible!
Papal Tweet: Please pray for me. (Pope Francis, March 13th 1 Year Annniversary)
Pope Francis invited to address a joint session of Congress (The Washington Post) http://ow.ly/uzChK
The Rev. Jim Martin muses over merging Jesus's spiritual and historical personas – The Washington Post http://ow.ly/unolO
Pope chooses global leadership for Vatican economic office :: Catholic News Agency (CNA) http://ow.ly/unOXG
Audio: Catholic Elements — International Women's Day – achievement & equality examples of female Catholic scientists http://ow.ly/unP6B
Let's Hear It For The Nuns! 7 Stories To Kick Off Inaugural National Catholic Sisters Week | Christina Capecchi http://ow.ly/unVUf

Celebrating Nuns: Sister Miriam Ryan and her vocation as a Little Sister of the Poor (Archdiocese of St. Louis) http://youtu.be/Bgu0uInXLgY
Ten Tips for the Best Lent (Fr. Ed Broom) http://ow.ly/unX0q
My Side of the Confessional: What Is It Like for a Priest? – http://LifeTeen.com for Catholic Youth http://ow.ly/unXjb
Video: Happy – Boston College (their version of the Pharrell Williams song) http://youtu.be/4_8I_w5v18I
Are Catholics Super‑Friends? The problem with parish life |Blogs | http://NCRegister.com http://ow.ly/uoiE8

Fr. James Martin's Book on Jesus a Great Read | Dating God http://ow.ly/uoQwl
Video: Top Ten Things to Know About Jesus (Fr. Jim Martin, S.J.) http://youtu.be/KtqML_6_cTM
Inspirational Video: Birds on a wire photographed and put to music — You'll Be Amazed! (God Vine) http://ow.ly/uoUdR
Catholic Bloggers Network: Keep LOVE in Lent 2014 http://ow.ly/uoUIW
Prayer Suggestion for Lent: Pray the "Universal Prayer" in Slow Motion « Archdiocese of Washington http://ow.ly/upftY
Video: Lent Day 6 – Five Simple Ways to Deepen Your Prayer Life (Fr. Robert Barron – Word On Fire) http://ow.ly/uq1OZ

The Music of Glass Hammer: An Appreciation | Catholic World Report – Global Church news and views http://ow.ly/uq3s7
Graphic & Article to Share: 10 indicators that Pope Francis has changed your life (OSV) http://ow.ly/i/4QExN http://ow.ly/uqvZM
South Korean Cardinal welcomes visit of Pope Francis to his homeland & Asian Youth Day Aug 14-18 (Vatican Radio) http://ow.ly/uqz8t
NEWS: Kidnapped nuns returned in Syria (CNS) http://youtu.be/BqEfmX-hmSQ
USCCB Launches Multicultural Parish Resource, Best Practices for 'Shared Parishes' http://ow.ly/urx0T

Catholic News Agency (CNA) now on Instagram http://ow.ly/urA72
Orthodox churches to hold first ecumenical council in 1,200 years—(Deacon Greg Kandra – Patheos) http://ow.ly/us119
Cardinal Dolan Talks Ukraine – (Meet the Press – NBC http://News.com ) http://ow.ly/us1IZ
Unburned letters of JPII reveal richness of Trinity :: Catholic News Agency (CNA) http://ow.ly/usSAf
NEW website about Christ the Redeemer statue in Brazil — Arms wide open (BBC) http://ow.ly/utaVK
Is fracking the answer to our energy crisis? | http://USCatholic.org http://ow.ly/uu340
Podcast: The Break with Fr. Roderick — Decluttering, Going Vegan, the New Annie and Mission Impossible (SQPN) http://ow.ly/uuBMB
Please join national prayer services for Gun Violence Prevention Sabbath Weekend | March 13-16, 2014 (Faiths United) http://ow.ly/uvj5c
Spending Lent with Mary (Sarah Reinhard – Catholic Exchange) http://ow.ly/uvkel
Documentary: Spes Nostra — Following the lives of 8 seminarians at Mount St. Mary's in Emmitsburg, Maryland http://youtu.be/P37hPHPK1Tw
The Narrow Path – Daily Inspiration from Matthew Kelly (Dymamic Catholic) http://ow.ly/uvy79
Jesus the Bridegroom: An Interview with Dr. Brant Pitre (Video) – http://BrandonVogt.com : http:/ http://ow.ly/uwmfI

Catholicism Sweepstakes – trips to Rome & Paris + DVD series giveaway (from Word on Fire & Image Books) Elizabeth Scalia http://ow.ly/uwo2w
Happy 25th Anniversary of the World Wide Web — Inventor of World Wide Web seeks digital bill of rights (USA Today) http://ow.ly/uwoAo
Graphic to Share: "To Be Saints is not a Privilege for the Few, but a Vocation for Everyone" (Pope Francis) – WOF http://ow.ly/i/4SuFr
Franciscans Launch Kickstarter Restoration Project In Italy To Honor Patron Saint Francis http://ow.ly/uwwxx
MyCatholicVoice | Ministry & Technology: The Perfect Match » Elaine Menardi — http://ow.ly/uxawl

The Pope's Ladies – Aleteia http://ow.ly/uxcBs
Crowdsource funding for The Way of Saint James – Documentary (Catholics in Action) http://ow.ly/uxRNe
What is a Symbolon? http://youtu.be/KK6-J9uTKdU NEW Adult Formation & RCIA Program (Ignatius Press) http://ow.ly/uyCN1
NEW Movie: Mary of Nazareth (Carmel Communications & Ignatius Press) http://ow.ly/uyG6I
BREAKING: New Hampshire House Votes to Repeal Capital Punishment (20 down 30 to go!) http://ow.ly/uzwER
Pope Francis to Hold First Official Audience With the Blind, Deaf | Daily News | http://NCRegister.com http://ow.ly/uzyqZ

March Madness? Better! — Pope Francis Madness: Round 1 – Busted Halo http://ow.ly/uyujf
NEW : See God's Creation of Colorado River — Google Maps launches 'river view' of Grand Canyon http://ow.ly/uygWo
Video: Fr.Stephen Alcott, O.P., talks about Catholic Student Ministry at the University of Virginia http://youtu.be/nk-NJKyZKfs
Video: The Gospel in Four Minutes (PipelineGeneration) http://youtu.be/K48-Li7lIfA
Miracle Machine Turns Water into Wine | Oddity Central (bet Jesus' wine tastes better!) http://ow.ly/utvmJ
Graphic for sharing: The Original Selfie (Catholic Memes) http://ow.ly/i/4SsMQ
Satire: The Caffeinated Bible — Annoyed Edition http://youtu.be/sm0Fey9R6-E
St. Patrick's Day on Monday | Seasonal Feature | American Catholic http://ow.ly/uAkIG
Hundreds flock to sleepy Belgian town to see 'glowing' statue of the Virgin Mary | Mail Online http://ow.ly/uADPu
Spokeswoman for USCCB president leaves after less than one year http://ow.ly/uAFAr
CRS Rice Bowl's Global Kitchen with Fr. Leo Patalinghug – Grace Before Meals http://ow.ly/uBqp3
Teach your children well: The Pope Francis guide to education | CNS Blog http://ow.ly/uC12t
Irish bishops focus on migrants for St Patrick's Day (Vatican Radio) http://ow.ly/uCksp
Looking back over the last year and celebrating the First Anniversary of Pope Francis' Papacy: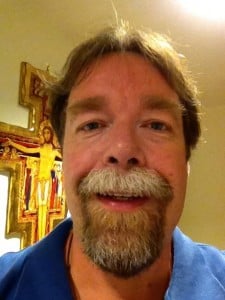 John Clem is the Director and Media Minister at Catholic Web Services (http://catholicws.com/). John is currently in formation to join the Secular Franciscan Order, and loves to share his talents in faith, technology, and journalism in service to the church. John also writes a blog entitled Call To Holiness (http://www.calltoholiness.us/). Follow John on Twitter at @Catholicwebs, on Facebook and at Google+.