I was there that night and saw it with my own eyes: the kindling of the spirit of Christmas and the joy when that spirit leaped into life!
It may have started off like any other bustling Saturday night. College students enjoyed a night off from studies. Shoppers peeked though store windows while restaurant diners scurried to get in out of the cold.
But suddenly, things paused as twenty-one dapper choristers paraded through the winding streets towards Harvard Square. Dressed in navy blazers with matching red and white scarves, each of the young boys held a candle in his hand and a song in his heart. As the boys walked in pairs singing, crowds began to follow them.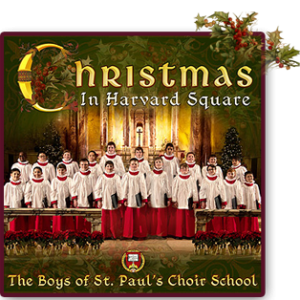 Soon, the boys led the curious onlookers to their destination. What came next was an amazing 30 minute performance. The Boys of St. Paul's Choir School freely gifted their community with a concert of songs from their beautiful new album, Christmas in Harvard Square.
I stood in the thick crowd that night, pressed together with other onlookers. As I watched the smiles light up the faces of those around me, tears of gladness filled my eyes. If I am ever blessed enough get to heaven, I believe the choir of angels I hear there will sound exactly like those 21 boys, singing joyfully on a crisp winter night. As the boys sang, they told the true stories of Christmas. Their notes rang out the birth of the savior. Glad tidings filled that cold, cold air.
Hearts were filled, spirits were inspired, and we were all reminded of the joy of this beautiful season.
You may have missed being their in Harvard Square that Saturday night. But you can have a little piece of that miracle for yourself. Treat yourself to a few moments of heaven by watching the video above. Then visit www.AimHigherRecordings.com, enjoy Christmas in Harvard Square and give the gift that keeps on giving.
Enjoy More of The Boys of St. Paul's Choir School:
The Boys of St. Paul's Choir School and their album have received coverage from a number of leading Catholic media outlets, including most recently from EWTN's "The World Over" and "The Journey Home," Our Sunday Visitor, the National Catholic Register and CatholicVote.

CatholicTV will air its own exclusive special on CHRISTMAS IN HARVARD SQUARE at 9 p.m. ET Tuesday, Dec. 16, 2014; 6 a.m. ET Wednesday, Dec. 24; 11:30 a.m. ET Thursday, Dec. 25; and 11 p.m. ET Friday, Dec. 26.

EWTN also will air its own original exclusive special, "Christmas in Harvard Square," at 6 p.m. ET Sunday, December 21, 2014; 11 p.m. ETMonday, Dec. 22; and 1:30 p.m. ET Saturday, Dec. 27.