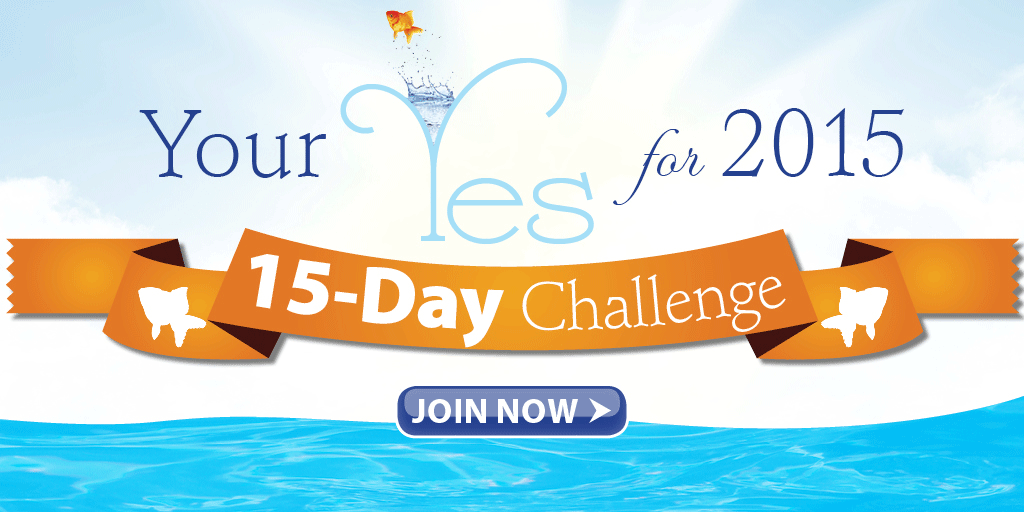 Welcome to Day 4 of our "Your Yes for 2015" Adventure. If you're joining us today for the first time, find yesterday's post here and the index of all of the days here.
How are you doing today?
For me, this is a "decide for Yes" day. It's the first day of the New Year when exercising my commitment to my daily goals for this year has felt like a major challenge. In truth, I'm lucky that I've gotten to January 8th so relatively smoothly.
Why am I feeling challenged? A heavy workload, a few pressing deadlines and a trip that begins today have combined to leave me feeling stressed out and a bit overwhelmed. But I was managing fine until I woke up this morning with the room spinning, my tummy queasy and a 6:00 am flight to catch. I'll make the plane, life will go on, but it probably won't be very pretty.
So perhaps it's fitting that today we're slated to discuss the first of the eight "virtues" that I feel play into our "Yes to God". I cover each of these virtues in my book The Grace of Yes: Eight Virtues for Generous Living. For the purpose of our challenge, I am not going to be really "defining" the virtues, but rather commenting upon them. For more discussion on each of the virtues, you might want to check out the link at the bottom of this page to the Virtual Book Club on the book.
Yes to Belief
Call it belief, call it faith, call it your creed or the name of your religion. Whatever you want to call it, when I say "Yes to Belief" I mean cultivating a fruitful, vibrant, committed relationship with God.
I'm convinced that for our overall "Yes" goals to succeed, this "Yes to Belief" is the bedrock upon which the rest is built. I think many of you agree with me—because many of you have shared that your goals for this year relate to building a more intentional prayer life for yourself and your family.
And this morning has reminded me that "Yes to Belief" and practice of those beliefs is not always easy. I wake up each day knowing that I love God, that I desire more than anything to serve him with my life, and that God is firmly in control. And then my feet hit the floor and my behavior sometimes contradicts my beliefs.
As I've mentioned here and many times in other venues, I know my days are best when they begin with a strong morning prayer routine.
And then ironically I have a day like today when the alarm rings at 3:15 am, when the hour I have is a blur of packing and getting to the airport, and when my biggest prayer is "Please God, don't let me throw up in the TSA security line."
I've worked out my "to go" morning prayer kit to take with me on days like today when I'm on the road. My iPad holds my breviary, my bible and numerous books I'm praying with as I read. I actually love praying in flight, where closeness to God feels so very tangible amidst the clouds or the stars and moon.
But for today, my "Yes" means being still, being silent, and trusting that God knows my heart. Today, I won't check off my typical prayer ritual items. But God's presence with me this morning feels clear and concrete. God will give me the strength to get to my destination. I can rest in God's arms and cast my concerns upon him. Hopefully in a few hours after a bit more sleep, my head will settle enough to do my reading. But until then, I will be in the sky, in God's embrace, silently meditating upon my love for him and my gratitude for my amazing life. I'll be resting in that love, because I need the rest and I need the love.
I was preparing this week to write something today that would encourage you to truly ritualize your prayer lives. And I still believe that is important. You know what will fit with your lifestyle, but some best spiritual practices I'd love for you to share in include:
Daily morning prayer – first thing, before the busyness of the day
Daily scripture reading
Silence, wherever and whenever you can find it
Frequent Mass attendance (or attendance at your church if you are not Catholic), with at least one daily Mass each week if at all possible in your schedule
Eucharistic adoration
Intercessory prayer through and meditation upon the lives of the Communion of Saints
A loving relationship with our Blessed Mother Mary
Commitment to your parish – more than just showing up once per week. Stewardship and tangible service to your faith home
But some days—like for me today—the best "Yes to God" we can give is to simply rest in his embrace and to feel his profound love.
To Ponder:
How is your "Yes to Belief" going to be a priority for you in 2015?
What spiritual practices, rituals and routines do you need to incorporate into your life this year to help you give your best to God?
How can you involve others in building your loving relationship with God?
Let Us Pray:
Lord, we're sometimes tired and weak. We want to give you our "Yes" and yet so much is on our plate, so much is demanded of us. Help us today to rest in the assurance of your love. Help us to know that prayer is not something we "do", but rather a continual way of living in and through your love for us. We are so profoundly grateful for your grace and the blessings you bestow upon us. Help us to rest in you. Amen.
Join us tomorrow as we continue our 15 day Yes journey.
Sign up to receive email reminders:

Your email address will not be sold or spammed