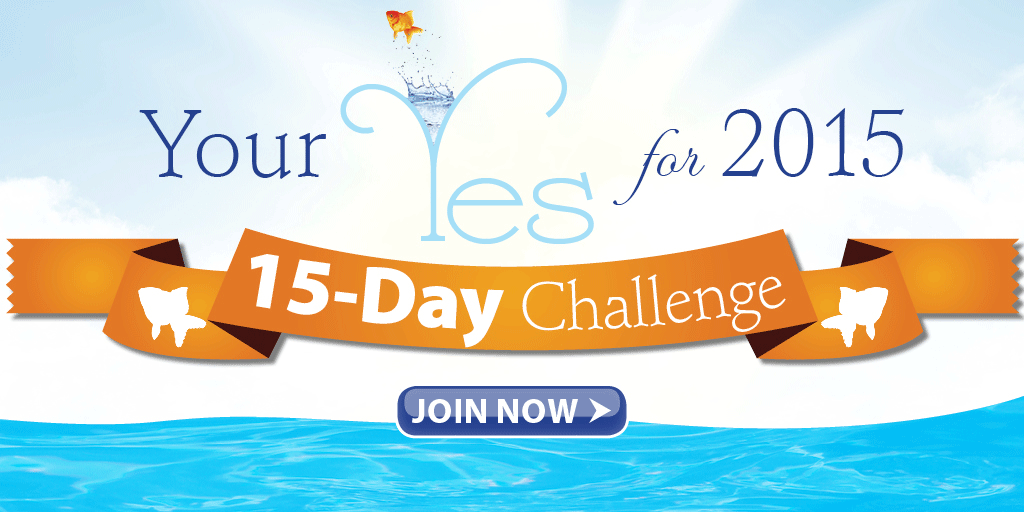 Welcome to Day 3 of our "Your Yes for 2015" Adventure. If you're joining us today for the first time, find yesterday's post here and the index of all of the days here.
If you're reading this, then congratulations! You've succeeded in surviving the first seven days of 2015 and in making an initial commitment to this process. Over the next eight days, we will begin to look at the eight virtues which I believe play a contributing factor in our "Yes to God" commitment. For each of those days, I'll be sharing wisdom from saints and special people, and from scripture. On those days, we'll continue to "ponder" reflection questions and to pray together.
But for today, I want to follow up on our first two days of pondering our "Yes" by asking you a specific question:
Who is a part of your "Yes"?
I ask this of you because I've been asking it of myself. Over the past few days, I have been humbled and personally touched by those of you who have connected with me here, on Facebook and most especially by email to share your thoughts about this 15 day challenge.
You've shared your struggles, your fears, your "small steps" to progress (and big ones too!) and the hopes you have for the end results this challenge will yield in your life.
This has been so helpful to me in reframing and reinforcing my own goals for 2015. It's also helped me to realize that companionship is a key ingredient to success. In Mark 6, we read that Jesus summoned his disciples and sent them out two by two into the world. He knew that they would need support and companionship. We do as well!
Who's Your "Plus One"?
I shared this morning on a radio interview that one of my biggest goals for this year is to continue to be better about involving my best friend and husband Greg in the discernment and action of my "Yes". We've been married for almost 29 years, but I'm still working on my end of fruitful communication. I shared with the radio interviewer (listen in here) that even after all of these years, I still have to remind myself to involve Greg in my discernment decisions.
My best "Yes" and "No" commitments are not made in a vacuum. But the interesting thing is that some of the most challenging "Yes" commitments I need to make in my life are private, painful and sometimes downright embarrassing. For those particular "Yes" moments, my husband may not always be my number one go to "plus one" companion.
Especially in those moments, I find solace in giving over the struggle to the One who knows it all already:
Have no anxiety at all, but in everything, by prayer and petition, with thanksgiving, make your requests known to God. Then the peace of God that surpasses all understanding will guard your hearts and minds in Christ Jesus. Philippians 4:6-7
If you are struggling greatly with your "Yes", today I challenge you to take ten minutes and really address this in serious prayer. Find silence (even if you have to lock yourself in the bathroom to do so, Moms!). Speak the words aloud in your soul, or write them in a journal or on a piece of paper. Proclaim your requests, the things that are most defeating your "Yes".
And if you can, involve trusted companions in this process too. Some of your "Yes" challenges are very daunting, more painful than you can bear alone. For these, please reach out to a twelve-step group, your local church, your pastor, and especially in the sacrament of reconciliation. Confession is not a counseling session. But a good, solid confession could be the very first step in reclaiming your "Yes to God".
Reciprocally today, please look around yourself for ways that you can be a good and faithful friend to someone struggling with their own "Yes". For many of us, the pain of our own struggles feels too heavy to bear. How can we take on another's load as well? My sincere feeling here is that if we lack good friends and a support system in our lives, perhaps we can begin to repair this pain by becoming a good friend to someone else. If you are lonely today, look around yourself for an opportunity to be of service to someone else. In giving, you will receive.
What does love look like? It has the hands to help others. It has the feet to hasten to the poor and needy. It has eyes to see misery and want. It has the ears to hear the sighs and sorrows of men. That is what love looks like. St. Augustine of Hippo
To Ponder:
With whom have you shared your "Yes" challenges for 2015? Whose cooperation or support is vital for you to give God your very best "Yes" this year?
Read Mark 6. How are you being sent by God out into the world as part of your "Yes"? Who is a part of that journey with you?
How is a part of your "Yes" calling you to be a good friend or a serving heart to someone else in your life? What proactive steps can you take to make this happen?
Let Us Pray:
God, we so greatly desire to be one with you in our "Yes". Yet often we struggle with feelings of isolation, loneliness or pain. Help us to find peace, healing from any abusive relationships, and companionship in this challenge. If we lack love in our lives, embolden us to go out and be your love to a world so greatly in need. We give you our hearts. Amen.
Join us tomorrow as we continue our 15 day Yes journey.
Sign up to receive email reminders:

Your email address will not be sold or spammed