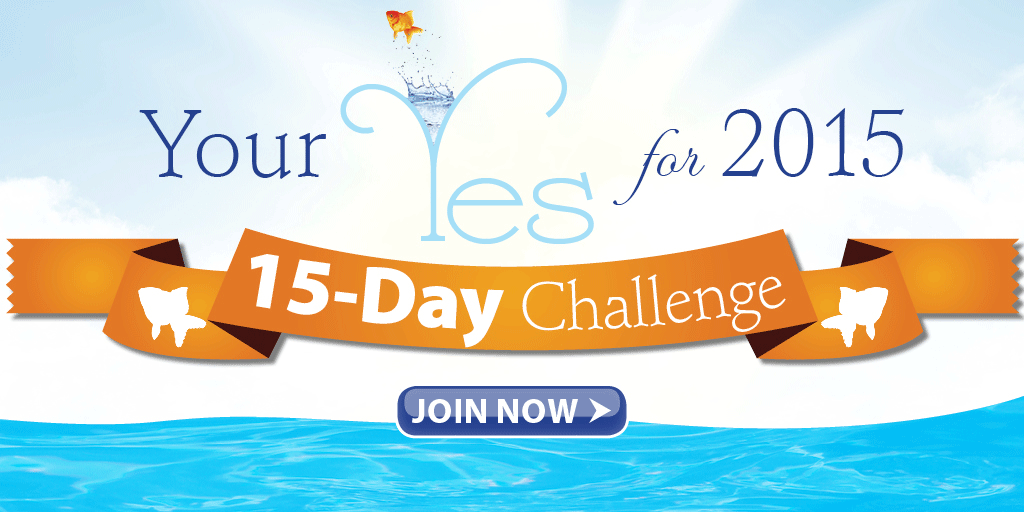 Welcome to Day 2 of our "Your Yes for 2015" Adventure. If you're joining us today for the first time, find yesterday's post here and the index of all of the days here.
Today, I would like you to consider the question, "What's your Yes to God?"
I say "consider" intentionally, because there will be some thought, prayer and discernment here. And I'll share up front that I doubt you'll read today's entry and find a single, definitive answer.
I certainly haven't.
When I talk about giving a "Yes to God", I mean two things:
Living according to God's will for my life.
Having done number one, living more generously in the world around me.
In many ways, I believe our "Yes" is an ever-evolving and constantly dynamic equation. I know that my ultimate goal in life is to have eternity in heaven with God, and to help my loved ones live that same goal. So when I look at my priorities in life these days, it's through the prism of that ultimate objective.
But I also believe that life and our days are certainly made of up of many little "Yes" moments, times when we choose a certain path along life's highway. It's those "Yes" moments that I'm asking you to consider here. And to make this experience meaningful to all of us in relating this to our 15 day journey, I'm going to distill it down even more. My hope is that if we practice these smaller "Yes" moments with diligence and discernment, they will accumulate and help us to achieve that ultimate "Yes" we seek to give to God.
Yes Resolutions
Popular culture talks a lot in early January about "New Year's Resolutions". This year, I've decided to reframe my resolutions into a series of "Yes to God" opportunities and challenges.
So, for example, instead of having a New Year's Resolution to "lose weight" (a perennial resolution for me!), one of my "Yes to God" Body goals for this year is to strengthen my physical body to meet the ever-increasing physical and emotional demands of my ministry.
To achieve this particular "Yes", I've committed to:
Wear my "fitbit" tracking device daily
Walk an average of 8,000 steps per day each week
Track caloric intake via fitbit app — if you don't track it, you don't eat it (that's actually what I wrote to myself in my journal!)
Using this goal as an example, I can share that progress towards the goal of being more mindful of my physical and nutritional well-being not only equips me to keep up with the demands of my schedule, but also helps me contend with some "near occasions of sin" in my life. Your goals will look different than mine, but I share this one goal here to give you a sense of the types of resolutions/Yes goals I've set for myself.
This year, I have oriented my "Yes" goals into four categories:
Heart – resolutions related to the important relationships in my life
Mind – resolutions related to my professional life, my intellectual development, and my creative pursuits
Body – resolutions related to care of my physical being, with the goal not of being a particular weight but rather of being strong enough to effectively carry out my work for God
Soul – resolutions to enable me to fully, prayerfully, and with discernment live for God and be of service to the world around me
A SMART "Yes"
Like the example I shared above from my Body "Yes" goals, I've endeavored to make my resolutions "SMART":
Specific
Measurable
Action-oriented
Realistic
Time-Bound
I set my resolutions by recollecting my challenges over the last year, prayerfully discern them, documenting them so that I can track them, and sharing selected resolutions with a trusted accountability partner. Along with being a part of this 15 day journey with you, I will be doing a monthly check-in on the 15th of each month to assess my progress on these goals.
Will I be "perfect"?
No!
Will I keep trying?
Yes!
Because I'm convicted that to give God my very best "Yes" and to give the best of myself to the world around me, these areas of my life need attention. Some of my "Yes" goals will be accomplished this year. Others may take me a lifetime. But unlike in previous years where I gave up on New Year's resolutions before my calendar had flipped to February, I feel committed to making progress because I see a divine purpose behind my goals.
For today, I ask you to reexamine your goals for this New Year through the prism of how they will help your "Yes"–your commitment to giving yourself and your gifts fully to God and your commitment to generously serve the world around you. This may be an assignment that feels daunting to you. To simplify it, feel free to choose one single "Yes" goal, a resolution that you truly want to focus on this year.
Prayerfully discern your "Yes".
Commit to giving that "Yes".
Make your "Yes" goal SMART.
If you feel comfortable, share your "Yes" goal here, reply to me by email, or share it with a trusted accountability partner.
Does this feel impossible? Then I ask you to consider that with God, all things are possible. As I shared in the opening pages of "The Grace of Yes":
I am reminded of the opening verses of the Letter to the Hebrews, which in my Catholic Bible reads, "Faith is the realization of what is hoped for and evidence of things not seen" (11:1). In my fifty-plus years of walking with Christ, I have repeatedly found surprising and intriguing evidence of things not seen. Faith is the connection—the spiritual bridge—between the lingering doubts I sometimes have and the discipline of "Yes, Lord, I believe."
Do you believe? Then get busy.
To Ponder:
What is your primary "Yes" goal (or list of goals) for this year, one that will help you grow closer to giving your life fully to God and the service of those around you?
Write your goal(s) on paper or in a digital file where you can easily retrieve it throughout the year.
What challenges or fears do you have that may block your "Yes" to God with this particular goal? What keeps you from fully committing to this "Yes"?
Let Us Pray:
Father, we desire to fully live for you and in service to others. But in our weakness, busyness, and stress we often fall into actions that separate us from you and our loved ones. Help us today to commit to proactive changes in our lives. May our "Yes" be at your service and according to your loving will for our lives. Please bless each of the men and women on this journey and draw us ever closer to you. St. André Bessette, may we emulate your holy example of humble service. Amen.
Join us tomorrow as we continue our 15 day Yes journey.
Sign up to receive email reminders:

Your email address will not be sold or spammed