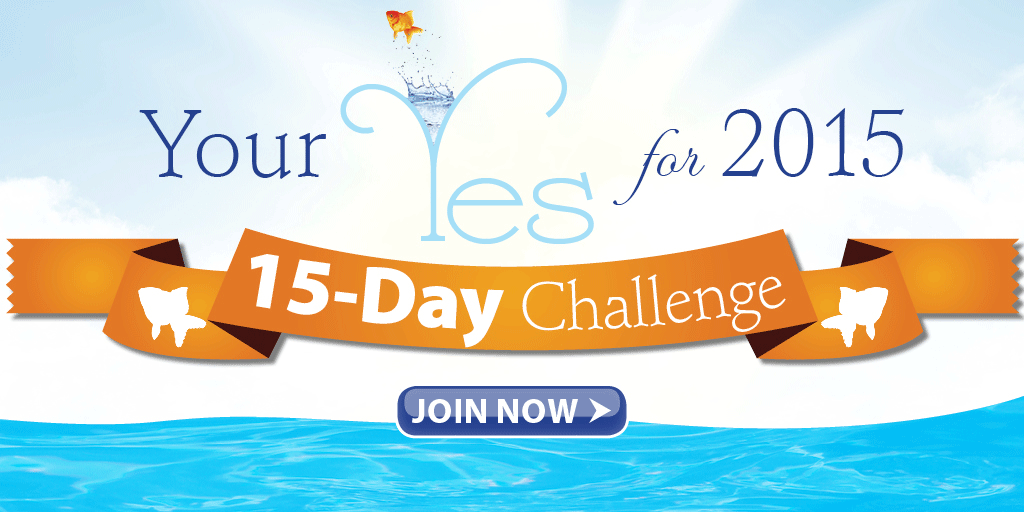 Welcome to "Your Yes for 2015"! I pray that the next fifteen days will be a transformative journey for all of us as we endeavor to more fully give our unique "Yes" to God in the New Year.
Today, I want to start by sharing my goals for this project. I'd like to answer one recent social media commenter's question:
"What is this, and how much does it cost?"
That person's query helped me to realize that before we dive in, it would be wise to share with you what I think this campaign is all about. I'd also like to clarify up front that it's FREE. But if engaged in properly, it may cost you:
a bit of time (ten minutes per day to read this email and prayerfully respond to the journaling prompts)
an exertion of energy (whatever might be required to help you, in your unique situation, journey closer to your "Yes")
a giving of compassion (I am going to share personally here, and I'll invite you to do this too either publicly in the combox below or privately with me in an email conversation that will be confidential between us. I ask that all commenters be supportive and encouraging. Folks who lack compassion will be uninvited from the process.)
a concerted prayer effort for the next 15 days and on the fifteenth of each month (I ask you to include this community in your prayers, but most especially to prayerfully discern your own "Yes" in a period of silence each day – this is not a "Catholic-only" thing. Pray in whatever way best draws you into closer communion with God.)
What This Is:
For the next fifteen days, you will receive a daily email from me (if you've signed up for our mailing list or do so using the form below). On the fifteenth of each month for the year 2015, I will send you a brief email containing information and encouragement as a "booster shot" to continue to keep your eyes (and mine too) on the prize.
For the next fifteen days, I will be posting here at the blog. The daily posts will be focused around:

Identifying what I mean by giving our unique "Yes" in 2015
Walking through eight virtues that contribute to a fruitful "Yes"
Offering a daily word of encouragement and a brief prayer
Challenging you with a daily reflection question to lead you through this process
Inviting you to journey (either publicly or in silence) with a community of like-minded companions
What This Is NOT:
Something that will cost you money
A get-rich-quick scheme, a pill to help you lose forty pounds overnight, or professional therapy
A "cult of personality" because I think I have it all together. Guess what: I don't. I'm leading this project because I need it myself. I'm looking for companions on my journey. I need your prayerful support and encouragement to journey closer to my own "Yes" for this year. I promise to pray for you and with you daily and to be a friend to you in your process. But I want to make it clear up front that I don't have all of the answers.
The eight virtues we will discuss are inspired by my new book The Grace of Yes: Eight Virtues for Generous Living. I want to clarify up front that you do not need to have read the book to participate. Once each day, I will provide a link to the book if you'd like to read it, but this is not about selling my book.
If you're still here and reading this, it's time for us to get started. Tomorrow, I will describe what I mean by giving your "Yes" to God and will challenge you to identify one potential "Yes" project for 2015. But for today, I want you to prayerfully consider WHY you've committed to this project. To help you ponder this, I'm going to answer that question myself here.
Why I Want to Give My Yes to God in 2015:
I'm a resolution person. I love New Year's day every year with its flip of a clean new calendar and its hope for a "redo" on the things I've messed up in the past. But try as I might, in the past I've often abandoned my resolutions or wimped out within the first few weeks. I go back to my old bad habits, justifying in my head why now isn't the time for definitive change. I'm 51 and I know myself: I'm optimistic enough to believe I can change, but sometimes not fully committed enough to dig deep when the going gets tough.
So why is this year different?
In the writing and release of 
The Grace of Yes, 
I realized that my intentions were failing because my motivation was misplaced. In previous years, I made resolutions squarely focused on self-improvement: "lose weight", "be more organized", "be a better wife and mom" or even "pray more" were perennial goals. This past year, I went through a major personal transformation that helped me to realize how misplaced my priorities have been. I may have had great intentions. But the spotlight was shining on Lisa–
her needs, her desires, what she could accomplish
.
My work on the book helped me to more clearly define the life I want to live. I now realize that my life's greatest desire is to live fully for God and to live generously in the world around me. Giving my "Yes" to God means giving the best parts of myself to journeying towards him and serving others. Interestingly, some of my old resolutions still apply here, but the motivation is different:
I need to be physically strong. The work I do is tough and challenging. Care of my physical body is imperative for me to have an impact. Not because I want to look a certain way, but because my body is God's tool for the work he has created me to do.
I need to make better use of my time. When I don't, I cheat my "Yes". Fully living out my mission demands precision of intention and effective execution.
I need to be more giving in my relationships. One of the best ways that I can serve God is to more fully love the people closest to me. By better and more generously loving them, I have a tangible way of more fully loving God.
I need to be in constant dialogue with my Creator. I can't give a full and worthy "Yes" if I haven't engaged in listening. Prayer is not a one way diatribe of my laundry list of intentions. To be fruitful, it must involve silent listening, which is challenging amidst life's craziness.
I love that the start of our "Your Yes in 2015" journey begins in conjunction with our celebration of the Epiphany. Yesterday at church, my pastor challenged us by inviting us to reconsider the gifts of the Magi. God has gifted us so richly by sending his son Jesus to live, die and be resurrected, all for the sole purpose of drawing us to him. Gifts are meant to be reciprocated. My gifts to God, living the fullness of my "Yes", should define me. They are most generously given when I focus my efforts on better loving God and more generously serving my world.
But are our personal dreams and aspirations part of that Yes? Do the personal goals we set for ourselves fit this journey? My contention would be "Yes". We'll talk about that in the days to come…
For today, I leave you with a reflection question and a brief prayer. Please know that you are journeying with many others. Feel free to share your thoughts on the question here or at my Facebook Page if you'd like. Or respond to this email privately, or simply hit delete and prayerfully consider this at some point today on your own.
This is YOUR YES!
To Ponder:
Why are you here, participating in this "Your Yes in 2015" project?
How do you imagine that being a part of this initiative will draw you closer to God and into more generous service to others?
What are your personal goals for the next fifteen days and for 2015? I'm asking here about your goals for being a part of this process, not your "goals/resolutions/dreams/Yes" for the year.
Let Us Pray:
God, creator of each of us, we enter into this journey humbly, and seeking your will for our lives. Please bless our ability to seriously commit to discerning and giving you our "Yes". Give us focus, desire, and energy to more fully love you by giving you our very best. Please remove our hesitancies, our excuses, and the barriers the block us from your will for our lives. We praise and adore you with all of our hearts. Amen.
Join us tomorrow for a consideration of the question "What is your Yes?"
Sign up to receive email reminders:

Your email address will not be sold or spammed