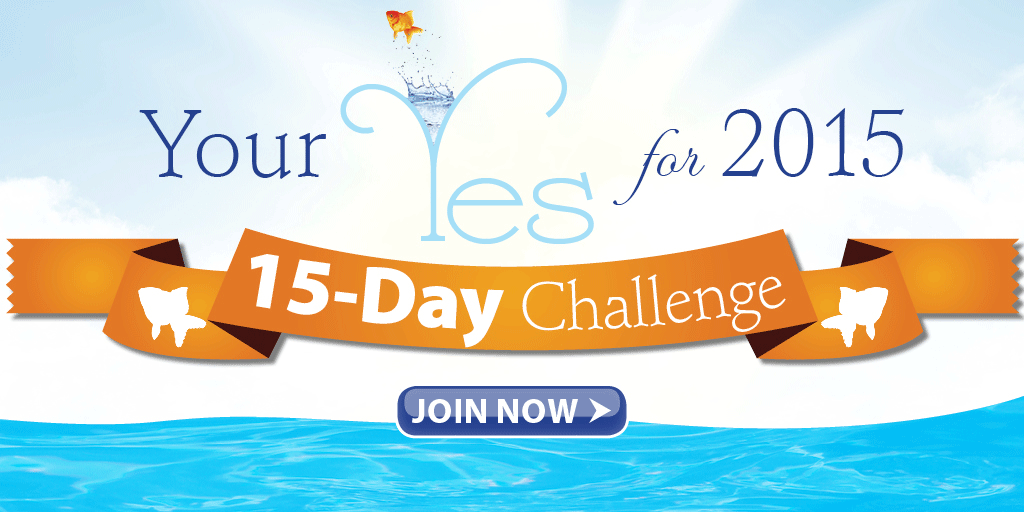 Welcome to Day 9 of our "Your Yes for 2015" Adventure. If you're joining us today for the first time, find the index of all of the days here.
Today's challenge post might be a little bigger challenge for some of us. That being said, please know that as I type this, I'm covering each of you in a blanket of prayer. I've wrapped you in Mary's mantle and am asking her to carry each of us, her children, in a special way today.
Why the warning? Because today we're going to take on a hard topic:
Vulnerability.
Merriam-Webster defines vulnerability with the words: "easily hurt or harmed physically, mentally, or emotionally; open to attack, harm, or damage".
That definition can cover a cavalcade of woes: illness, broken relationships, addictions, financial burdens, abuse… the list goes on and on. But here's the thing: those vulnerabilities do NOT need to separate us from God.
They do NOT need to be the things the keep us from giving God our "Yes".
In many instances, I believe that our vulnerabilities actually become our "Yes". The things that most plague us can also become a path to more fully aligning ourselves to God with fervor and acceptance. Does that mean that we give up hope? NO! That means that we find hope in God!
Words of Wisdom:
Because they can speak to this topic more eloquently than I ever could, today I am going to share several helpful thoughts from the Communion of Saints. I thank my intern Rebecca for helping me find these nuggets of gold. I ask you to print this page or to copy these quotes into your journal for the moments when you feel most vulnerable.
The longer the trial to which God subjects you, the greater the goodness in comforting you during the time of the trial and in the exaltation after the combat. St. Pio of Pieltricino
Pain and suffering have come into your life, but remember pain, sorrow, suffering are but the kiss of Jesus – a sign that you have come so close to Him that He can kiss you. Blessed Teresa of Calcutta
Those who trust in Jesus are as simple as children. They cling to his garments and in every difficulty have recourse to him. Filled with trust, they exclaim, "Help me, Lord Jesus, to overcome this enemy and this obstacle. You alone can help me and I am sure that you want to do so." Saint Francis de Sales
When you are scorned by others and lashed by God, do not despair. God lashes us in this life to shield us from the eternal lash in the next. Saint Peter Damian
If we suffer with Christ, we shall be glorified with him. The fulfillment of the promised happiness is certain for those who share the Lord's passion. Saint Leo the Great
Let us strive to face suffering with Christian courage. Then all difficulties will vanish and pain itself will become transformed into joy. Saint Teresa of Avila
With these directives, I encourage you to address head-on the things that are leaving you feel vulnerable. I ask you to consider your "Yes to God" through the prism of the realities of your life… in good times, and yes in bad ones too!
God loves you. He is waiting for your "Yes".
To Ponder:
How is a "Yes to vulnerability" part of your 2015 "Yes to God"?
List the things, relationships and circumstances to which you feel vulnerable. List them all. Take the list to prayer, offering your challenges and concerns to the Blessed Mother. Ask her to help you carry your burdens to God with grace and obedience.
What burdens can be addressed through proactive steps (health care, counseling, a change of behavior, etc.)? Commit to a plan for 2015 to begin to proactively walk through these steps. Seek definitive help to begin the path to wholeness.
Let Us Pray:
God, some days our burdens feel too heavy. We feel ill equipped to manage the various struggles in our lives. Some of these burdens are our own. Others are the illnesses, brokenness or concerns of our loved ones. Help us to assess the things that are separating us from fully realizing your love for us. Give us the strength to look these challenges squarely in the face. Help us to begin to seek healing, peace or acceptance. In you, we find our hope. Amen.
Join us tomorrow as we continue our 15 day Yes journey.
Sign up to receive email reminders:

Your email address will not be sold or spammed