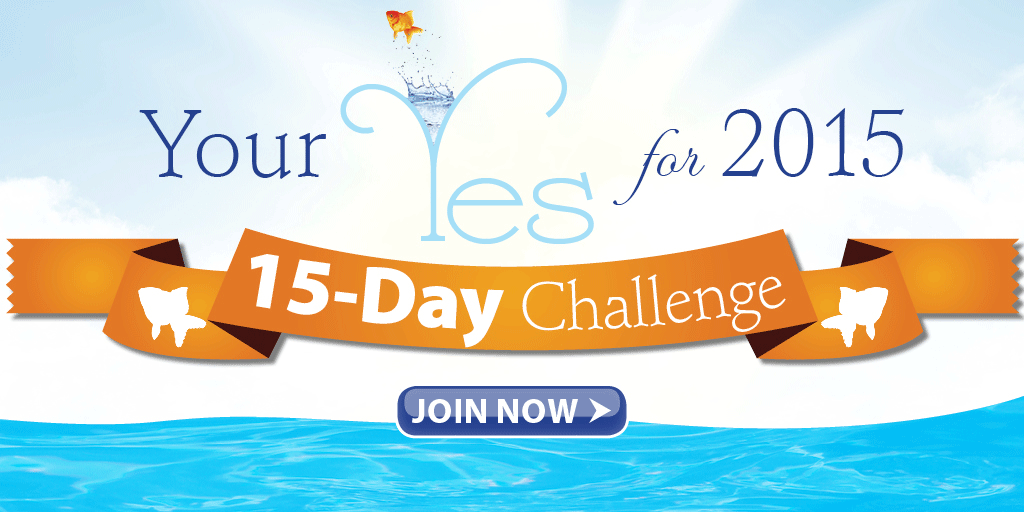 Welcome to Day 10 of our "Your Yes for 2015" Adventure. If you're joining us today for the first time, find the index of all of the days here.
In the aftermath of my writing of The Grace of Yes, I have to say that I probably received some of the most vociferous feedback about Chapter Seven, A.K.A. "The Grace of No". People seem to really relate to the need to reclaim some control over their lives.
I wrote that chapter for myself–the woman who has a tendency not only to overcommit, but also to avoid the "no" she often needs to say to herself. Writing about it hasn't necessarily "fixed" my problems, so "No" is a part of my "Yes to God" goals for 2015. Today's work really relates to two fundamental themes–discernment in our yeses, and a personal "NO" to the things that separate us from God.
When No Is a "Yes":
I probably don't have to really beat this particular theme over the head. If you're still reading these daily missives two-thirds of the way through out process, I believe you to be a good hearted person. And good hearted people sometimes have a tendency to overcommit ourselves. So today, I'm asking you to again take pen to paper and to make a list of all of your commitments. Try to think of as many as possible, including the small ones like "walk the dog" or "drive carpool". If it takes up your time and energy, then list it.
Next, I'd like you to spend a period of time in discernment about your list. If you are a married person, involve your spouse and children. Take your list to serious prayer, considering if each expenditure of your time is in line with your primary vocation. I'm not expecting you to be able to commit every volunteer job tomorrow. I simply want you to join me in prayerfully discerning how your can most generously give of yourself while still remaining holy, healthy and sane. This may be a yearlong process. But don't give up just because it's hard or it feels impossible.
Saying "No" to Ourselves:
This one's tough. It's the part of my "Yes" that will likely take me not only the rest of 2015, but honestly the rest of my life. I need to prayerfully examine my personal behaviors with an eye towards eliminating the habits, compulsions, and sins that separate me from my Creator.
Not being able to say "No" (and mean it) places huge limits on the way in which I'm able to give myself fully to God.
If you are Catholic, I would ask you in joining me in the Sacrament of Reconciliation as a part of your discernment and healing. A full and worthy "No" may need to involve confession, absolution and penance.
The greatest gift that we can receive from God in the present world is this: To know how, to desire, and to be able to conquer self by renouncing our own will. St. Francis of Assisi
To Ponder:
How is a "No" part of your 2015 "Yes to God"?
What limits do you need to place in your life, both in terms of your commitments to others and your own personal behaviors?
Are you being called to major life changes that exceed your personal ability to cope? Make a commitment today to find support for the "No" you need to give God.
Let Us Pray:
God, giver of all good gifts, you have created us to know, love and serve you and one another. Help us to discern the best use of our time, talents and treasures. Enable us to make firm commitments that underscore our greatest desire: an eternity with you forever. Father, we ask you to be with us in our struggle against behaviors, habits or sinful natures that separate us from true union with you. In you, we find true peace and perfect strength. Amen.
Join us tomorrow as we continue our 15 day Yes journey.
Sign up to receive email reminders:

Your email address will not be sold or spammed