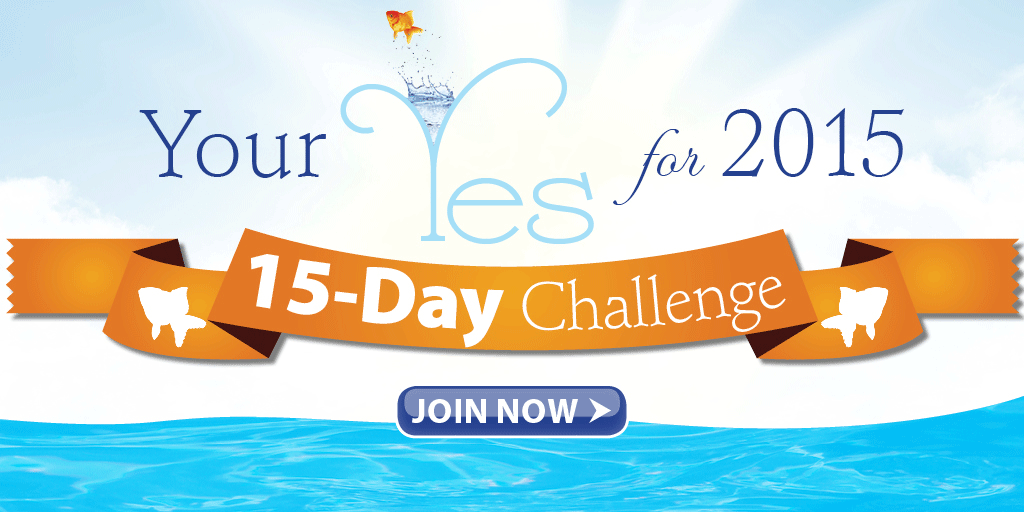 Welcome to Day 11 of our "Your Yes for 2015" Adventure. If you're joining us today for the first time, find the index of all of the days here.
Some of you may have read the title of today's post with some trepidation… What's all this about "rebirth"? Huh?
Today's topic stems from the final chapter of The Grace of Yes. In the opening pages of that chapter, I share my desire to go "all-in" in fully giving my "Yes" to God.
Pretty radical stuff, right?
But in the journey we are anticipating this year, giving our best "Yes" means no longer standing for business as usual in our lives. It means realizing that past half-hearted measures have been empty and broken. When I look at the struggles in my life, I realize that I'm so very tired of repeating my mistakes, justifying my brokenness, and constantly assuming that I can't.
Alone, I can't.
But in fully giving myself to God, in being reborn for the purpose of fully giving myself to God and through God in service to others, I am never alone. God, who is the creator of every good work within me, is my constant companion. In, with and through God, I can.
"Rebirth" sounds so big, and frankly so "out there". In my mind, it's both big and tiny. Small new ways of "being" pop up in my life every day. When I'm at my best, I recognize the opportunities for rebirth that present themselves with small attitudinal and behavioral changes. Those little choices, made in a prayerful way and with an eye towards my ultimate "prize", are leading me more fully into the life I want to live in God and for God.
Some parts of "rebirth" are simple. Other aspects will take me a lifetime. For 2015, one of my biggest goals is to meet such opportunities with my eyes wide open and my heart turned towards God. In, with and through God, I can. And you can too!
I am confident of this, that the one who began a good work in you will continue to complete it until the day of Christ Jesus. Philippians 1:6
To Ponder:
How is a "yes to rebirth" part of your 2015 "Yes to God"?
What are some of the small ways in which you have already experienced rebirth in your life?
What excuses bind you from fully opening yourself up to the good work God has begun in you? How will you more fully open yourself to God's grace in your life in this New Year?
Let Us Pray:
God, you have begun a good work in me. You are the source of every gift, talent and ability I have. I long to use them for your service by living more generously in the world, in my community, and in my home. Father, help me to recognize small moments of potential rebirth, when a shift in my attitude or behavior can bring me more completely into alignment with your will for my life. I long to give you my "Yes". Embolden me for the changes that are to come. Amen.
Join us tomorrow as we continue our 15 day Yes journey.
Sign up to receive email reminders:

Your email address will not be sold or spammed