Just about every week, we bring you a weekly feature that includes the top news and information as shared on Twitter and is of import in the Catholic realm. These tweets are compiled by John Clem, O.F.S., who does a masterful job of keeping us all "in the loop" about what's happening in the Church. I find them particularly helpful, especially on a week like this one when I'm finally emerging from the fog of jet lag after my journey to Tanzania.
As Catholics, we are called to stay abreast of news in the world, but we do so with a unique perspective. I'm always grateful for the many ways in which we can remain connected not only to our Church and world events, but also to cultural headlines like the upcoming Oscars, the Superbowl, or movies and music. Each week, John manages to keep on top of the "news we can use"… I invite you to take ten minutes, look these over, and hopefully share a few of them.
I'm grateful to my friend John Clem, O.F.S. for this week's Top Catholic Tweets:
Papal Tweet: "

We are all sinners. We are all called to a conversion of heart." (Pope Francis February 3rd)

American priest among saints causes advanced by Pope Francis :: Catholic News Agency (CNA)

ow.ly/HQUzu

NEW App: Audio Catholics Kids, the FREE app that helps you talk about God…to your children (Rome Reports)

ow.ly/HRVJr

Apocalyptic beliefs may explain why Francis is a pope in a hurry (John Allen – Crux)

ow.ly/HTPKi

Year of the Consecrated Life: Dominican Nuns of Summit, NJ, Centennial Campaign Video – YouTube

ow.ly/HTW5k

Franciscan Family Chaplet | A new Franciscan prayer.

ow.ly/HTX7U

Thomas Merton (Still) Matters – 100th Birthday on Jan. 31st | America Magazine

ow.ly/HU2Ur

Teaching Capitalism to Catholics at CUA (Tim Busch – WSJ)

ow.ly/HU3HK

Christian unity demands encounter – not theory, says Pope :: Catholic News Agency (CNA)

ow.ly/HW3PA

2015 March for Life

#whywemarch

(John Clem – Call To Holiness)

ow.ly/HWvOI
Catholic News | Pro-life Generation Tweets from March in Washington | American Catholic ow.ly/HWFzI
Cardinal Sean: Build a Better World | 2015 March for Life Opening Mass (CTV) ow.ly/HXKNw
Video: Freedom – March for Life 2015 (Blackstone Films) ow.ly/HYQKp

Number One

#Superfood

: The Eucharist, Hands Down (Lisa Mladinich – Amazing Catechists)

ow.ly/HWy0z

Amazing Grace on the Chapman Stick – Greg Howard – YouTube

ow.ly/HWBAX

Brew Evangelization: The Ongoing Renaissance of Monastic Beer | Catholic World Report

ow.ly/HXMyi

St. Dominic Meets St. Francis – Dominican Friars

ow.ly/HYRvs

Year of the Consecrated Life: How to Discern a Third Order Vocation (

Catholic365.com

)

ow.ly/HYZiJ

Snow Altars in the Grand Tetons (New Liturgical Movement)

ow.ly/HZ4L7

NEW: Introducing Marriage Rx:

CatholicMom.com

's New Advice Column! by Dr. Manuel & Karee Santos

ow.ly/HZl1h

Women are irreplaceable in passing on the faith, Pope says :: Catholic News Agency (CNA)

ow.ly/HZldC

Priest-scientists are at the crossroads of faith and reason | Crux

ow.ly/I14iR

Pope says marriage annulments should be free (American Catholic)

ow.ly/I15bV

Princeton professor to pro-life movement: We're winning :: Catholic News Agency (CNA)

ow.ly/I16pG

5 Saints Who Totally Had Superpowers | ChurchPOP

ow.ly/I1jeH

Saint Tooth Fairy? | The Practicing Catholic

ow.ly/I1wlT

Servant of God Jerome Lejeune, Physician, Pro-life advocate (Dr. Paul Camarata – The SaintCast)

ow.ly/I1Ysv

Video & Text: Read Pope Francis' Full Lenten Message (Rome Reports)

ow.ly/I23Ps

Cardinal O'Malley & Archbishop Wenski Welcome Supreme Court Decision To Review Protocols for Use of Lethal Injection

ow.ly/I2hZV

Tell FaceBook: Allow Catholic Priests to keep the title "Father" in their FB name

ow.ly/I3lyZ

Remembering the priests of Dachau—and the roots of the diaconate (Deacon Greg Kandra – Patheos)

ow.ly/I3mw3

Little Sisters Disciples of the Lamb – inclusion of sisters with Down's Syndrome (Regina Magazine)

ow.ly/I3n6M

NEW Preview of Pivotal Players: 10 Thomas Aquinas Resources from Fr. Barron | Word On Fire

ow.ly/I5f0D

World Meeting of Families 2015 Informational Video – YouTube

ow.ly/I5ymY

Cause for sainthood opened for Chiara Lubich (Vatican Radio)

ow.ly/I5EOD

Year of the Consecrated Life: I Will Follow – vocations video (Ascension Press)

ow.ly/I5PEp

Islamic Extremist group-Boko Haram, forces tens of thousands to flee from Nigeria (Rome Reports)

ow.ly/I69Hn

7 Reasons to Love Saint Thomas Aquinas (plus 4 Catholic videos) – Dr. Taylor Marshall

ow.ly/I6eeM

Movie Review: "American Sniper" (Sister Helena Burns, DSP – Hell Burns)

ow.ly/I6nUX

"In People with Intellectual Disabilities, I Found a School of the Heart" (Tony Rossi – Christopher Closeup)

ow.ly/I7NSP

Pope: A society without fathers (CNS)

ow.ly/I7SBx

Four saints in one family? Beatification Process of St. Therese of Lisieux's sister, opens (Rome Reports)

ow.ly/I8Zu3

Bishop Coyne in the driver's seat (Deacon Greg Kandra – Patheos)

ow.ly/I92lT

Beyond the digital, into the heart: a Vatican take on communication :: Catholic News Agency (CNA)

ow.ly/I9dej

20 Cool Things About Nuns in Habits (EpicPew)

ow.ly/I9wCQ

"The Francis Effect" Documentary to air on ABC Television Affiliates in the USA | Salt + Light Blog

ow.ly/Id8fB

Conversation with Fr. Jim Martin, S.J. | Who is Jesus to me? (Ignatian Center – Santa Clara Univ.)

ow.ly/IdfnT

12 Amazing Christian Sculptures Made Entirely Out of LEGOs | ChurchPOP

ow.ly/IdJY1

CNS STORY: Pontifical council to consider challenges women face in society, church

ow.ly/Ie31U

Coming soon to the Vatican: haircuts for Rome's homeless :: Catholic News Agency (CNA)

ow.ly/Ie3zE

Hail Mary Pass? Nuns rent out rooms at Phoenix monastery for Super Bowl, raise money for charity

ow.ly/IesoC
Football Rosary @ Superbowl: Church sits empty in shadow of shrine to football's holiest day (The Boston Globe) ow.ly/Ii4f7
Compare and Contrast: The Super Bowl and the Mass, Football and Faith « Archdiocese of Washington ow.ly/IkLyd

Fr Dan Horan, OFM talks about his book, 'The Franciscan Heart of Thomas Merton.' (CatholicTV)

ow.ly/If4Vl
Letter to a Young Activist by Thomas Merton | Acting Franciscan ow.ly/IglIA

Year of the Consecrated Life: Interactive Map of Open Houses of Sisters across America

ow.ly/Ifslm

Holy See to UN Security Council: Protect women and girls in conflict zones (News.va)

ow.ly/Igbqm

Vatican introduces "Persian Catechism" (Rome Reports)

ow.ly/IgbtY

New App helps children pray in a easy way for Android & iOS (Rome Reports)

ow.ly/IgbKl

Ecumenism means theological dialogue, joint work for peace, Pope says (CNS)

ow.ly/IgjUo

Catholic Cuisine: Recipes for February ~ Month Dedicated to the Holy Family

ow.ly/Ii2Fc

The number of consecrated women has declined, while the amount of consecrated men remains the same (Rome Reports)

ow.ly/Ii3gr

Year of the Consecrated Life: New Monastery needed for the Poor Clare Sisters (using GoFundMe)

ow.ly/IicwS

Altaration: The Mystery of the Mass Revealed – new program for teens (Ascension Press)

ow.ly/Iip71

Video: Fr. Richard Rohr, OFM talks about the "Cosmic" Christ (Franciscan Media)

ow.ly/IivWm

Ice Church is built and blessed anew in Romania (Vatican Radio)

ow.ly/IiRy7

How I Pray: Tom Neal (Thomas McDonald – Patheos)

ow.ly/IkFR4

February 2nd is World Day for Consecrated Life – prayers & resources (USCCB)

ow.ly/IkHWx

Preserving Iraq's Christian History | Dominican Friars | Province of St. Joseph

ow.ly/IkIYU

Pope Francis announces surprise trip to Sarajevo (Rome Reports)

ow.ly/IkKKn

Vatican launches

#LifeofWomen conference (News.va) ow.ly/IldKT

Getting Ready For Lent (William O'Leary – Amazing Catechists)

ow.ly/IlDO8

Take These Gifts (Mary Ann Walsh – America Magazine)

ow.ly/ImVU8
Franciscan priest to appear on Oprah Winfrey's 'Super Soul

Sunday

' (NCR) ow.ly/Ipoe7

Catholics and the MMR Vaccine | The Quinton Report

ow.ly/Ipxnl

Pope Francis signed decree today for martyrdom of Archbishop Romero (CNS)

ow.ly/Ipyoz

NEW Podcast: GTR #001: And So It Begins (Brooke Taylor & Jennifer Willits – Good Things Radio)

ow.ly/IpZFz

6 Saints To Get You Through the Oscars (Busted Halo)

ow.ly/Iq1fL
Vatican, religious orders launch international day against trafficking –

February 8th

(NCR) ow.ly/IqwpN
Official Website: A Light Against Human Trafficking ow.ly/ItHnQ

Suicide Survivor Shares Her Journey Through Grief (Pt 1) (Lisa Martinez – Closed Doors Open Windows)

ow.ly/Irmb1

Who Is the Pope? by Eamon Duffy | The New York Review of Books

ow.ly/IrpDO

NEW Movie: Old Fashioned | In Theaters Valentines Day 2015

ow.ly/Is89g

Elvis Presley, Offertory Processions, & the 1965 Missal …I'm not kidding! (Jeff Ostrowski -Views from the Choir Loft)

ow.ly/ItvuB

NEW Video Series to share: What is Lent? | CRS Rice Bowl

ow.ly/ItvTc

St. Francis and the Wolf of Gubbio (Fr. Michael Cummins – Word On Fire)

ow.ly/ItIVX

Historical Revelation: St Francis rediscovered (L'Osservatore Romano)

ow.ly/ItK9B

Vatican observatory where priests are also astrophysicists (BBC News)

ow.ly/ItKBa

My 15 Favorite Books of 2014 (Brandon Vogt)

ow.ly/ItNGc

Top 24 Catholics to Follow on Twitter plus 1 Protestant (FOCUS Blog)

ow.ly/IvgxY

St. John XXIII: Pope of Innocence and Goodness (Salt and Light)

ow.ly/IvsIg
Wear your ashes all thru Lent: Ash

Wednesday

#Ashtag

Shirt (uCatholic)

ow.ly/Iw67w

New online Dominican Bookstore (Lay Dominicans – Province of St. Joseph)

ow.ly/Iwayd

Pope Asks Bishops & Religious Superiors to Cooperate Fully w/ Commission for Protection of Minors (America Magazine)

ow.ly/IxO2G

Pope Francis sends Message to US National Prayer Breakfast (Vatican Radio)

ow.ly/Iy4Ta
No, Mr. Obama, the Crusades and ISIS Are Not the Same Thing (Scott Eric Alt) ow.ly/IBJn6

Pope will address Congress in September (Jake Sherman – POLITICO)

ow.ly/IyFJX

Pope Francis speaking w/ children from around the world – many overcoming disabilities (subtitles hit cc)

ow.ly/IA509

Showers for homeless by St Peters Square completed (News.va)

ow.ly/IBAbl

NEW Catholic TV Show called ICONS about Franciscan Friars (

Livegreaterfoundation.org

)

ow.ly/IBGst

Saint Francis' Oldest Prayer | American Catholic Blog

ow.ly/IBHVY

NEW Catholic Radio Show – Catholic Moments with Lisa Hendey (Radio Show)

ow.ly/ICDqk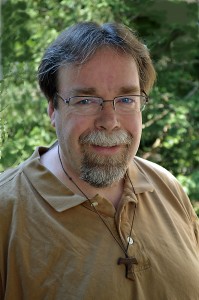 John Clem, O.F.S is the Director and Media Minister at Catholic Web Services (http://catholicws.com/). John is a professed member of the Secular Franciscan Order, and loves to share his talents in faith, technology, and journalism in service to the church. John also writes a blog entitled Call To Holiness (http://www.calltoholiness.us/). Follow John on Twitter at @Catholicwebs, on Facebook and at Google+.