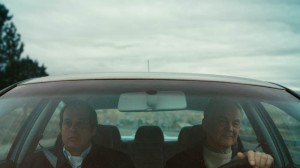 In short, a conversation between a counselor and a recently paroled prisoner in a Las Vegas diner made a much bigger impression on this moviegoer than any comic book hero showdown, any fantasy roller-coaster ride, or any special-effects extravaganza in outer space.
It was a year characterized by box-office-busting exhibitions of excess. Consider the bloated, ludicrous, and unapologetically unfaithful ruination of The Hobbit; the Superman movie in which the "hero" contributed to massive casualties; and an outer space epic that gave us ten minutes of glory and then 90 minutes of seemingly unrelenting destruction. Curiously, it also offered artistic explorations of the problems of excess. Compare and contrast the epic stories of Jay Gatsby and Jordan Belfont, for example. (Wasn't it strange, how the two characters looked so much alike?)
But the films that meant the most to me were those that sought not to overwhelm me but instead to draw me in.
For all of the many millions of dollars spent on wild and crazy big-screen spectacle, what impressed me were characters, conversations, silences, questions, faces, and visions of a world far more beautiful and interesting than any CGI artist managed to conjure.
In fact, the first four of my top five movies of 2013 — This is Martin Bonner, Museum Hours, Before Midnight, and Upstream Color — were about two characters in conversation, getting to know one another, inspiring one another, disappointing each other, and navigating difficult personal challenges and crises. I could have placed these in any order and been happy with my list, but I give Martin Bonner the edge because it accomplishes so very, very much with the simplest of moviegoing materials. Where other films seemed desperate to entertain, Martin Bonner captivated me by looking closer and closer and closer at what was readily available — two human beings.
There was a lot of fuss about two films that focused on how one human being endured a brutal ordeal alone out in the elements — Gravity and All is Lost. I still haven't seen All is Lost yet — an oversight I mean to correct soon. It looks more promising to me than Gravity, which dazzled almost every moviegoer I know, but left me frustrated and bored. (Its enthralling opening scene quickly devolved into what was, for me, a wearying onslaught of special-effects chaos distressing a particularly uninteresting character until its predictable conclusion.)
But the fifth of my top five was a film about a ship at sea and the elements that assail it. The people on board? Well, they barely register as human beings. They seem to be part of the machine… and lost in all kinds of ways.  Leviathan is a film that should never be watched on anything but an enormous screen with an immersive sound system… because it exists to plunge you into visceral sensory experiences you've never experienced. And it isn't just shock and awe — there is poetry in the imagery, poetry about humankind's relationship with the natural world, and it has all of the ferocious energy of a war movie. The fact that it's all 100% real, none of it animated, is the most unsettling thing of all. I clung to my seat through the whole experience, feeling 110% alive and awake, leaning forward into images unlike anything I've seen before. Again, be warned — if you try to get a sense of it at home, you just won't understand, unless you have an enormous screen, powerful surround sound, a very dark room, and a commitment to endure without interruption or popcorn breaks.
So here it is, my list of 20 favorite films of 2013. To be clear, these are films that had their first commercial release in the U.S., either in theaters or VOD, in 2013. Many of them played elsewhere in the world in 2013.
Wolf Children
If you want two longer lists — one a list of world premieres, the other a longer list of American releases — visit my permanent 2013 film page, where I will go on updating lists as I see more and more films released in 2013.