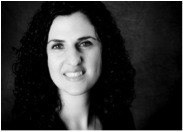 I was a novelty to Ashley. I'd never travelled or lived alone. I'd never been to bar or a club. I'd never had a boyfriend before my husband nor kissed another man. Ashley and I might not have become such close friends had we not been living in Guadalajara, Mexico while our husbands attended the local medical school, but in the company of so much strangeness, we were more similar than different. We were both in our early twenties, and we both spoke English as our first language. We'd lived in California and were familiar with the same towns, the same malls, the same restaurants. We'd both been wrested from our familiar routines only to find ourselves with too much time on our hands and too little direction.
Our friendship quickly evolved into a symbiotic relationship. Ashley had a car, and I was learning Spanish. She drove us places, and I translated. We looked for apartments and paid our bills together. We got our teeth cleaned, our eyebrows waxed, and our hair cut together. We went furniture shopping in the manufacturing towns outside the city, and we scoured all the local flea markets. None of these tasks were small feats in a different country prior to navigation systems and cell phones. We made each other brave.
On the road and over lunches and dinners, Ashley and I talked about our lives before Mexico. Ashley told me about her previous boyfriends, how she met her husband, their relationship while dating and how it had changed since they'd gotten married. And even though I had little to offer in this regard, we connected. I hadn't much choice in who I picked to marry, but I struggled with the picking at all. There were Muslim girls like myself in Mexico, alone, studying, and wearing the hijab no less. My mother had always told me I had to get married before I could study at any distance from my home. Why was I a wife when I, too, could've been a student?
To release the tension, we made fun of our husbands; we criticized their study habits―one studied too much, the other too little. We compared ourselves to other female medical students who'd be doctors at the end of this when all we'd be was wives. Then we'd pick on their hair and clothes until we felt better about ourselves. Our gripe sessions were catty, but they were also my survival. They were small reprieves from the discontent that dogged me; the moments when I was certain I was the only woman of my generation supporting a man in his career, washing his clothes and his dishes, and preparing his meals. Just when I wanted to blame my lot in life on being an Arab, Muslim woman, Ashley reminded me that for all its promised freedoms, her Western culture and religion had led her to the same destination. Ashley may have served in the military and married a fellow officer. She may have gone on romantic dates and had a surprise marriage proposal, but it hadn't spared her from moving to Mexico or any domestic drudgery.
This realization felt weighty, as if it were a revelation, and this in itself troubled me. To have made this assumption, on some level I must have believed that Ashley's non-Muslim, North American background entitled her to a better love story and life thereafter and that being an Arab, Muslim women had entitled me to less. In spite of the years I'd spent arguing against generalizations about Middle Eastern women in my college classroom and challenging those ideas in term papers, those very notions had seeped into me. As soon as things got complicated in my marriage, I didn't think, "Such is the nature of human existence; all people make sacrifices in their relationships." Instead I'd marched into the script of the Arab, Muslim wife that has to give up her studies to follow her husband, the young woman who'd been married off to a spouse her family picked for her. I looked at the Muslim women studying in Mexico as the anomalies, the ones that had escaped the story that claimed me and my mother before me. It was the kind mental sloppiness I would have found inexcusable from someone outside of my community, but I'd allowed banal prejudice to color how I viewed my marriage, my spouse, and my family.
Ashley and I separated when our husband's chose off-campus clinical rotations in their fourth year. A year later, we met up at their graduation and marveled at the toll the uncertainty over this entire educational adventure had taken on us, how sweet the relief that now lived in its place. We agreed that as much as this journey had strained our marriages, it had ultimately made our relationships with our spouses stronger.
Ashley and I stayed in touch for several years before we lost each other to moves and changed email addresses. But the gift of that friendship, what has stayed with me to this very day, was that it made me witness that the journey of womanhood and the journey of married life are great equalizers. No matter how different the roads we take to marriage, all women have to reconcile the role of wife with the centuries of convention that surrounded the term.
—
Huda Al-Marashi is an Iraqi-American at work on a memoir about the impact of her dual-identity on her marriage. Excerpts from this memoir have appeared in the anthologies Love Inshallah: The Secret Love Lives of Muslim American Women, Becoming: What Makes a Woman, In Her Place,and Beyond Belief. Other works have recently appeared in The Rumpus Funny Women Column and the anthology Rust Belt Chic. Her poem, TV Terror, is part of a touring exhibit commemorating the Mutanabbi Street Bombing in Baghdad. She is the recipient of a 2012 Creative Workforce Fellowship, a program of the Community Partnership for Arts and Culture, made possible by the generous support of Cuyahoga County citizens through Cuyahoga Arts and Culture.