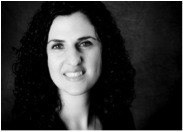 The division of labor in our household is wildly disproportionate whenever we are trying to get out the door. I get everything and everyone ready. If we're traveling, I pack. Picnics, I pack. Dinner invitations, I pick out everyone's clothes and prepare a dish to share. Birthday parties, I buy the gift and wrap it. And, maybe I'll throw in a load of laundry, take out the trash, and clean the kitchen. My husband, Hadi, has his list, too: He gets himself ready and loads up the car if I haven't gotten to it first.
We've been married for seventeen years, but these moments can still fill my mind with the words always and never. Hadi is always late. He never helps us get ready.  I always have to do everything all by myself. I never get to take my time getting ready so I always look like a harried mess.
Most of the time, Hadi knows what I am thinking. "I'm in trouble, aren't I?" he'll say as we're getting into the car.  Sometimes I say, "Yes," and spew every frustration that comes with doing too much for too many people. Sometimes, I fume wordlessly, a quiet grump in the front seat. But on better days, I remember this truth: The very thing I hate about my spouse in one context is the same thing I love in another.
Hadi has always been firmly rooted in the present. What matters to him most is what he is doing in the moment. An hour before we have to be somewhere, Hadi might tickling the kids on the couch or playing a video game with them. At the same time, I'm tearing through our house, trying to get dishes washed and the table cleared, barking about toys that need to be picked up. Whenever I snap that he needs to get moving, he'll say, "Come on, they're being so cute. How do you expect me to leave them?"
Hadi is like the last paragraph of a parenting blog. He's at the realization; his priorities are in place. He says things like, "There's always going to be more stuff to do. We have to enjoy the kids now."
I, on the other hand, have always lived in the future, rushing toward what's next. I believe in a beautiful, clutter-free sanctuary, a tidy place where all my chores are done and every to-do is checked off my list. I say things like, "Yes, but if you helped me then we could finish everything and relax all together."
For most of our lives together, my forward-focused outlook served both Hadi and me well. When Hadi was training to be a doctor, I made sure he got his applications and assignments submitted by their deadlines. I paid our bills, found us housing, and took care of our home loans. Later I spearheaded his job searches and sent dozens of emails on his behalf. Hadi needed me to organize his time, to get him moving onto the next task.
But as we get older, there are less issues in our life that I can control with lists and dates circled on the calendar, and I find myself turning to Hadi for comfort and perspective more and more.
This has been especially true lately. We recently moved to California and took on the construction of a new home―this after moving out of a home that we'd remodeled and lived in for less than a year. Hadi goes to visit the new house every day,  and he comes back, brimming with news. The foundation has been poured. The walls are up. The roof is in place.
"It's so exciting," he adds to every development.
I only go to see the house weekly. Every visit I think about everything that still needs to be done, how far away I am from sitting on the couch in an orderly living room, and it weighs me down. Yes, the house will be done in less than a year, but what about the landscaping, the blinds, the furniture, and the patio furniture that we won't be able to afford because the construction is bankrupting us?
When I list all of this for Hadi, he says, "But we don't have to do any of that right away, and it is so cool, watching your house go up. How many people can say they've walked through all the walls of their house?"
Hadi passes through the framing between the bedroom and our bathroom where there will soon be sheetrock, and I know this is the payoff for always being the one to pack the car and the bags. The same attitude that allows Hadi to stay relaxed when we have to be somewhere helps him weather the bigger challenges in our life with a patience that quiets my restless mind.
"Just tell me it's all going to be fine," I've taken to commanding Hadi every time we leave the house.
"It's going to be great," Hadi says confidently, and I believe him precisely because he has always owned such a sense of calm in every situation. His words are genuine, real.
I know that Hadi and I have not had our last argument about getting out the door, but carrying this perspective on his inability to rush helps take away some of the punch. It's more than simply accepting that nobody's perfect because people are not checklists of good and bad traits. We are tightly woven knots of our strengths and weakness. Marriage is the opportunity to hold these knots in our palms; to turn them over and study their intersections of good and bad, light and dark; to remember what annoys us today may tomorrow bring us joy.
—
Huda Al-Marashi is an Iraqi-American at work on a memoir about the impact of her dual-identity on her marriage. Excerpts from this memoir have appeared in the anthologies Love Inshallah: The Secret Love Lives of Muslim American Women, Becoming: What Makes a Woman, In Her Place,and Beyond Belief. Other works have recently appeared in The Rumpus Funny Women Column and the anthology Rust Belt Chic. Her poem, TV Terror, is part of a touring exhibit commemorating the Mutanabbi Street Bombing in Baghdad. She is the recipient of a 2012 Creative Workforce Fellowship, a program of the Community Partnership for Arts and Culture, made possible by the generous support of Cuyahoga County citizens through Cuyahoga Arts and Culture.