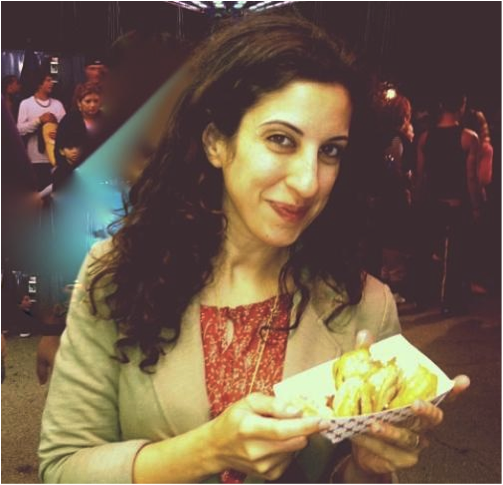 I'm a foodie. I'll admit it. I shamelessly look up pictures and videos of food on websites like Tastespotting and Instagram. It's even more thrilling to do it while I'm fasting.
I grew up in a small city in Michigan. Food played an important role in bringing together my mixed family. As a child of an immigrant father from Pakistan and an Irish-Slavanian American mother, my parents imbued me with a passion for food.
I remember picnics as a child on Lake Michigan in Chicago, stuffing spicy, grilled masala chicken into steaming folds of pita bread, while watching my brother play Frisbee with my then-20 year-old uncles who had huge Afros and wore black leather jackets. I remember Mom making Thanksgiving turkey and Ammi Jan frying up the leftovers in MSG to serve with biryani the day after.
I was slightly embarrassed as a kid by my family's rituals around food. We had a tradition of going to McDonalds for breakfast on Saturday mornings, where we would all get the same thing: biscuits with egg and cheese, hash browns, and OJ. Dad would return holding the tray of food; I always noticed his low-heeled leather boots and pleated dress pants. Dad, NEVER wore jeans.
Mom, who had a spiral perm and set her hair with hot rollers every morning, would pull out two Ziploc baggies from her purse: one filled with freshly washed cilantro, and the other with cayenne pepper masala. I saw how markedly different we were from the other "American" families with our spice packets and 4-hour trips to Chicago to buy zabiha meat. I tried to understand where I fit within multiple cultures, traditions, and values.
I belonged to the generation of American Muslims that helped found immigrant Islam in America. Dad would drive an hour one way to a Catholic church on Fridays where our community gathered in a basement for Jummah prayers. As our community grew in diversity, it also grew in financial ability.
Our first mosque was established in Grand Rapids. We gutted an old Jehovah's Witness temple in the southeast end of town, a mostly working class neighborhood. After my Sunday school Qur'an classes, Dad would take me to Popeye's. My dad was a chatty guy and could strike up conversations with anyone – a toddler in a grocery cart, a metalhead with a mullet wearing a fringed, leather jacket – anyone.
Eating chicken every Sunday with my father gave me the opportunity to observe and reflect on what I had. Every weekend, we drove through parts of the rougher neighborhood that encircled our mosque. Dad made it clear that what I had was special, and that I needed to work hard to get anywhere in life.
Somewhere along the way, spice and food began to remind me of home and togetherness- two things I longed for during my own life's journey. I began to embrace fusion in both my identity and taste in food while living abroad in Egypt.
When I met Shuaib in Cairo in 2009, it was no surprise that fusion and food played a role in our matchmaking. He was a young Somali-Ethiopian grad student from Minnesota at the American University in Cairo. On our first dinner date, we talked nervously, looking everywhere but at each other.
The food came and, mid-conversation, he stopped,
"Try this," he said, feeding me a bite of his Daoud Pasha, meatballs in tomato sauce.
We began spending more time together, cooking, and sharing our backgrounds with each other. He would chop veggies, and I'd blend the sauces and prepare the rice.
During Ramadan, we made malawah – Somali crepes – and wrapped them around samosas like a little fusion burrito. We listened to a range of music in the kitchen from the soulful jazz of Mulatu Astatke to our favorite BBC radio program that aired every Saturday afternoon.
He admired my dual heritage and thought I was strong to have moved to a new continent alone. I loved how loyal and caring he was to his family, He was their voice of reason and was becoming my rock to lean on as I navigated multiple cultures and identities in a shifting social and political landscape.
We ate from the same plate, we fed each other, and he always let me have the last bite.
Ramadan of 2011 was our last year in Egypt. It was the most memorable one I've ever had. The days were long and the heat was unrelenting. The city grew quiet each day just before sunset. The streets of Cairo emptied and shopkeepers closed their stores and assembled makeshift tables along the streets to break their fast.
Shuaib and I shopped together in outdoor markets where fragrant spices like turmeric, cinnamon and coriander stood in perfect pointed hills on table tops as if shaped by an hourglass. We made iftar together. My fondest food memory of that year was when he taught me how to make malawah.
I admired him as he effortlessly mixed the ingredients in a bowl. Gracefully, he stood vigil over the stove, pouring even amounts of batter into a small omelette pan, drizzling small amounts of oil on the malawah, and, finally, flipping them over to a slightly golden perfection.
This crepe-making skill was his secret weapon. He totally knew he had found my soft spot through my stomach. Whether he already knew how to make malawah, or whether he called his mother for the recipe will always remain a mystery to me.
And his method of wrapping the malawah around small samosas? It's is a tradition that we continue today. We just celebrated our first wedding anniversary in May.
And he still always lets me have the last bite.
—
Malawah Recipe
2½ cups milk
2 large eggs
2 cups all-purpose flour
Pinch salt
¼ cup sugar
*Optional- a dash of vanilla or almond extract
Method:
1.Place the ingredients in a blender.
2.Blend for 1 minute (or until there are no lumps in the batter).
3.Pour into a large bowl and cover with plastic wrap. Let the batter rest for at least 30 minutes.
Using a small ladle or ½ measuring cup, pour batter into a 10-inch pan, making sure the batter coats the bottom of the pan and runs all around the edge.
Cook the malawah for about 1-2 minutes on medium heat
Flip and drizzle a small spoonful of vegetable oil or melted ghee along the edges and work to the middle
Enjoy!
Nadia lives in Nairobi, Kenya. She's already found her way around an East African kitchen, learning to make chapatis and sakuma wiki – two fusion Kenyan Indian favorites. She is currently exploring the region, and deepening her interests around holistic skin care.