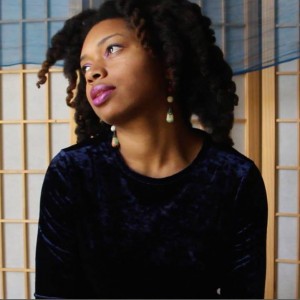 Nijla Mu'min's Film in Progress Noor: Bringing Multidimensional Characters into the Light
Interview by Kameelah Janan Rasheed
Nijla Mu'min is a writer and filmmaker from the East Bay Area who found her "natural destination" to be filmmaking while a student at UC Berkeley. Beginning as a filmmaker focused on documentary and interventionist stories, she has now taken on narrative fiction filmmaking with her film Noor which unfolds the nuanced relationship that develops between a Palestinian man who works at a bodega and a Black woman who frequents that bodega. Regardless of whether Mu'min is crafting documentary work, shorts or feature length narrative fiction, there is an intense devotion to as she says, "[explore] overlooked issues and communities of people as well as the humanity within them".
In 2013, Mu'min completed a dual-degree graduate of Calarts' MFA Film Directing and Writing programs; the only student in the institute to graduate with this distinction. Her previous work, particularly her short films has been well-received and screened at festivals across the country including Pan African Film Festival, Outfest, and Newfest at Lincoln Center. A recipient of the 2012 Princess Grace Foundation Cary Grant Film Award for her thesis film, Deluge, Mu'min has had the privilege of having a world premiere of this afrofuturist film centered on narratives of Black mermaids and environmental trauma at the 4th Annual New Voices in Black Cinema Film Festival at BAMcinematek in Brooklyn. Recently selected as a Screenwriting Fellow for the 2nd Annual Sundance Institute's Screenwriters Intensive for her script, Noor نور and winner of the Grand Jury Prize for Best Screenplay at the 2014 Urbanworld Film Festival, she is working steadily to produce her feature film Noor.
I sat down with Mu'min to discuss her evolution of her filmmaking career and her upcoming feature film, Noor.
Kameelah Janan Rasheed: How did you first come to filmmaking?
Nijla Mu'min: I think film came to me.
When I was in eighth grade, my teacher gave out awards predicting the future careers of each student. She predicted that I would be a comedy screenwriter. At that time, I didn't know what a screenwriter was and growing up, there was no discussion of filmmaking or screenwriting as a viable career option. My friends and I knew the actors we saw in movies, and that was about it. I did, however, know that I loved reading and watching stories. I read a lot of fiction growing up and visualized the worlds inside of those books. I also loved hearing my father tell stories of growing up in Louisiana, stealing peaches from white men's yards, the traditionally black beach he frequented in New Orleans, and his experiences converting to Islam in 1970's Oakland. Storytelling was always with me, but it wasn't until college that I declared myself a filmmaker, or a person writing or making films. I was telling stories through poetry, then I began taking a documentary photography class and quickly fell in love with storytelling through 35mm black and white images. I wanted to combine these modes of storytelling and filmmaking seemed the natural destination.
KJR: Having found film to be a "natural destination" for your interests in storytelling through images, how would you describe your purpose as a filmmaker?
NM: A filmmaker's purpose is specific to the particular stories they tell, and it does shift and change over time.
I began filmmaking in a very documentary and interventionist mode aimed at shedding light on important, yet often overlooked issues and communities of people and the humanity within them. I think I've maintained this purpose over time, but with my transition into narrative fiction filmmaking, the focus on humanity and emotion takes precedent, and larger social issues are layered into the narrative in subtle, reflective ways. I am less concerned with "message" or "issue" and more so with character.
KJR: Talk to me about Noor. What is this film in progress about?
NM: Noor is an inter-diasporic love story about a black woman named Noor and a Palestinian man named Rami who develop an intense connection in the wake of her brother's murder, and must decide if they will compromise their lives in order to be together. The story takes place in Crown Heights, Brooklyn, in and amongst the bodega where Rami works, and Noor frequents to buy beer. It considers the thirst for life that one experiences after death, and the need for introspection, sensuality, and truth that erupt in its wake.
KJR: Noor began as a short story. What first prompted you to write this short story?
NM: Crown Heights, Brooklyn.
I'd recently moved from this area to attend grad school at CalArts, and a lot of the images, smells, sounds, and moments of that area were still with me including the men who worked in the bodegas, their customers, the congested streets, the cross-cultural exchanges between the mostly Arab cashiers and largely West Indian and black American customers, the moisture of a NYC summer and how it intensifies feelings of passion in people.
At CalArts, I was enrolled in my first short story class and I kept getting visions of two people meeting in a Crown Heights bodega. These were the first remnants of Noor and Rami, both of whom were at crossroads in their lives, displaced emotionally and physically from the lives and places they wanted to be in, but experienced a deep yearning, or stirring of attraction when they saw one another. I was fascinated by this premise, and decided to write the story, told in two parts alternating between their perspectives.
KJR: Can you talk about your process of adapting this short story into a screenplay?
NM: I began adapting the short story into a script during my first year of grad school at CalArts. I wanted to develop an epic world around these two characters, exploring how past traumas influenced their actions and desires for one another, and I wanted to expose a cultural, religious world and intersection that I rarely, if ever, saw in cinema–a world that I grew up knowing. My childhood and development was largely defined by the Islamic community–by its people, by its smells, food, and community, but as I got older I've navigated somewhat of an outsider perspective as a result of having a mother who didn't proclaim herself to be a Muslim, but rather spiritual. Noor was the first in a string of short stories that I adapted or used as foundations for screenplays, exploring the inner thoughts and internal lives of characters who would go on to populate the films I made.
I workshopped the first draft of the script in Charles Burnett's Scriptwriting class at CalArts, where he took a particular interest in the story and encouraged me to continue developing it. Over the course of the next years, I wrote new drafts and received varied feedback, eventually being selected for the Sundance Screenwriter's Intensive, where I received extensive notes from two Sundance Advisors, which aided tremendously in helping me to focus the narrative firmly around the romance and intimate connection between Noor and Rami, and how their love disrupts so much of their lives. This experience was instrumental in the current manifestation of the script.
KJR: William Faulkner once wrote, "[i]n writing, you must kill all your darlings." In the process of adapting your film, particularly with the guidance of the Sundance Advisors, which "darlings" did you have to kill? What do you do with the scraps and residue of your scripts that do not make it to the final film?
NM: Noor is about the human need for passion and love despite logic or reason. This, however, was not the central focus in earlier drafts of the script where Noor's mission was to get justice for her brother who was murdered by a police officer. There is a large part of this story that is concerned with Noor's personal relationship to public trauma and violence on black bodies, in the form of her brother.
Initially, the script was operating as two different films- a love story and a courtroom drama, as I tried to balance both narratives. My experience at the Sundance Intensive helped me realize that the romance between Noor and Rami, which grows out of this shared trauma- was the heart of the script, and should drive both characters. Their romance is political in a way that doesn't need overstatement. I wasn't interested in making a film that mirrored or reflected the mainstream coverage we see on CNN about the murders of unarmed black people. I wanted to go beyond that narrative.
KJR: In writing this film, how did you maintain a balance between conveying messages and delicately bringing to light some major themes around interracial relationships, resistance to state violence and religious differences?
NM: I've always written from places of emotion, depth and feeling, and not from a need to enlighten, teach, or educate people. "Messages" never enter my mind during writing, but feelings enter my mind and body and I place myself into the physical, emotional worlds of my characters and their struggles. At its core, this film is about two people falling in love at a time where love can be difficult, or even impossible. These are very real issues for people, no matter what race or culture you are- the universal state of being attracted to someone, of desiring touch, of unexpected passion that defies the logic of one's established life. That's what Noor and Rami are dealing with.
I am interested in the unstable ground that we stand upon, and how that renders us human. I think we are all striving to be better, to be more accomplished, to be more compassionate and we stumble along the way- I find that journey fascinating and ripe with potential for stories. At the same time, I don't create in a vacuum. I use the world as a landscape from which to draw stories and moments for my work. I am invested in the lives and struggles of people around the world, who are often reduced to headlines and quick blurbs in the media. I am interested in their inner lives, in the foods they like, and their family histories. Their very existence in the film narrative carries a subtle resistance.
 KJR: Resistance against what or whom?
NM: A resistance against erasure. Everyday human beings are erased–they are killed, their homes are razed, their stories are disregarded, their worth is reduced in order to support international agendas that privilege wealth, whiteness, and power over compassion or fairness. Film and media can in some ways channel these toxic ways of being. I am tired of seeing films with one-dimensional people of color and black characters with no inner life. If I can show two brown people loving, laughing, crying, touching, eating, and feeling then I am resisting that erasure.
KJR: There are many people writing films and fundraising money to fully produce their work. What makes Noor especially urgent and necessary?
NM: There's never been a film like this.
There are many romantic comedies with black characters in them, and I do enjoy romantic comedies, but there aren't a lot of epic love stories with black female lead characters. Additionally, our ideas of "interracial" romance need to be expanded beyond the "black/white" model that permeates a lot of conversation and media. There are very clear connections and divisions between different communities of color in the United States.  There's prejudice and inter-cultural racism that can be addressed through this intimate love story. Rami works in a bodega that depends on the patronage of black customers, while his uncle and owner of the store harbors intolerance toward them. However, love invalidates intolerance. This film portrays a world, or narrative, completely unlike the ones constantly fed to us by mainstream media in relation to black and Arab people.
KJR: What will viewers experience with Noor that they haven't experienced in your earlier work?
NM: I've always felt like writing feature screenplays came more naturally to me. Something about allowing a story to unfold over a longer period of time reminds me of the novels I grew up reading. Considering the plot points, the reveals, the character development, there's something epic and romantic about it, and that's what Noor will provide for viewers familiar and unfamiliar with my work. They will enter a total world world complete with people with sustained emotion and development that might not have been possible in my short films.
KJR: Given that this filmmaking project reminds you of the novels you grew up reading, which novels have influenced the narrative arc or cadence of Noor?
NM: Wow, what a great question.
Growing up I was influenced by the epic nature of novels like White Oleander by Janet Fitch, The Coldest Winter Ever by Sister Souljah, and the raw honesty of Mama by Terry McMillan. I was also impacted by the generational saga of In Search of Satisfaction by J. California Cooper, the attention to familial detail and intimacy in Danzy Senna's Caucasia, the wry humor and sharp narrative of Erasure by Percival Everett, and the physical presence of place and location in Nichelle Tramble's The Dying Ground.
There are so many more to list, but each novel listed created a distinct and complete world that I entered as a reader; a world complete with moments I could experience and feel. I aim to do this with Noor.
—-
Editors: Click here to read Nijla's Love, Inshallah spotlight.
Nijla Mu'min is a writer and filmmaker from the East Bay Area. She is a graduate of UC Berkeley, and also attended Howard University's MFA Film Program, where she was the recipient of the 2009 Paul Robeson Award for Best Feature Screenplay. She is a 2013 dual-degree graduate of CalArts' MFA Film Directing and Writing programs.
Her 2011 short film Two Bodies has screened at festivals across the country, including the Pan African Film Festival, Outfest, Frameline and Newfest at Lincoln Center. Her writing appears in the critically acclaimed book, Love InshAllah: The Secret Love Lives of American Muslim Women, and she also writes for Shadow and Act on the Indiewire Network, where she's sought-after for her highly introspective features on black cinema. She also worked as a Production Assistant on Ava DuVernay's film, Middle of Nowhere. She is a recipient of the 2012 Princess Grace Foundation- Cary Grant Film Award for her graduate thesis film, Deluge, which has screened at BAMcinematek in Brooklyn, with upcoming screenings at Blackstar Film Festival in Philadelphia and The Museum of Contemporary African Diasporan Arts (MoCADA). Recently she was one of 10 writers selected for the Second Annual Sundance Institute's Screenwriters Intensive in March 2014. She is the winner of the Grand Jury Prize for Best Screenplay at the 2014 Urbanworld Film Festival.