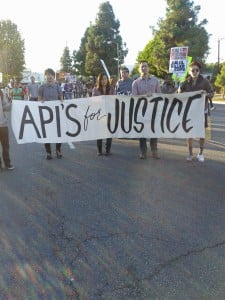 As my car crested the hill, I could see the skyline of downtown Los Angeles on the horizon. I noticed the lights of a helicopter hovering close to Bunker Hill and another over Chinatown. I slowed down, counting eight helicopters above.
My stomach dropped and eyes welled. Nightfall is when the police gets more fierce, when protests grow as people leave work, and when infiltrators become bolder with their subversive tactics. My peers were on those streets, marching in solidarity for Mike Brown, Ferguson, and for #BlackLivesMatter.
I had marched with them the day before. It felt strange being on the outside looking in. I was the person keeping tabs should anything go wrong, kept in the loop through a group text message chain with an Asian American contingent in the protest. The texts so far had been location based – "I'm at this intersection" "the cops are at that intersection" – but I knew how quickly things could turn.
Sure enough, they did: 189 people were arrested the first night of protests, and another 178 people the next. More people were arrested by the LAPD than at any other #BlackLivesMatter protest in the country – including Ferguson.
+++
Do you know what to do when tear gas is flying at you? You grab a scarf, douse it in vinegar, and cover your mouth.
Your hijab doubles as a revolutionary tool to help you breathe.
+++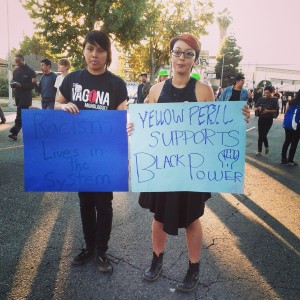 We stood at the corner of MLK and Crenshaw. This intersection, next to the Krispy Kreme and Walmart, is also a civil rights legacy. For decades, this is where black suited Black men would sling bean pies for the Nation of Islam, and where the tight-fisted, militant-garbed Black Panther Party would weave between cars with a bucket to collect donations. You can still see them, roaming this intersection, on any given day.
This intersection is in the history books of Los Angeles and in Tupac's To Live and Die in LA video. On the day after the Ferguson prosecutor read that the Grand Jury would not indict Darren Wilson, this is the meeting spot for hundreds of people to protest.
On that day, I stood to the side with an Asian American contingent. Someone brought an "APIs for Justice" banner  and someone else was holding aloft, "Yellow Peril Supports Black Power." We saw people with posters and signs and shirts and cameras and bullhorns walking around the four corners of the intersection and stopping traffic. Then, suddenly, people began lying down on the street.
"Come stand with us! The more people we have, the less likely the police will do anything," a woman motioned to me.
I joined, walking around the people lying on the ground, until the woman on the bullhorn said it was time for 4.5 minutes of silence, representing the 4.5 hours Mike Brown's body lay on the street after he was killed.
And then we took these streets.
+++
Los Angeles isn't really that big. You can't really tell when you are driving in a car. But when you are walking on deserted streets with hundreds of your homies, holding signs in the air, and chanting your lungs out? Nawww, this city ain't that big, after all. You can make it from one end to another by walking, easy.
+++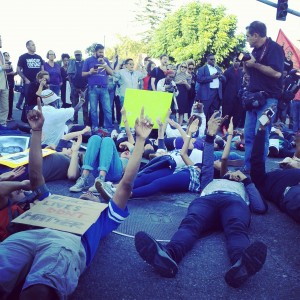 I want to write about anti-Blackness and Blackness. I want to write about how Black lives matter. I want to write about how, sure, all the lives of people of color matter too, but how it is selfish and inappropriate to say that at this time. Because ultimately, in the American context, the roots of racism exist in Black bodies.
I want to write as an ally and I want to write as a person of color. I want to write as a Muslim. I want to write as a woman who may someday be a mother.
I want to write at the intersections, not the binary. I want to write as someone who has both benefited from anti-blackness and someone who is victimized by anti-Blackness.
But it's complicated. So complicated. This isn't my struggle, some would say. But shouldn't it be?
We are always chanting, "This is what solidarity looks like!" but what does that really mean? What has been different about the movement around #BlackLivesMatter is how people at the center, Black folks from Ferguson, are setting the message, and dictating from the center what the demands are. So when you move in solidarity, you support the people who are at the center of the struggle.
As an American, our systems – legal, medical, governmental, economic – are all intrinsically embedded with the the idea that a certain set of people have more power and worth than others. We see this with patriarchy, we see this with religion, we see this with race. Racism exists in every nook and cranny of our system, especially in our militarized police forces.
It exists when 12-year-old Tamir Rice was shot by a cop for holding a BB gun in Cleveland. It exists when charges are dropped against the cop who killed a sleeping seven-year-old Aiyana Jones in a Detroit raid. It exists when Oscar Grant gets shot in the back by a cop while handcuffed and on the floor at Oakland's Fruitvale Station. These are not separate tragedies. They are part of a pattern.
As Muslims, we need to care about Ferguson – one-third of Muslims in this country are Black, and this issue lies at the heart of American Muslimness. This is our issue. As Khaled Bey said recently in A Letter to Muslim America, "Ferguson is our issue because the same structures that ruthlessly enforce anti-Black racism also execute and endorse Islamophobia. Long before Muslims bodies were monitored for fear of violence, subversion, and security, these tropes drove the systematic surveillance of Black bodies."
This is the intersection where our understanding should be. South Asians were also brought over to the Americas as slaves, albeit in far lesser numbers. I call myself a "Radical Muslim" because I want to reintegrate the term "radical", which has deep ties to the radical legacy of the Black power movement, as a fundamental part of my religious identity as an American Muslim.
+++
When walking in a protest, make sure you have a protection hotline number or a lawyer's contact information written on your arm with a Sharpie. If caught, the cops will take away your bag, even your phone. This way, you'll have someone to call. No matter what.
+++
It's so easy to forget about love.
Love makes you vulnerable. It's easier to be a mindless cog. Writing this monthly column about love is challenging because it requires digging into that raw, internal place and then writing about and sharing it. It's challenging work to constantly reframe your life and place "love as a value" firmly at the center.
When I used to train youth organizers, at the end of each training everyone would hold hands and stand in a circle. We would repeat this poem by Assata Shakur three times – first in a whisper, then in a normal voice, and finally, a shout.
"It is our duty to fight for our freedom.
It is our duty to win.
We must love each other and support each other.
We have nothing to lose but our chains."
It's powerful to stand in a circle yelling this at the top of your lungs. It reframes social justice to not just be about the strength and militancy of a freedom fighter. It also centers the movement around "love" and "support."
We must protest. We must take these streets. We must let the world know we are not going to accept this anymore. We must dismantle the violent militarization of our police force, and we must smash the white supremacy that holds all these systems in place.
But we must do it all with love. Or else this cycle will never break.
—
Read more columns by Taz, here.
Tanzila "Taz" Ahmed is an activist, storyteller, and politico based in Los Angeles currently working as the Voter Engagement Manager at Asian Americans Advancing Justice – Los Angeles. She was a long-time writer for Sepia Mutiny, and was published in the anthology Love, Inshallah: The Secret Love Lives of American Muslim Women and both zines from Totally Radical Muslims. Her personal projects include curating images for Mutinous Mind State and writing about Desi music at Mishthi Music where she co-produced Beats for Bangladesh: A Benefit Album in Solidarity with the Garment Workers of Rana Plaza. Taz also organizes with Bay Area Solidarity Summer and South Asians for Justice – Los Angeles. You can find her rant at @tazzystar.