Eds. Note: Please welcome our newest columnist, London-based Nazia, who will be sharing her food column Your Sunny Side Up the third Thursday of every month!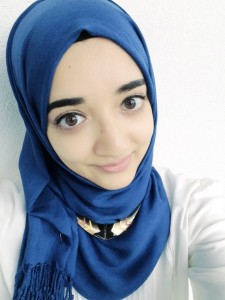 It was just a few short months ago we were dancing at her engagement party, stuffing our faces with these cupcakes, and later indulging in a midnight feast of pizza and cookie dough (what wedding diet?). Fast forward a few weeks and we're walking her down the aisle dressed in white to start the next chapter of her life. And now my beautiful (I-can't-believe-how-grown-up-she-is!) little cousin-sister is expecting a baby(!!!), and I could just burst with joy for her. She is going to be an amazing mother. Naturally, I am so excited to take on the role of baby's uber cool and fun aunt, who bakes shit and enjoys life.
She made the most beautiful bride. For privacy reasons I can't share pictures, but just take my word for it. The wedding was small and intimate with just the closest of friends and family. My Granddad flew back to London especially for the wedding, to watch the first of his 21 grandchildren get married (if he keeps that up for the next 20 grandkids then his air miles are going to be insane!). It was the first wedding in our family in 10 years and it was pretty damn special.
So often Asian weddings are not about the happy couple. Instead, it turns into a matchmaking event where the focus is on all the singletons in the room, followed by an excited phone call the next morning from an 'auntie' who noticed that "so-and-so looked beautiful" and wouldn't she make a great match for her neighbour's friend's second cousin? As the eldest granddaughter, everyone automatically assumed I would be first in line to get married. That's just the way it works in Asian circles. There were probably a few surprised faces when people learned it was actually my cousin (who is three years younger than me) who walked down the aisle first.
But, aunties, please put away your sympathetic looks. I am incredibly happy for my amazing cousin and in no way looking to marry any one of your sons, nephews, or grandsons. I don't care if he's a doctor or a lawyer, nor about the size of his wallet. I'm sure he's good looking, but really there's no need to whip out a picture of h– …oh, yes, I see, very good looking indeed, but still … oh, gosh, no! Don't call him over!
Please don't ask me my caste, or what village my ancestors are from, I don't know because I don't care for such things – it's all rubbish, if you ask me. And please don't think me rude if I don't answer your questions or appear to have ignored you. I most likely heard you but either didn't understand a word you said, or I understood but am incapable of forming an intelligent response because of my inability to speak my mother tongue. Yes, shame on me. I will not smile shyly and suffer your inquisition. If I feel you've become too invasive then I will stand up and walk away without feigning an excuse. I know you're only trying to help, but, really, our ideas are incompatible and your process makes me cringe.
I often feel like the Bridget Jones in my group of friends – minus all the booze and cigarettes. The topic of my settling down is a conversation that has been exhausted on too many occassions. And I'm only 23. By Asian standards, apparently I had better start looking now before I end up on the shelf.
While my happiness is of course their number one priority, there is definitely a secondary motive in their hopes that a nice man in my life might make up for the crap I've had to put up with in the past. Because, despite what my mother tells me, not all men are dicks. (Except some of them really, truly are). Plus, my independence is both selfish and comfortable, and I'm just not ready to start sharing a toothbrush. Wait, what do you mean couples don't do that?
No, but seriously. While my cousin has found wifehood and soon-to-be-motherhood so natural (and I know it's not easy, but she makes it look so), I find myself both wanting it and being utterly terrified of it. Which I'm told is completely normal, but can you please tell me something more useful? I'm always hanging out on my blog's facebook page (so you should drop by and say "hi!"), but I'm not very active on my personal one. A quick look at my news feed and I see it crawling with baby photos (pun intended) and engagement announcements. Girls I went to school with are pregnant with their second child and buying a home, while I can't even get my life together. Adding a man to the mess will just make more mess, right?
Still, despite all the confusion I feel surrounding single life, it hasn't stopped me and my friends from having a bit of fun. Every now and then I am sent photos of gentlemen in not-so-flattering poses through our group-chat with a "what about him? ;)". A couple of years ago my friend created a joke profile for me on a matrimonial site – apparently I "like going to collej", my favourite colour is "halthi, because it is like the sun" and "I am a smoker". Under preferences she selected "none" because apparently I have no standards. With a profile like that I'm surprised I didn't get any responses.
I am all too aware how far from ready I am in making any kind of commitment. I've just started a new placement with crazy hours, and yesterday I ate gummy bears for breakfast, chased down with day-old coffee I forgot to clean out of my thermos. I may be 23 but I have a lot of growing up to do. But if and when I do decide to take that step (what do the kids call it nowadays?), taking inspiration from Faiza, I may document my journey. If nothing else, it might make for a few good stories.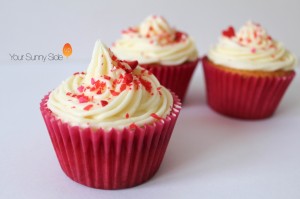 These vanilla cupcakes are my most popular recipe. I have lost count how many times I've made them – for friends, family, birthdays, parties, bake sales, or a night in – and they come out light and fluffy and just perfect every time. They are also incredibly easy to make and the recipe is foolproof. For my full recipe, click here.
—
Reposted with permission from author's blog, Your Sunny Side Up.
Nazia was born, raised, and still resides in London. Her favourite food in the whole wide world is toasted buttered bread, which she sometimes eats at every meal of the day. Her second favourite food is cheese. Besides spending a lot of time in the kitchen, she also really likes reading, writing, taking photographs, quirky socks, Chinese food, stealing rocks from places she visits (it's not really stealing), wedges (not to be confused with wedgies), mornings, nail polish, washing dishes, pyjama bottoms, the colour yellow, making lists, rainstorms, handwritten letters, coffee, autumn, chewing gum, action movies and comedies, storytelling, and more.
Connect with Nazia on her social networks – the facebook page, twitter,instagram and pinterest.