Eds. Note: Hayah shared part one of her story – "Love. Loss. Forgiveness. Love." – about finding love as a divorcée, but ultimately deciding to part from Dedan because of religious differences. Here, she shares part two of her story, in which she dances at Dedan's wedding.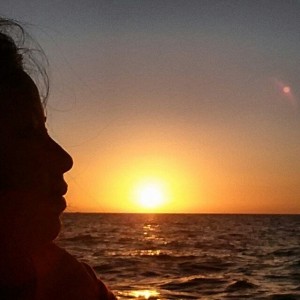 Oh, how we danced!
When Dedan and his beautiful bride stepped out of the car towards the wedding hall, oh, how we danced! I couldn't help thinking that it was a strange synchronicity that I happened to be in Kenya during the wedding of the person who helped me realize that love after divorce was possible.
But I was also grateful that we had remained good friends over the years, and happy to be surrounded by so much merriment at the wedding of two wonderful people on Valentine's Day. I appreciated then, as I do now, how time and circumstances have molded Dedan's life path and my own so differently; how he moved on to find love, and how I was given a second chance to live the life I wanted.
Dance and song are at the heart of Kenyan weddings and I got to show off my newly acquired Sauti Sol dance moves (which by the way everyone should learn!). Other than the fact that I love Kenyan music and dance, the country has deeply impacted me over these past few months. There are some places in the world that can truly change you, dramatically, within a short span of time either with the sheer sensory overload thrown at you, or with the uncanny ability to dive into your psyche and help you break out of your comfort zones.
One of these internal shifts had to do with letting go of my fear of living alone. While I had lived away from family for a few years of graduate school, it was always with roommates. Kenya was the first time I lived
alone
. It was during this time that I became comfortable by myself and with silence, and gained the ability to trust a space enough to allow myself to fall asleep alone each night. It was during this time that I realized I could survive and thrive as a single woman, not just as an affirmation, but in the actual physical space of solitude. It was empowering! Of course there is loneliness and the craving of company and conversation over Sunday breakfast, but the gift of having an apartment all to yourself in a new city is a beautiful feeling on the whole.
Living alone in a strange city is something most women in my family have never experienced. In my culture, living by yourself as a single woman is not an option, let alone a choice. The experience opened up many internal doors for me: I took a solo safari in Kenya, and a few months later went on my first ever solo holiday, an early 30th birthday gift to myself. The chance to wake up at 5 am to take a beautiful sunrise boat ride and walk around tiny white sand islands with just a book and a sling bag was magical. These experiences were almost like salah during Eidgah – a solitary act of worship in a world full of people. But that, perhaps, is a story for another day.
I am teaching myself…no, giving myself permission, to thrive in a life in which I am single and happy. I want to know that I can and will be able to experience people and places fully by myself without self-doubt, without other people's expectations, and without fear for security or of judgment or loneliness.
Most importantly, I am reminded time and again that if I love the music, I don't have to have someone to dance with. I am reminded that I can just get up and groove to the beats of a new city anywhere in the world, unafraid.
And, one day, if a remarkable someone should catch my eye and walk my way, I'll invite him into my circle. Heck I might even take his hand and teach him some Sauti Sol.
—
Read part one of Hayah's journey, here.
Hayah is an occasional poet, sometimes picture- taker, always traveler and a lover of stories and cultures.