My first New Orleans story is about death.
"N'awlins is below sea level," my taxi driver tells me on the drive from the airport. "You dig three feet down, you hit water. There's no way folk can bury bodies six feet under. So we have these cemeteries where we bury our dead above ground. And this," he gestures out the window as we turn a corner and emerge to a view of tall mausoleums on either side, "this is called 'the City of the Dead.'"
I collect stories the way some women collect shoes, and this is a city with its own mythology, with legends tattooed all over its pulsing heart. There is a little bit of everything – from ghosts, voodoo, the history of slavery and the French-then-Spanish-then-French occupation, to stories of survival and rebirth post-Katrina.
New Orleans feels like a part of me: a wild imaginative heart that manifests itself even while encompassing a practical, realistic brain. It is a city that falls and gets back up again, scrappy, resilient, optimistic and strong. Above all, it is atmospheric, different from any city I have ever seen. The lacy wrought iron balconies look like smoke, the houses all seem haunted yet vibrantly alive. There is a heavy fragrance of jasmine, of magnolias and gardenias in the air, mixed with the sweet smell of summer rain, at times damp, at times sultry in its heat and in the beating of the sun.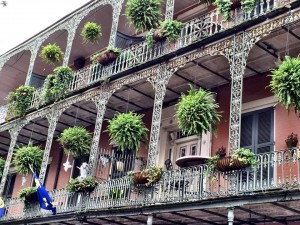 Death is neither frightening nor frightened here. It resides alongside the living, parallel and always in view. In the Garden District, one street separates the City of the Dead from the sumptuous houses in the Land of the Living. A guide takes us through Lafayette Cemetery, where a heavy rain washes grave dirt down the lanes so that it is in our sandals, and sticks to our ankles as we walk. The guide shows us the family tombs with their double-chambered construction: the top chamber housing the coffin of the latest family corpse for the bare minimum of a year and a day, allowing the body to decompose in a sort of natural cremation in the tomb's summertime 300+ degree heat, the bottom chamber housing all the remains of ancestors who went before.
New Orleans is practical about death, but also somehow lyrical. The depth and breadth of family histories, of all those generational remains piled together for eternity: how many seasons have they seen together, how many Mardi Gras? What stories might they tell each other if they could talk, all these leftover parts from people whose names now grace marble slabs with only the clinical birth and death dates to speak for them? It's no wonder NOLA celebrates death as it celebrates life – with respect to what runs parallel, when it finally comes for you after a life well-lived.
"Embrace the decay," our guide says.
Spirits roam here. You can feel them walk alongside you. Garden District mansions are large and imposing, beautifully constructed with their own quirky touches. Some porch ceilings are colored in with patches of blue – called "haint blue," after the colloquial Southern word for spirits – to confuse restless ghosts that haven't passed on by tricking them into thinking it is the sea. Anne Rice's former home is famous for its "Rose Fence," with tiny sculptures in the black ironwork that should look like roses and instead, look like skulls. Angelic cherub statues look out from front gardens with blank eyes, fountains trickling in the background. Even in sunlight, the streets are gothic.
The city makes you believe in the psychics who line street corners and run shops in the French Quarter. One night, I take in a street softly lit by lanterns and string lights, while a friend gets a tarot card reading at the edge of the Quarter. A breeze shifts hanging flower pots atop balconies and caresses my face as it passes, filling my nose with the scent of jasmine.
I close my eyes and breathe it in, and when I open them, a sign draws my eye. "Love," it says from atop a lamppost.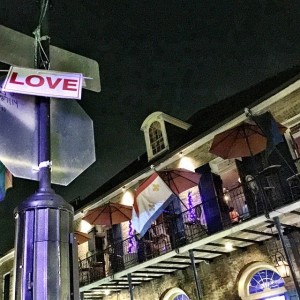 And a little further, graffitied upon a low wall: "Love You."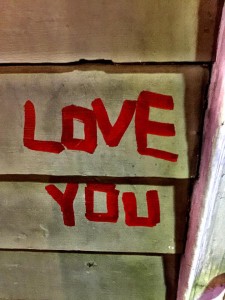 I think the city speaks to me.
I ask a man in a psychic's shop whether New Orleans has lost its soul post-Katrina, as so many commentators have lamented, including NPR contributor Andrei Cordescu, who has lived in and written about NOLA since the mid-80's. The man scoffs at this while rearranging evil eye charms in a display rack.
"Katrina blew new life into this city, she shook it up," he says, smiling behind his snowy white beard. "As we rebuilt, it called to artists and writers and musicians. The creative types infused this city with ideas. We didn't lose our soul. We evolved our soul."
That night, I wander through a night market on Frenchman Street, where jazz flows out of clubs as artists sell their wares. The place seems plucked out of my every fevered daydream: twinkling string lights, a giant gilded birdcage, locals sitting at tables with heavy lamps illuminating the 2 am darkness, talking, laughing, exchanging kisses of hello and goodbye. They are optimistic, down-to-earth, uninhibited but also unselfconscious. These are my people.
We sit in a club and are moved to dancing by the sound of the blues. We answer back to a man singing a jazz lament of his own failures of ego. "Can I get what I want?" he rasps in song. "No!" we all answer. "Why must I hesitate…hesitate?" he croons back at us.
In all my days here, I get one tarot card reading but visit no psychics. For the first time in a long time, I feel content in the here and now. I feel profound and luminous, strange and powerful. In New Orleans, where spirits roam so effortlessly, I feel my past and future selves collide back into me, feel them finally silenced.
"Quiet," my present self admonishes them. "Let me hear these stories, let me roam this city. Let me be happy in this moment."
And I find that they obey.
—
Read more by Zainab, here.

Zainab Chaudary works in PR and advocacy communications by day, and is a writer and geek by night. Her blog, The Memorist, ruminates upon travel, religion, science, relationships, and the past, present, and future experiences that make up a life. She tweets @TheMemorist