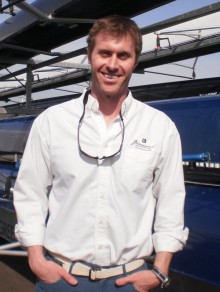 Warren Perry is a teacher and coach, Southerner and Yankee, sinner and saint living in the tension in New York City. Follow him on Twitter @CoachPerry03 or contact him atwarrenperry3@gmail.com.
Even though the holidays are in our rear view mirror now, there are still many lingering blessings that we can take from the season as we fully engage this new year.
While I didn't think much of it as a child, one of my favorite parts about Christmas now is the season of Advent, the four-week period of expectant waiting and preparation before the celebration Christmas. Waiting was never something I liked to do, and the virtue of patience is still something I struggle with to this day. So as my family took time to open the little windows on the calendar in our kitchen, all I wanted to do was see the excitement that was under "25". While this is maybe a trivial memory of my childhood Advent season, it helps me catch a glimpse in to the need for maturity and understanding in any season of waiting.
This past December, I learned a great deal about the importance of Advent and the spirit of expectant anticipation. I had been at my current coaching position for three years and had seen a tremendous amount of growth professionally, personally, and spiritually while living in the area. So, as many of us growing in to our career can relate to, I was beginning to look for my next challenge. In whatever capacity we grow as people, it takes patience. As I began to reflect on where God was taking me in life, I held on to the demonstrated certainty that I have always been an educator; teaching and coaching is where my heart comes most alive. So it made the most sense to eventually look at work in a school setting.
Teaching jobs in New England, the birthplace of American education, are actually hard to come by, and even fewer opportunities exist for swimming coaches. So in November, when I received word that a prep school in New York City was searching for an Aquatics Director, I sensed a spark of anticipation- even anxiety- as I started to weigh whether this position would be a fit for me.
This moment was the beginning of my Advent season. It was when hope was birthed and a dream foreshadowed. It was here I had to go against every instinct to run after the job, grasp for the titles, and control the situation. Instead, it would be important to sit still, listen, and patiently engage the situation.
From start to end, my interview process took about seven weeks. But behind the scene, the school's search for the right candidate began many years ago when initial plans for the new aquatics facility were approved. God's calendar is not always our schedule, and while we may often want thing to happen immediately- yesterday even- it's important to remember things do not revolve around us. After each step in my process, I wanted to know exactly where I stood. I would permit myself only a few hours of satisfaction after meeting with their administration before allowing the anxious thoughts and doubts return. Not just waiting- but calmly waiting- was a lesson God was teaching me.
The other key part to this waiting game was the fact that the school was a Catholic institution; as a gay man, I was forced to question whether I would be discriminated against based on my sexuality. Moreover, just weeks prior, I had a part-time coaching position pulled out from under me for what could be discriminatory opinions about an article I published about sexuality and spirituality. This heightened sensitivity stirred even more impatience and doubt.
Throughout the process, I did not know whether I would get the job. My friends, family, and spiritual advisors did not know either. Only God knew what was really going on. I kept Godly counsel close to reflect on everything I was thinking and learning. It was obvious to us He was at work. The job seemed to be a perfect fit for me on paper, but only God knew whether my perception was truly His best plan. The Psalmist David wrote that if we delight in God, he would give us the desires of our heart. Often this is mistakenly read in a selfish light, when in truth it encourages us to make God the desire of our heart, and his hopes and plans will naturally become our own. As I pursued the Lord, all I could do was trust that I was in His hands, and wait patiently knowing He had my best in mind.
So from the time these conversations occurred to the moment I received the offer, I had to wait. And I waited anxiously. Would I trust the path God was leading me on, a road that seemed to providentially lead me to this New York City school? And if I didn't get the job, would I trust that that undesired path was his will? He has been faithful before- why would now be any different? While this spiritual truth can be obvious in good times, when you're still suffering from perceived distress (in my case, a potentially discriminatory job situation) holding on to this principle is much tougher. Indeed, it happened in December, and a few days before Christmas, I would get the offer that confirmed God was calling me to a new home in New York City.
In our season of Advent, patiently and expectantly waiting is a crucial virtue of the Christian heart. Doing so with the knowledge- an experiential knowledge- that God is in control frees us from the temptation to unduly control circumstances, improperly judge situations, or selfishly discern His intentions. These feelings were not foreign to the people of Jesus' time either. Many then deeply longed for the Messiah to come, ending the doubt and discouragement that the Jews felt at the hands of the Romans. In the same light, others grew tired of hoping in the face of hundreds of years of silence since the last prophetic word.
For each our hearts, there is still have a season of Advent upon us. Even though December has passed, Christmas has come and gone, and the Messiah has arrived, we are waiting for the fulfillment of some prophetic word over our lives. Whether it is a job, a relationship, a child, or something else, God had good plans for us. Of course, it is our responsibility to keep these gifts from becoming idols, but as we pursue Christ and set His holiness before us, God will faithfully carry us through on the path on which we are set. The solid ground beneath our feet, the company of believers walking it with us, and the ancient message of grace and love that He continues to proclaim are signposts that encourage us to keep moving forward. Keep anticipating God's glory to manifest itself in our lives. Patiently and expectantly wait in the season we are in, knowing He is faithful to do all things in His time.