I've finished my review series of Michael Farris' Anonymous Tip. I enjoyed reviewing a work of Christian fiction, though, and I'd like to do it again. With that in mind, I have obtained copies of three works of Christian fiction, and would like your input on choosing which one to review next. Bear in mind that I began reviewing Michael Farris' Anonymous Tip in December 2014; it took us over two years to wade through the entire book, cover to cover. Whatever we choose, it'll be around for a while!
Option #1: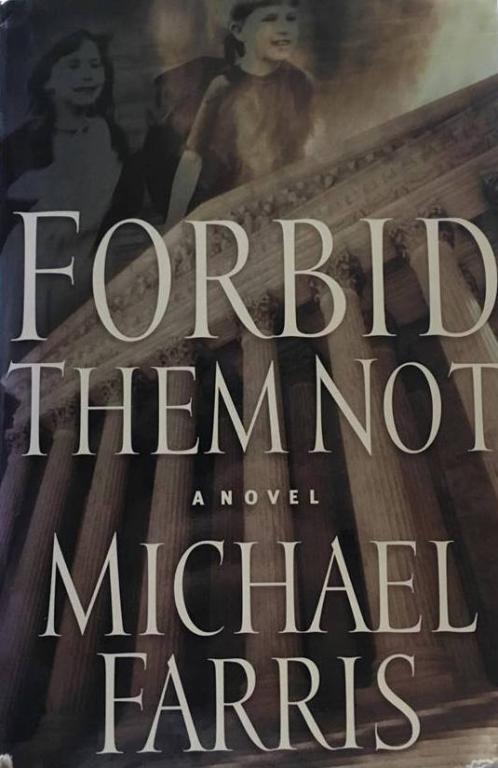 The first book I'm considering reviewing (above) is also written by Michael Farris. Its title is "Forbid Them Not," and it covers a fictional future in which the U. N. Convention on the Rights of the Child has been ratified, with dire consequences.
Washington, D.C.—January 27, 2005. After a landslide election that swept a Democratic majority into the United States Senate, today the Senate voted 69-31 to ratify the United Nations Convention on the Rights of the Child. Following a liberal shift of power in the government, two families find themselves on the brink of the unimaginable—removal of their children from their care. This new legislation limits parents' ability to teach fundamental Christianity, spank their children, or make educational decisions, such as electing to homeschool. Laura Frasier, a public school teacher, finds herself in the middle of a philosophical maelstrom. As an ideological battle in the United States Supreme Court ensues, Cooper Stone must defend these families' right to raise their children according to their own values.
This book would give us the opportunity to delve more deeply into Farris' ideas about parental rights, and I'm interested in seeing whether Cooper Stone blurs ethical lines as effectively as Peter Barron. I'd also like to know whether the romance that surely plays out in this novel is as ethically concerning as that in Anonymous Tip. Still, some of my readers may be ready for a break from Farris' novel-writing.
Option #2: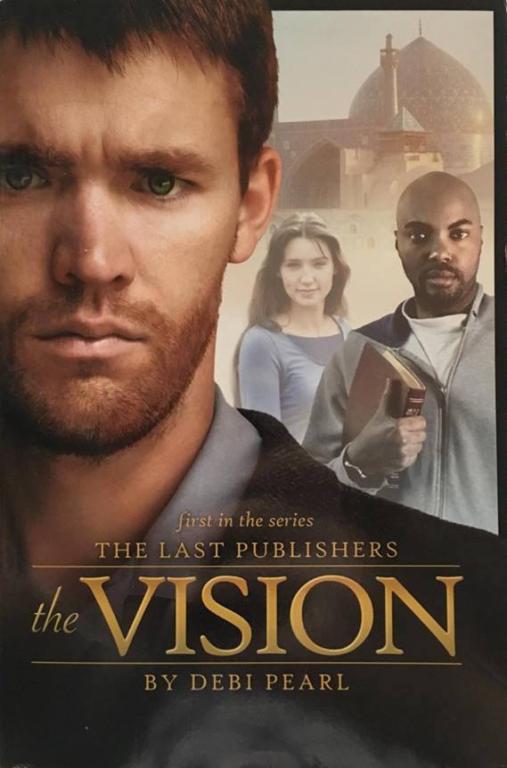 Next (above) I give you The Vision, by Debi Pearl. Yes—that Debi Pearl. In addition to her deeply problematic misogynist marriage manual, Created To Be His Help Meet, Debi is the author of a series placed in the end times.
Asher Joel moved across the country to eastern Tennessee to carry on his friend's vision for reaching lost souls—and to gain respite from the terrorists who murdered his friend, Dan. But there he finds himself in the center of a maelstrom of mystery, terror, death, the looming threat of a catastrophic volcanic eruption—and the consuming fear of losing the woman he loves. Through it all, he and his friends work tirelessly and courageously to fulfill their vision. The Vision is a touching love story, a dramatic race against evil, and an emphatic reminder of the power of God that will take you on a ride so real you will find it difficult to separate fact from fiction.
Full disclosure: I have not read this book. But I just flipped through it and it looks like it could be a real page-turner. There's a lot that happens. Based on my perusal, the Last Publishers is an evangelistic group focused on creating content in Arabic in an effort to convert the Muslims that are infiltrating the U.S. Oh and there's stuff like abortion described in ways it does not happen, and pregnancy, herbs, and midwifery.
Option #3: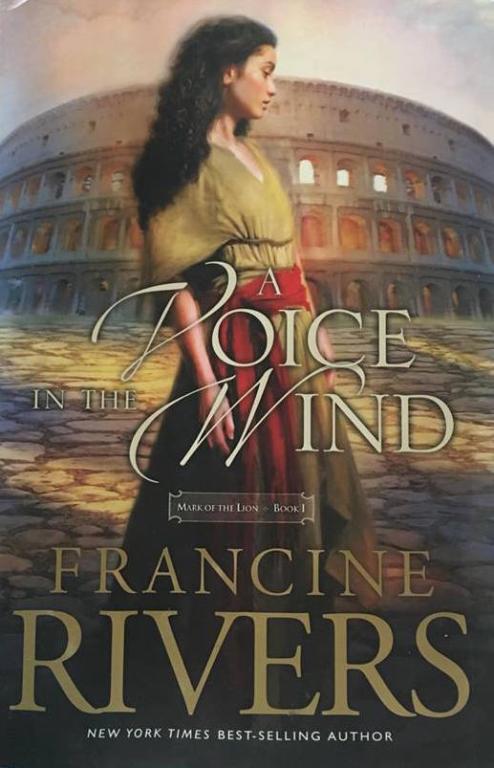 Finally (above) is option three: Francine Rivers' novel, A Voice in the Wind. This is a book I read about three million times as a teenager. Some time ago, a commenter suggested it as an option for a future review, and I like the idea.
A Voice in the Wind transports readers back to Jerusalem during the first Jewish-Roman War, some seventy years after the death of Christ. Following the prides and passions of a group of Jews, Romans and Barbarians living at the time of the siege, the narrative is centered on an ill-fated romance between a steadfast slave girl, Hadassah, and Marcus, the brother of her owner and a handsome aristocrat. After surviving the massacre of her family and the destruction of Jerusalem by the Romans, Hadassah is captured and sold to a well-to-do merchant's family. Brought to Rome, she is pressed into service as a personal slave to hedonistic Julia Valerian. Hadassah struggles to walk in the footsteps of Jesus and to treat her masters in a manner in keeping with His teachings, but she is forced to keep her religious identity a secret in order to survive. Confused and alone, she has only her faith to cling to as she tries to subtly bring God into the lives of her captors. Reckless, impulsive, and villainous, Julia tries to undermine Hadassah at every turn. But Julia's brother, Marcus, is a different sort altogether. Is it possible for a love between Hadassah and Marcus to flourish considering not only their differing stations in life, but also the gap between Hadassah's unrelenting faith and Marcus' lack of belief in anything? Simultaneously, Atretes, a captured soldier from Germania, is forced to become a gladiator. This is the time of Rome's decline and the decadence of a civilization on the verge of self-destruction serves as a powerful backdrop to the Barbarian's struggle for survival in the arena.
There's lots that goes on in this book, I promise. This book could provide an interesting lens into talking about how Christian fiction (and evangelicals more generally) handles the early church period. There would also be lots more about things like gender relations and the evangelical treatment of love and romance. It could be lighter than the other two in some ways—but not in others.
I'd like to invite my readers to leave comments indicating which they'd prefer. Feel free to rank the three options, even. I'll go through and make a tally after a day or two. And then next Friday, we begin.
I have a Patreon! Please support my writing!