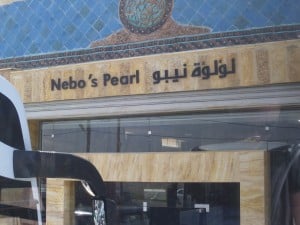 I have a confession to make. I've never cared much for mosaics. Not, that is, until I visited Nebo's Pearl in Madaba, Jordan.
Then I fell in love with them.
Nebo's Pearl is a mosaic and handicrafts center located near Mount Nebo, the place from which Moses overlooked the Promised Land for the first time. It's also the place of his death and, according to tradition, his burial by God himself (Deut 34:6). In just about every sense of the word, Nebo's Pearl is a gem.
Nebo's Pearl is kind of like the Goodwill of artisans. It was founded by Mr. Ibrahim Zuraiqi, as a means for people with disabilities to earn a living. Let me tell you, they are incredibly skilled!
I was able to watch two of the center's artisans at work when I was there with the Jordan Tourism Board on April 17 as part of its 2015 Religious Journalist/Blogger Tour.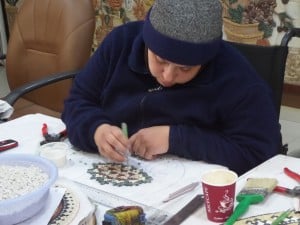 The patience, skill, and focus required to create these marvelous works of art is something to be seen, and I'm grateful to have been able to see it for myself. The works themselves are amazing, but when one considers their purpose – to assist people with disabilities to be self-supporting, the whole endeavor is all the more amazing!
If you're thinking – like I used to think – that mosaics are flat and dull, please think again. At Nebo's Pearl, I saw everything from mosaic portraits that seem to pop right out at you, to ostrich eggs, vases, and furniture. I had no idea mosaics could be done on so many surfaces and in so many ways!
Everything in the store was absolutely beautiful. Additionally, I admired the marketing skill of the shop's management. They know travelers need to travel light, and so they will ship the heavy items to your home. For free.
Let me show you some of the pieces that I liked the most at Nebo's Pearl.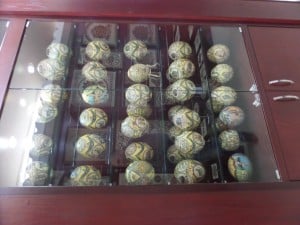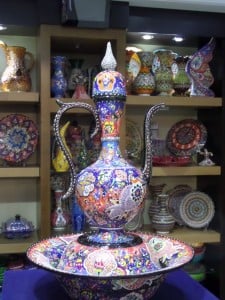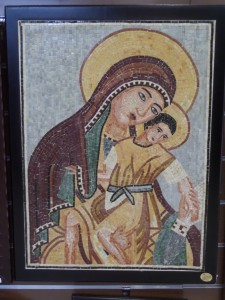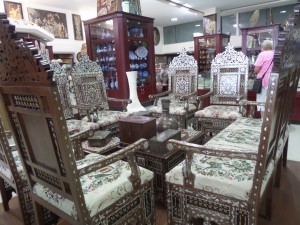 For those of you who believe that the King is dead. Not so! Here he is – Elivs himself!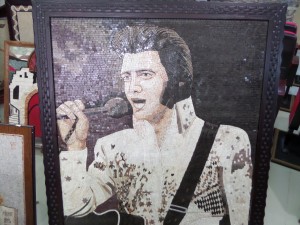 But of course, we know who the REAL King is.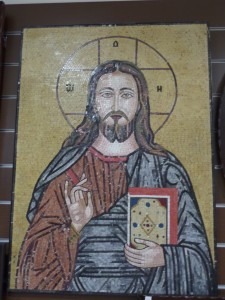 Because of the beauty of the work and the importance of the cause, I couldn't possibly leave without buying something for my husband.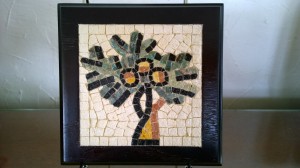 Not only did I find the King (and also THE King) at Nebo's Pearl, but I found a gem of hope for folks whose lives otherwise might seem hope-less.